There is no write-up for this waterfall by the World of Waterfalls. Submit your own write-up!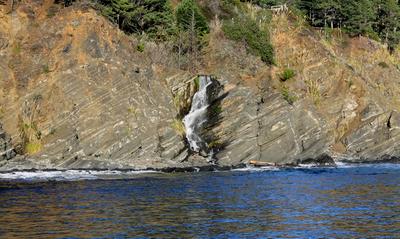 I was traveling down HWY 1 a while ago on my way back to Berkeley and was hoping to go see Alamere Falls on the last day of my drive back as i always wanted to see a water fall that is on the beach.
It was predicted to be raining that day and i really wasn't up for walking through the cold rain and back again so i accepted that i would miss out on seeing it. So it was the second to last day of the drive back and i decided to stay at a little place called Anchor Bay at the camp grounds (mainly full of giant RV's).
It was a great day and i decided to go for a walk/swim/exploring around the cove. It was almost high tide when i was there. I saw a small little beach in the north of the cove with no path to it so i decided to go on an adventure to get there. I made it to the cove with some swimming, rock climbing and with my camera in my water proof bag plus a snack. When i made it around to the small secluded beach to my surprise i saw a water fall. It was a real shock, i had looked up all of the falls in the area and seen it on any of the maps on the websites about water falls. I took some pics, had my snack and walked up the set of stairs that leading up the cliff.
Yes a set of stairs precariously set into the cliff face. The stairs are owned by a private inn located on the cliff above the water fall. Once up the stairs i ran into one of the owners of the Inn. He was a little shocked to see me as i wasn't staying at the Inn. I told him my story and we had a good chat about the area and the water fall.
Apparently it flows most of the year. GPS location according to google earth is Latitude 38°48'10.28″N Longitude 123°34'57.71″W. Haribol!!!