The World of Waterfalls has been to this waterfall, which you can read about here.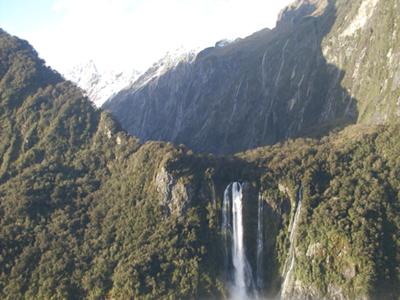 We were told before we drove up to Milford Sound that they'd been through a dry spell, so some of the waterfalls might not look their best. We were also told a bit of a storm might be moving in from the sea.
What followed was a torrential gale that made handling the small caravan we drove…interesting. The drive down from the Homer tunnel was breathtaking, though, with clouds boiling up the valley from the sound, and by the time we reached the visitor center, the rain had changes "not at their best" to "thousands of temporary falls carpeting the fjord."
Bowen, a short walk from the parking lot, was impossible to approach closely, because the force of the spray was of fire hose intensity at 20-30 meters. My wife and I ended up changing clothes before we went into the center.
The boat trip on the sound following rewarded us with pictures of the aforementioned "walls of falls" through luminescent mist, double rainbows, and (eventually) blue skies.
Stirling Falls was obviously going strong as well!