There is no write-up for this waterfall by the World of Waterfalls. Submit your own write-up!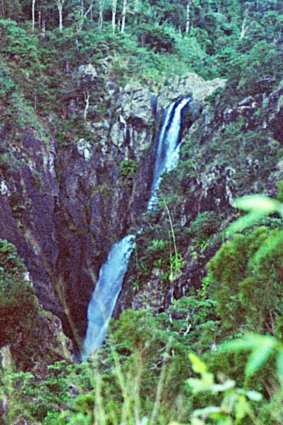 I must say that I do not remember very well how I managed on my visit to this waterfall… 14 years ago. I could only see several parts of this waterfall. Apparently there is a place from which you can see the entire waterfall.
It seems that I first went to the top where the river cascades before reaching the vertical fall. The edge of the fall can be seen in some of the photos. But from there nothing else could be seen.
So I had to find a place from which to see the fall, but without signs or trails I had to manage crossing the field with the eyes on the waterfall and thus guide myself to the best vantage point.
Unfortunately I only could get to the place from which the first photo was taken. The last picture shows a waterfall in the forest I saw from the road, with no evidence of how to get to it or indeed whether there was any way to do it.