There is no write-up for this waterfall by the World of Waterfalls. Submit your own write-up!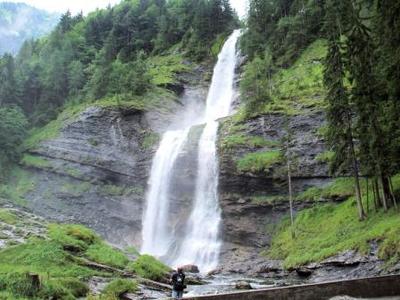 The Cascade de Rouget is located near the village of Sixt-Fer-à-Cheval in the Haute Savoie region of the French Alps. There are many waterfalls in this area but the Rouget is considered the finest and is known as 'Queen of the Alps'.
It has an interesting formation, falling once onto a limestone shelf and then dividing into two, with a total height of 90m. This is the flow in July, apparently it is very impressive in Spring when the snow melts.
This fall is very easy to access as it sits right next to a road. People scramble over the rocks to get closer but the rocks are very slippery due to the spray and sadly two people have fallen in and drowned in the last couple of years. There are marked hiking trails that lead above the falls