The World of Waterfalls has been to this waterfall, which you can read about here.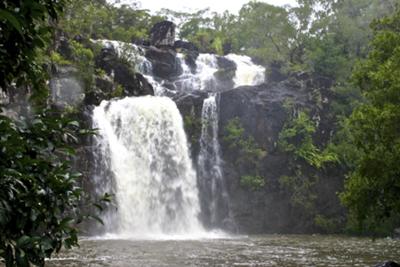 Hi, my name is Phil and I just wanted to share a photo of Cedar Creek Falls in full flow. Had you been there a few months earlier you would have seen it too.
We had been staying in Proserpine for about 9 months. I lived full time traveling with my family in a motor home.
Around the 14th of January we had about 300 to 400 mm of rain in just 3 days, we were trapped in Proserpine for 3 days because all the roads were cut by flood waters. I had a feeling things were getting serious when we spotted two SES rescue boats on trailers parked in the main street of Proserpine.
Just prior to all this heavy rain, my wife and I took the kids to see the falls as we had some rain. There was quite a good flow of water and the kids enjoyed a swim there.
At this flow rate it did require a four wheel drive at the water crossing on the road in and we only got out just in time because the water level had risen a fair bit while we were there. It wouldn't be hard to get stuck there.
There is a track on the right hand side to climb up to the top of the falls which is well worth it in dry weather but you do need to exercise a lot of caution; it is a long way to the bottom.
Some people actually climb the falls and jump off the top into the pool at the bottom, which is NOT recommended and extremely dangerous. We have seen some people do it but quite a few people have been killed doing just that.
I will include a photo of two men on a platform halfway up the falls just to give some perspective on just how big these falls are.
Anyway that is my two cents worth, well worth a visit and a swim even if the falls are not running.
Best time to visit to see water running is in the wet season Dec to May