The World of Waterfalls has been to this waterfall, which you can read about here.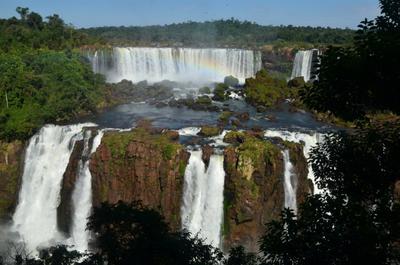 "Iguazu Falls" is one of most beautiful places in the world. This wonderful place is located near "Tres Fronteras" where Iguazu River enters river of Parana and national borders of Argentina, Basil and Paraguay comes together. Visitors can enjoy amazing views from Argentinian or Brazilian sides. Unfortunately form Paraguayan side falls cannot be seen. Ones who were lucky and had visited both sides usually disagree which side is more impressive. Travelers trying to reach "Iguazu Falls" from Paraguay usually faces the same problem – how to get there? It is possible to get a bus ticket at some local companies and go to Foz do Iguaçu (town in Brazil) or Puerto Iguazu (town in Argentina). Travelers from Paraguay who are going to choose Argentinian side should take care not only about visa for Argentina, but about visa for Brazil as well. That can be a major problem, especially for those who have to pay for Brazilian visa. For example – for US citizen that visa will cost very close to $ 200. And if you do not have visa for enter into Brazil you will not be able to buy bus ticket to Puerto Iguazu because only way on the bus to get there is thought Brazil. This is so because of Parana River. This river is wide and strong. It makes bridge construction is extremely complicated. There is only one bridge that connects Paraguay an Eastern bank of this river. On the other side of the bridge – Brazil. And buy the way Paraguayan rented cars are not allowed to go over the national border.
• So, if you don't have visa for visiting Brazil, but have visa for Argentina, only way from Paraguay is to take a ferry across river of Parana. In this case you have to be either on foot or with a car, because ferry is way too small for a bus.
• This situation was not sweet because in our group were some US citizens who were not much excited about idea to pay about $ 200 for Brazilian just to cross few kilometers gap. We did a bad analysis before booking hotels and so on , but luckily, almost by accident, we find locals who delivers tourist to ferry from Asuncion. They are not well advertised, but if you run into situation like that look for www.gotoiguazu.com they will help you out. We were very satisfied and recommending to do the same. The place itself –Iguazu falls is incredible. It's definitely worth of few days traveling and money you spend. There are possibilities to stay in hotels within the parks of Iguazu on both (Brazilian and Argentinian) sides. But from my personal point of view cost does not worth it. Point is that it takes at least 3 hours to walk around (Argentinian side takes a bit longer than Brazilian) there is no sense to take a rest and do it once again the same day. That is even more important during fall and winter period when day time is much shorter.
http://www.tripadvisor.co.uk/ShowUserReviews-g312804-d2037770-r276210913-Iguazu_Falls-Iguazu_National_Park_Province_of_Misiones_Litoral.html#