There is no write-up for this waterfall by the World of Waterfalls. Submit your own write-up!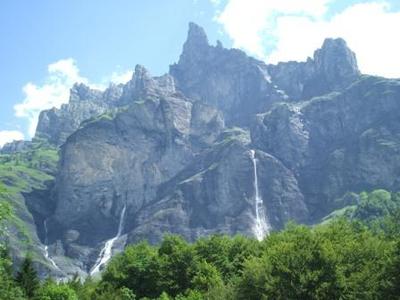 At one end of the Cirque du fer á Cheval in the shadow of the Tenneverge Peak (2985 m) is a jagged outcrop known because of its shape as the Corne du Chamois (Horns of the Chamois). There are two waterfalls here that are worth mentioning.
The Cascade de la Pierrette also called the Fontaine de l'Or (the Fountain of Gold) is a tall thin fall that plunges over a rock buttress.
The limestone that makes up these mountains is percolated with subterranean watercourses.
The Cascade de la Méridienne is fed by one such stream causing the fall to emerge from a hole in the sheer rock face. It is named the Méridienne as at midday the sun illuminates the point at which the fall appears.