There is no write-up for this waterfall by the World of Waterfalls. Submit your own write-up!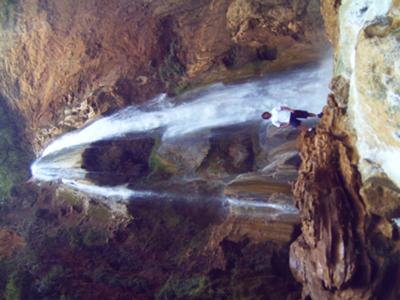 This is a very impressive waterfall in the state of Oaxaca in southern Mexico. The waterfall is located in the town of Santiago Apoala which is very scenic as it is located in a small valled surrounded by high limestone cliffs. There are caves, canyons and waterfalls in the valley. Moreover the people are very friendly and welcoming to tourists as a mainstay of the village economy.
Due to the altitude the temperature is very comfortable (although a bit chilly for swimming at the base of the waterfall). Anyway the waterfall is about 65 meters high, is very secluded and the water is as clean as can be as it emerges from an cave system just before the falls.