There is no write-up for this waterfall by the World of Waterfalls. Submit your own write-up!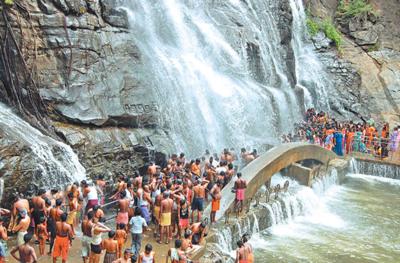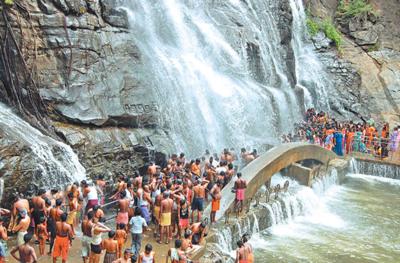 Courtallam (Kutralam) Main Waterfalls is in Courtallam (Kutralam) in Tirunelveli district, South Tamil Nadu. It has medicinal qualities, popularly called as the "Spa of the South." I visited the falls many times with family earlier and taken bath.
Kutralam waterfalls is located at an elevation of about 550 feet in the Western Ghats attracting tourists from all over. The water here passes over a lot of medicinal herbs, and therefore has the capacity to cure a number of ailments. There is also a belief that mentally ill gets cured after bathing at the falls.
The force of the water on top of our body while we take bath makes us feel free of all tensions and worries, and completely relaxes us.
Best season to visit Courtallam is from June to September. There are other waterfalls like Five falls, Puli Aruvi (Falls) etc.
Courtallam is 5 km from Sengottai, 6 km from Tenkasi, 40 km from Tirunelveli, 137 km from Kanniyakumari, 152 km from Alleppey, 112 km from Thiruvananthapuram and 640 km from Chennai.
The nearest airport to Coutrallam is Tuticorin Airport (TCR) approximately 86 km away. The nearest railway station to Courtallam is Tenkasi.