There is no write-up for this waterfall by the World of Waterfalls. Submit your own write-up!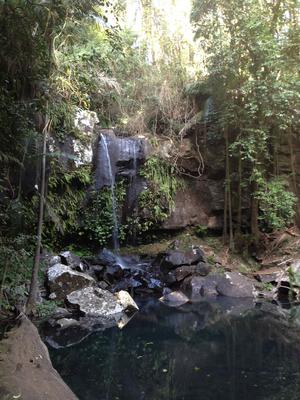 Hi guys, I'm 13 and I love waterfalls, so I couldn't believe it when I found this site! Recently I was away on holiday in Queensland and visited quite a few waterfalls in the Gold Coast Hinterland.
A couple of the easier waterfalls to visit were Curtis Falls and Witches Falls on Mt Tamborine, both of which are quite close to the town.
We were going home the day that we visited them, so we got up very early having planned to do the Witches Falls and Curtis Falls walks that morning. We started the Witches falls hike at 7, and after passing some magnificent trees plus a dry lagoon we arrived at the lookout for the falls.
The falls weren't flowing very well, and taking pictures that showed the water was virtually impossible, but it was still a nice walk with great views.
From there we turned down Geissmann Drive just past the information centre, and after a couple of minutes we reached the Curtis Falls cafe on the right, which is where the walk starts. It was lucky that we were there early, because the car park fills up pretty quickly on the weekends.
The walk was only about 1.5 kilometres return to the lookout for the falls, but that could be extended by doing the 2.5 kilometre lower creek circuit. The falls was pretty diminutive in height – probably only about 7-8 metres high, but the creek flowed year round, which was good considering that we went in the middle of the dry season. The only drawback to the waterfall is that it is right below the main road, so it can get pretty noisy.
I am hoping to go back there this Summer to see the waterfalls in higher flow.