The World of Waterfalls has been to this waterfall, which you can read about here.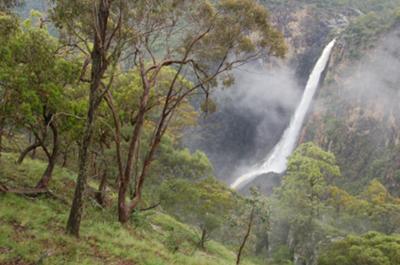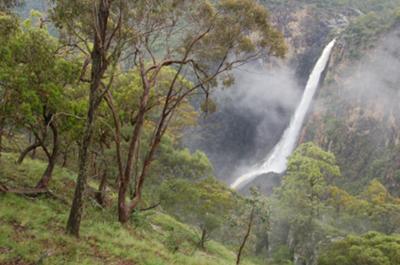 I've been to Dangars Falls many times but I've never seen it totally dry.
Once I was there just after a peak flood and it was spectacular. Sadly, my pictures are on some old film.
However, I often used to drop it during my time as a rep and, on this occasion, there was quite a nice flow coming over.
However, there is much more here. Mia Mia Falls are on the other side and about 2 kms down a trail to the right though you can't get as close to them because they're on the other side of the gorge.
Should you turn left after you cross Dangars you will eventually come to a very steep trail (My legs got the shakes by the time I reached the bottom – only time in my life).
Salisbury Waters is the name of the place at the bottom and you are a fair way from the bottom of Dangars and it's around the corner of the canyon anyway.
This is rugged country but there are some animals here and the spiky echidna is one that you'll often come across, especially if you go on one of the walks.
At the carpark there are now good barbecue and picnic facilities.