There is no write-up for this waterfall by the World of Waterfalls. Submit your own write-up!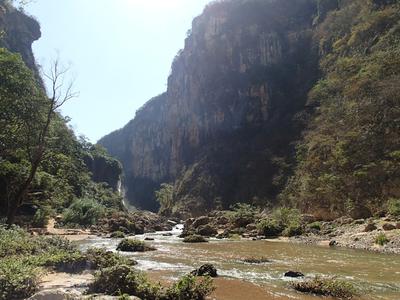 This is my favourite waterfall to play around and have fun!
It's located at about 1hr drive to the west of Tuxtla Gutiérrez in Chiapas, Mexico.
From the car park, you first need to climb down stairs (700+ steps) to the bottom of the canyon and to the river (La Venta). The water was rather low when we went there (February 2014) so we has no problem strolling in the river to the waterfall.
A few families were there but were leaving (it was just before 2pm), so we had the waterfall to ourselves. It's really beautiful, with water tumbling down mossy outcrops, littles terraces and even a secret passage allowing you to go under and behind it. What fun!
Sadly, given it's location in a narrow canyon, it was totally in the shade by 2:30pm. Next time (if there's one), we'll go earlier.