The World of Waterfalls has been to this waterfall, which you can read about here.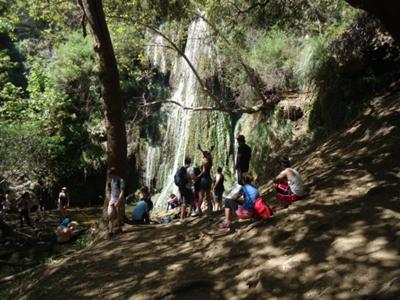 This was an incredible hike! it was very crowded the day I went but it was well worth seeing the falls!! Whenever I saw pictures of the upper falls, i did not believe the true size, it looks much smaller in photos!!
When we got to the lower falls, it was very fanned out with steams of water running down all over the sides.
Most people were going up to the upper tier because the ground was remarkably dry despite the recent rains. There was quite a bit more rock climbing than I expected, but it was easy for a young teenager like me.
After dodging poison oak, streams, and steep climbs, my family and I finally got to the upper tier. It was massive with plenty of water flowing over it and lots of people. It was at least 100 feet easy, and there were people climbing up a rugged path to get to the top of the falls.
If I had more time I would have gone up there but it was some technical rock climbing to get there. Anyways, I would definitely recommend this hike to anyone who loves waterfalls as much as I do!!