The World of Waterfalls has been to this waterfall, which you can read about here.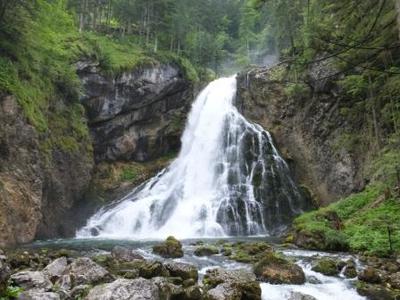 The lovely Golling waterfall is set amidst pine trees and plunges 75 metres in 2 drops. It is located not far from the city of Salzburg near the village of Golling an der Salzach. You have to pay to view the fall but it is not expensive.
From the car park it is a pleasant uphill walk to the base of the lower fall. The path to the upper fall becomes much steeper with many steps but the views are really worth the effort. At the base of the upper fall which is behind a natural rock bridge,you cross the river on metal walkways,the spray is intense. After climbing again one path leads to another bridge at the top of the rock arch where you can look down into what is known as the Witches Cauldron. Another path goes to a cave opening which is where the river emerges from the mountain.