The World of Waterfalls has been to this waterfall, which you can read about here.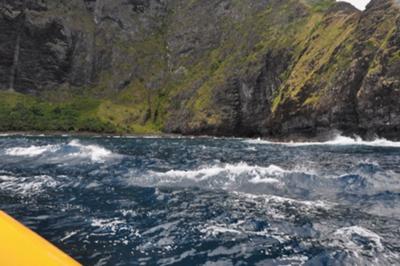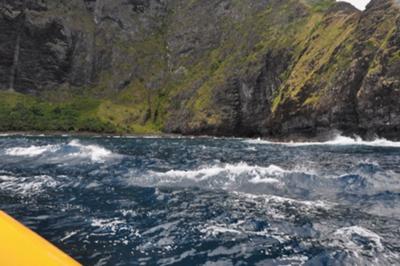 Haloku are often called the World's tallest sea cliffs. They rise 3,250 feet, a full kilometer.
I ran 78 commercial trips down Koolau Moloka'i in the 1980's but since it was summer (the only time safe to kayak) we never saw Haloku pumping. On my Hurricane John honeymoon trip in August 1995 we did see the falls. I did a documentary in 1997 and saw the one waterfalls that rises back up when the tradewinds are right. I will look for those shots later.
In July 2009 I did another trip in Glacier Bay catamarans with my close friend Joe Adams of Windward Boats. It was small craft warnings (meaning we shouldn't even go) so the weather was bad and seas were rough as exemplified by this first shot.
That meant that the falls were pumping as you will see from the rest of this slide show. I took about 100 shots of Haloku alone but don't want to bore you.
Please excuse the first shot for not having a waterfall. I just want you to understand the conditions necessary to see Haloku when the waterfalls are pumping.
John "Caveman" Gray