The World of Waterfalls has been to this waterfall, which you can read about here.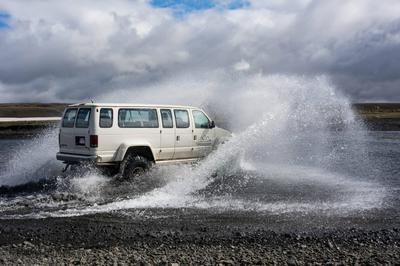 Hi! I am born and raised in Kirkjubæjarklaustur,Iceland.
I would like to inform you about the mountain roads in Iceland. All mountain roads in Iceland are closed during the period of thaw in soil. Mountain roads are marked with "F" in front of the road number and means Fjallvegur in Icelandic or Mountain road.
Most mountain roads are open in beginning of July but some can open sooner if the conditions are good. That is something you should take into account if you plan on going into the Icelandic highland in you trip.
The truth is that the "road" to Lakagigar and Fagrifoss ( F road 206)is a terrible track and not for normal 4×4 vehicles unless taking a big risk on damaging the car. Not only you have to cross a big rivers but also the road is bumpy and with sharp rocks that cut your tires easily. I know this because I see a number of cars broken down every day on my way to Lakagigar.
Mountain roads in Iceland are very different and some are more like a track than a road although just marked with "F" in front of the road number. You will have to cross rivers on most of the f roads and you must keep in mind that no insurance cover any damage to your car when crossing a river or driving through water of any sort. The rivers swell fast in rain.
Sometimes people drive to Lakagigar (road f206) on their 4×4 wheel rental car in the morning but when going back the rivers have swelled and not passable for the rest of the night.
I do not want to scare you off but it is better to be informed and ready about what to expect.
Just for fun. My father and uncle made this road and many other mountain roads in this area in 1963-5. It was made for the farmers to make it a bit easier to get to the mountains and gather the sheep after they have been roaming free in the mountains the whole summer. Before the road was made all farmers had to go on their horses to gather the sheep. Today this road is in charge of the road administration in Iceland but has not improved much over time.
The easiest and safest way to see the amazing Fagrifoss and Lakagígar -Craters of Laki is to take a guided Super Jeep tour from Kirkjubæjarklaustur.
I hope this will be some help if you plan to visit Fagrifoss and Lakagigar in Iceland.
Best regards
Gudmann