There is no write-up for this waterfall by the World of Waterfalls. Submit your own write-up!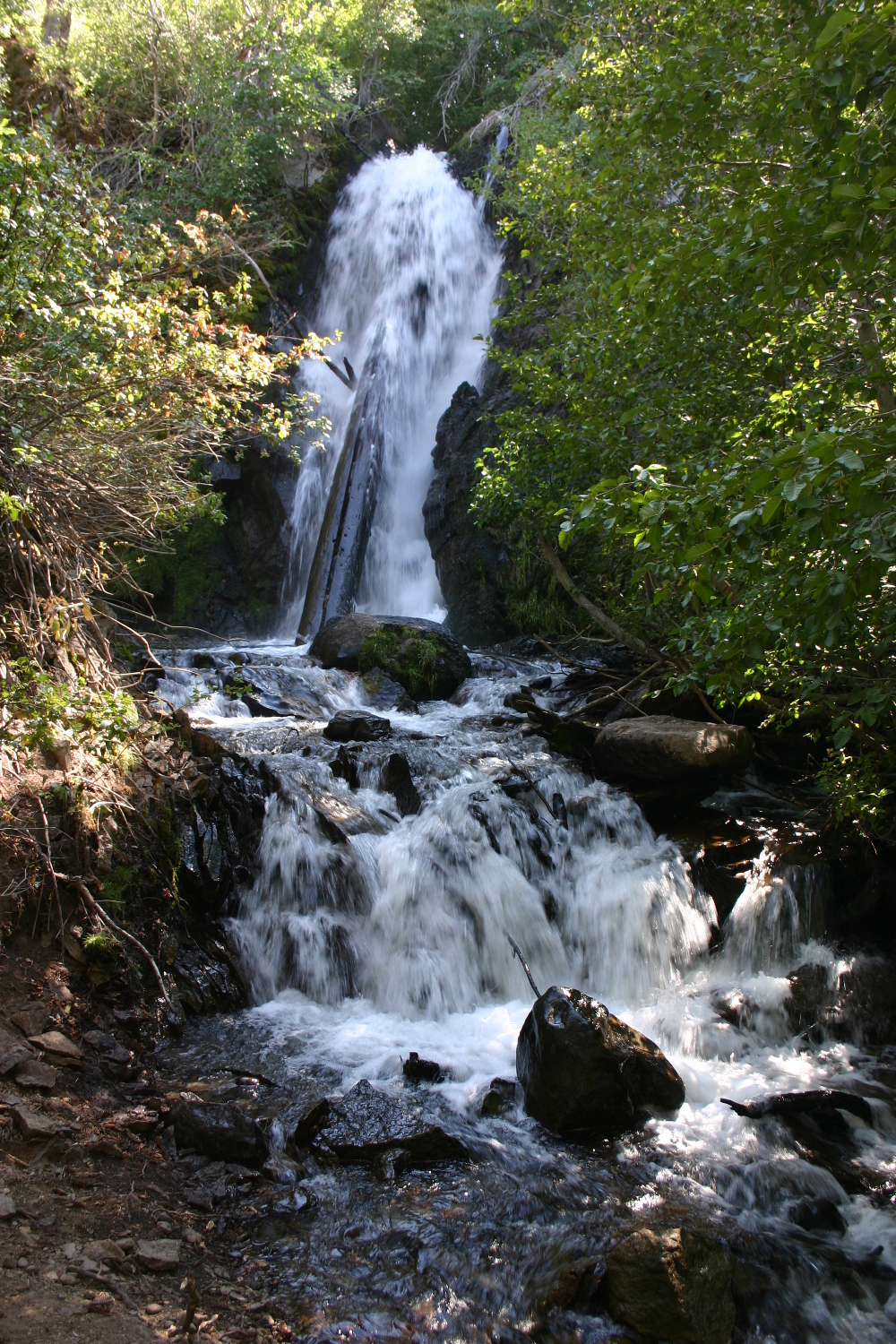 Improbably situated in a wilderness area just west of Reno, Nevada, Hunter Creek Falls and the Hunter Creek Trail are popular with both locals and visitors alike.
From the trailhead, on the edge of a residential area, the trail follows Hunter Creek, at first along an old Jeep road.
It enters the wilderness area around the first ford, about a quarter-mile in, then stays on the south side of the creek.
There's little shade along this part; plan accordingly!
About a half-mile before the falls, the trail enters the forest in the creek bottom where there will be a couple more fords.
All the fords should be no problem except maybe in the early-season runoff in wet years.
The falls, some 30 feet high, are in the forest at the end of the well-marked trail.
The falls are a bit more than 3 miles from the edge of the wilderness area, and the total elevation gain is a bit less than 1200 ft.
Hunter Creek is perennial, but can dwindle to a trickle late in the season.
Even in September 2011 when we were there, though, it put on a fine show, as seen in the photo.
The trail will be busy, especially on a weekend.
As nearly all the trail is in the Mt. Rose Wilderness, no motorized or mechanized devices are allowed, including bicycles, but dogs under restraint are OK.
Finally, rattlesnakes occur in the area and will be active in the warm months–we saw one when we were there.
Getting there.
Take I-80 W from downtown Reno to the North McCarran Blvd. exit.
Go south to Mayberry Drive and turn right.
Watch for Plateau Road on the left after a bit more than a mile; if you get to where Mayberry bends north toward the bridge over the Truckee River you've gone too far. Plateau Road winds around and turns generally south.
After about half a mile turn right on Woodchuck Circle and follow it to the obvious well-marked trailhead, complete with paved parking and restrooms, above Hunter Creek.
Beyond the trailhead Woodchuck bends back to the east; if you start heading downhill again you've gone too far.