There is no write-up for this waterfall by the World of Waterfalls. Submit your own write-up!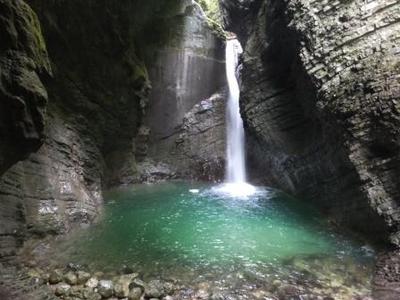 There are six falls on the Kozjak brook near the town of Kobarid but only two are accessible. The first fall you come to drops 8m under a bridge and it is difficult to get a good view. The second fall is the dramatic Veliki Kozjak which is only 15m high but this white column appears to be in a very atmospheric cave due to the waters erosion of the surrounding rock. The other enchanting feature of this unusual waterfall is the deep green colour of its plunge pool.
There is a car park on the Kobarid – Drežnica road after the Napoleon Bridge and the trail to the falls starts opposite, following the banks of the stunning turquoise Soča River before turning into the woods. It is an easy walk of about 3.5km but to access Veliki Kozjak you have to negotiate a short section of wooden walkway around the gorge wall that has no safety rail.