The World of Waterfalls has been to this waterfall, which you can read about here.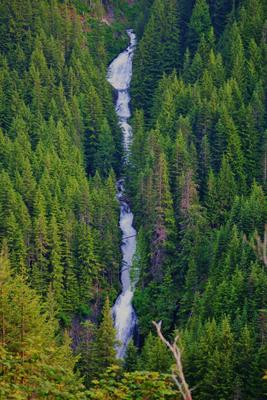 For a long time Martha Falls really confused me.
I had taken pictures from a pullout on the Stevens Canyon highway and from the wonderland trail. The two groups of pictures were definately not the same falls.
I finally got returned to that pullout, walked along the shoulder for a ways (100 Yds.?) and got pictures of the full falls.
The pictures I've attached are the full falls – 665 Ft. Taken 7/8/12
The lowest tier, taken from the highway – 160 Ft. Taken 7/1/12
An interior tier (and my wife) taken from the wonderland trail – 60 ft. Taken 9/25/10
The heights are those estimated by Bryan Swan who produces Northwest Waterfall Survey