The World of Waterfalls has been to this waterfall, which you can read about here.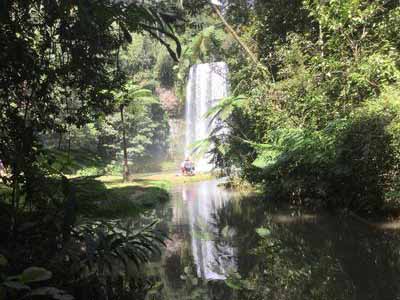 Millaa Millaa Falls is on the Atherton Tablelands west of Cairns. It is a plunge waterfall with a single 18m drop. It falls into a big pond which is ideal for swimming and then flows into a creek. It is easy to either walk or swim so that you are behind the waterfall. The falls are also easily accessible from a car park.
You can view the falls through lovely big tree ferns. These ferns will beautifully frame any photos that you take. Watch for the gorgeous blue Ulysses butterfly. These large butterflies are commonly seen as flashes of blue as you walk through the rainforest. In the evenings you might be lucky enough to see a platypus in the creek.