The World of Waterfalls has been to this waterfall, which you can read about here.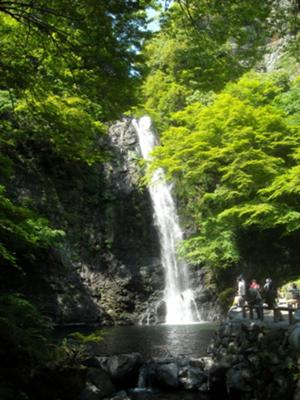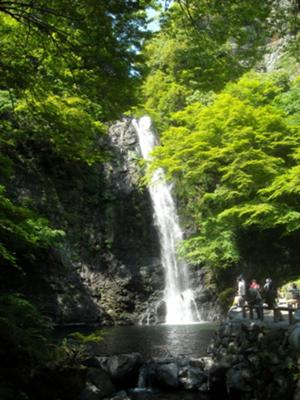 Minoh is a city in Osaka Prefecture, Japan, about 15 km north of Osaka. It took us about 30 minutes on the Hankyu Line from Osaka (Umeda) Station.
One of Minoh's hidden secrets is its beautiful waterfall, Minoh Falls. This 33 metre high and 5 metre wide waterfall, which looks much higher than it actually is, is a waterfall that I will never forget.
We travelled to this waterfall in the middle of summer, but autumn would be the best time to go since the maple trees are at their best giving the area surrounding the waterfall an explosion of colour. However, in Spring, the monkeys are more active, but also more aggressive.
The walk from Minoh Station to this waterfall is a must with so many historic temples, rock formations, traditional shops and much, much more. The first part of the walk is through Minoh City, passing through shops selling Momiji no Tempura.
Don't be fooled by the word 'City'. This place is very silent. During our stay there, we saw very few people. The occasional person would walk by and introduce themselves to you. The people in this city were so friendly and nice. Because of the silence, this walk would be the time to catch up on your peace and quiet from the bustling City of Osaka.
The next part of the Waterfall Walk passes through small shops selling Minoh Ware, such as, traditional children's toys made in this town, woodwork and metal work etc. Then about 60 metres after the shops, we passed 'Hotel Minoh Spa Garden', a posh hotel.
This hotel has an observation deck with a very spacious lift. For 100 yen, the lift took us to the top of this hotel (basically the roof but instead you are on a bridge that connects to the roof) Views from this hotel/observation bridge are unbelievable enabling you to see all the way out to Osaka and beyond.
Because this hotel is surrounded by rainforest, you are basically in the trees' canopy. Not far from this hotel on the same walk, there is an Insectarium on the left. The name tells it all.
Then further on from the Insectarium is the beautiful Ryuanji Temple Benzaiten. We did not go inside this temple but the outside of this temple was so astonishing that it makes me wonder what the inside would have been like.
This temple was founded by En no Gyoja in the year 650. Even now Shugenja or ascetic practitioners gather here from all over Japan regarding this temple as the primary practice place for alpine Buddhism and hold the fire ceremony in April, July and November.
Following this path from the temple will lead you to Tojinmodoriiwa Rock (Long name). There is a legend of a Chinese exalted personage coming to see Minoh Waterfall. When he came to this rock, he was so frightened by the arduous pass around him that he could not step forward and went back. But, that's just a legend, so, if you visit this waterfall, don't be frightened of this humongous boulder.
Only a few hundred metres more and you are at the gushing waterfall, Minoh. Like I said, it is best to be seen in Autumn, but, any season is great. We went in Summer and it was still a great surprise to the eyes. This waterfall was still flowing very strongly even though it was Summer. I was sitting on the edge of the platform and still got a very big spray which just showed that it was flowing very fast.
I recommend going to this magnificent waterfall, if traveling to Osaka. This waterfall had touched me inside and will also scar/stain anyone (in a good way) who visits this waterfall!!!
Dillan.