The World of Waterfalls has been to this waterfall, which you can read about here.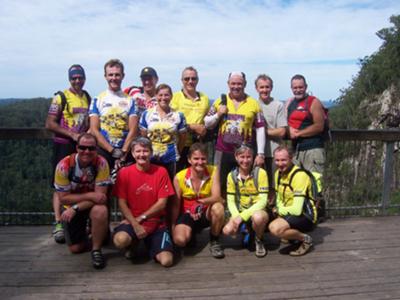 As a Queenslander in 'enemy territory' I was lucky enough to be allowed to tag along on a 75km mountain bike ride that started at Eltham to the South, took in Minyon Falls and looped back.
It's an annual event hosted by the affectionately named "Mongrel Bastards Mountain Bike Club" in Lismore. Don't let the name fool you; they are a humourous, good natured mob for the most part employed in health, education and engineering (with one or two bike mechanics thrown in for convenience).
Led by the indomitable "Bear" we ground our way to the top, enjoyed the sights at the scenic lookout/picnic ground, resisted the urge to feed the large monitor lizard prowling around the tables and headed back to Eltham for a well-deserved beer.
This ride takes place every April and is a different way to experience Nightcap National Park. The falls are usually still, well, falling at that time so it's a great look. Oh, and some websites will tell of the falls estimate ranging from 97m to 104m. We had an engineer with us. He said 104 so that's good enough for us.