The World of Waterfalls has been to this waterfall, which you can read about here.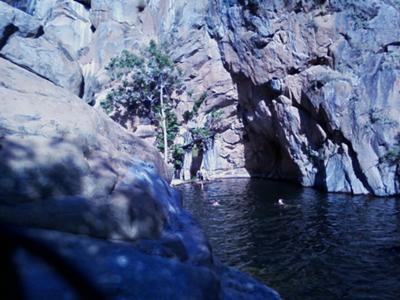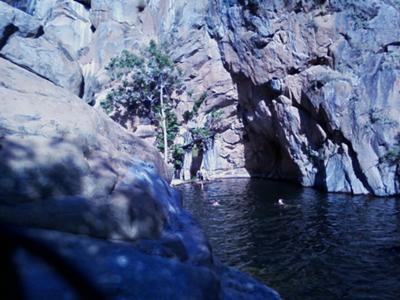 Rocky (black lab mix) and I hike 3-6 miles per day in the Ramona area.
We hiked down the new trail to the falls from the Ramona side on Friday, June 10, 2011. We started about 4:30 p.m. bringing enough water for both of us (a hydration pack for me, a 24 oz. bottle for him).
It was an easy 2+ mile hike down to the falls, but it was hot enough that we stopped in a shady spot to give Rocky water about halfway down the trail. The last half mile required crossing the shallow creek a few times – me by walking across rocks in the water, while Rocky just walked through the water.
Rocky is a water dog and immediately went for a swim upon arrival at the falls about 5:30 p.m. At least 30 people were already there, some with their dogs. Rocky eventually introduced himself to everyone, finding another water dog to play with in and out of the water.
We started back up the trail about 6:30 p.m., and again stopped for a water break about halfway, arriving at the trailhead about 7:30 p.m.
Leaving the falls it is almost all uphill on the way back and maybe a bit hard on those not used to hiking or who aren't supplied with water. The upside: nice trail and beautiful natural falls and pool. The downside: the final 1.5 miles of the 2+ miles hike back is all uphill. Recommend: Wear a hat and bring water, and pack some water for your dog.