There is no write-up for this waterfall by the World of Waterfalls. Submit your own write-up!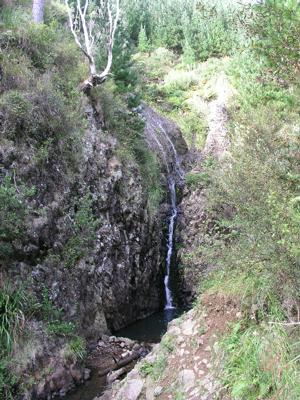 Driving difficulty: Easy on sealed road.
Walking difficulty: Easy 40 minute return walk.
Hazards: The grass growing at the side of the path near the fall is sharp edged. It cut my hand when I brushed against it.
Location: From SH25 on the eastern Coromandel take the Hikuai Settlement Road towards Pauanui. Continue past the entrance to a luxury resort. The road climbs then drops to a sweeping left hand bend. The "pull off" and start of the track are on the outside of this bend
I have called these Pauanui Falls but they may have another name. This is only a small waterfall, also because of the elevated viewpoint the photograph does not do it justice.
It could be combined with a trip to Wentworth Falls.
Driving towards Pauanui on the east coast of the Coromandel Peninsula we noticed a small parking area and sign board. We investigated on our return journey and found that it was the start of a path to a waterfall. We returned the next day to investigate further, and found a narrow path leading to a small waterfall in a gorge.