There is no write-up for this waterfall by the World of Waterfalls. Submit your own write-up!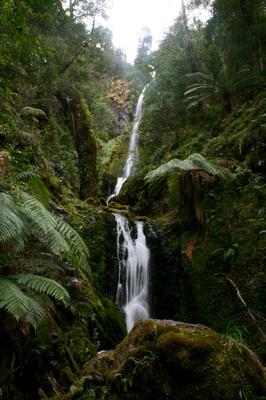 We visited Quaile Falls last week (31/10/2015). As you mentioned on the Champagne Falls page, it is on private land, and access is not technically allowed unless you ask permission. We didn't know who to ask permission from, so we decided to check it out and see what happened, although we figured that if they were giving people permission to visit, it should be okay to go in.
The thing that has changed since you guys visited back in 2006 is that there is no longer a gate stopping you from driving to the start of the walk. The start of the track is marked only by a small sign on the right where there is also a pullout.
Initially, the track was quite easy, as it entered some nice rainforest, although it gradually became a little harder to follow until we reached the top of the falls after around 25-30 minutes.
From here, the walk became much harder as it veered off to the left, and began heading down to the base of the falls. In some places, it was really just a scramble down a steep slope, as there wasn't really any sort of trail to follow. Luckily, we reached the base of the falls after about 45-50 minutes.
Quaile Falls really are beautiful, dropping some 60 metres over three tiers in a stunning mossy gorge. I had plenty of fun playing around with my new camera and tripod around here! Whilst the view from the base was very good, we also managed to find a way to the base of the main tier, which was easily the most impressive drop at 40 metres high. The one thing that really pleased me about the falls was that it was flowing very well. Given that we visited after what had been the driest September and October on record for some parts of the state, it was good to see that there was still a satisfying flow coming over, although I would imagine Quaile Falls to be truly spectacular after rain. To give you and idea of the extent of the low flow, I included a picture of Pencil Pine Falls from earlier that day with very little water.
At any rate, it was a fun visit, and it's good that the current owners are a bit more relaxed about letting people in.