The World of Waterfalls has been to this waterfall, which you can read about here.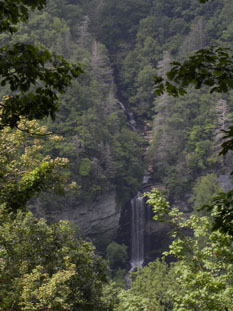 I heard this was a strenuous hike. It was!
You literally are going through a partial rain forest. It is misty raining half way through the trail. It is a 2.2 mile hike one way. Beautiful and many birds. You hear blue jays, pilleated woodpeckers, quail, chickadees, and some sort of mountain bird which I never did get to see.
My heart rate was up over 160 bpm the entire way as it is an up and down climb both ways. The view in the autumn with the leaves changing is spectacular. The trail head is not very well maintained from the NC side (I personally think they do this so that you are forced to stop at the SC Ceasar Head Park Station to ask for directions..tourist trap. The SC way is marked perfectly.)
This is the tallest Waterfall in SC. You can also go to the ranger station and walk out on to the overlook as well. Stunning!