The World of Waterfalls has been to this waterfall, which you can read about here.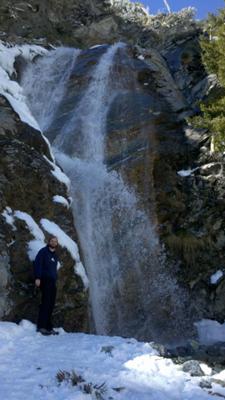 My wife and I are fairly new to visiting waterfalls, as we just started at the beginning of the year. We've been to several so far, and we love it!
A few weeks ago we decided to check out San Antonio Falls. It had just snowed over the weekend, and for some reason I wasn't expecting snow there. I guess I thought it was much lower on Mount Baldy than it actually is. To our surprise, the entire area was blanketed with snow (and tons of cars trying to get to the snow as well).
Luckily we were still able to hike to the falls, and the snow was a great added bonus!