There is no write-up for this waterfall by the World of Waterfalls. Submit your own write-up!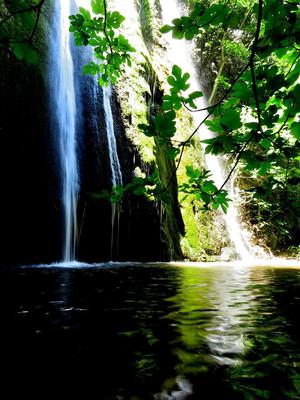 This li'l gem is tucked away ina tributary of the San Gabriel River, that comes in on tha L side ifyur comin upstream, R ifyur comin down, approx 1mi downstream from B2N. Not givin the xact coordinates. Ifu can't findit w/that "hint", it's prolly NOT tha waterfall 4u! :p Notta "rager" by any stretch, but it's beauty is not dependent upon the CFM of the creek. Abit presumptuous to lay claim to discoverin it, especially since there's some sort of structure that resembles a "fireplace" built into tha L side'a tha cyn, and some d-bag has already tagged it, but, I can't findit referenced on any map or trip report from B2N, so, until such time as contradictory evidence surfaces, I'm callinit "Someday Falls". 4 God sakes! Ifu go, PLEEEEZE respectit 4 tha truly magical place thattitis! The beautiful green moss that covers the face is VERY fragile. Ifyur tha type that thinks any1 cares about how much u love yur GF, 2 the xtent thatu feel tha need to carvit into a tree, or tha rocks, while we're all very happy 4u, I assuru, we DON'T! We also don't need to know yur fav snacks n beverages, so PLEEEEZE, pack out yur trash! That is all! 😉
P.S. As of this writing, there are 2 ropes that grant access 2 tha top'a tha falls, but, tha 2nd 1's in prettybad shape! Climb @ yur own risk! Also, there'sa rope goin down 2 the "teacup" pool @ tha top'a tha falls, buttit's even WORSE than the others!