The World of Waterfalls has been to this waterfall, which you can read about here.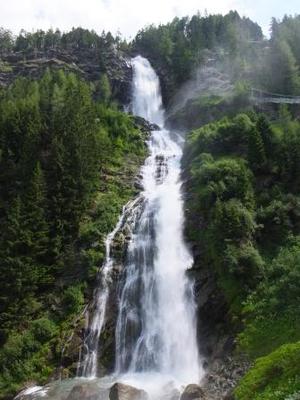 The powerful Stuibenfall can be found in the Tyrol region of Austria near the village of Umhausen. The Horlachbach stream plunges 159 meters into the valley in a cascade of spray which gives the fall its name. We were also lucky to see some beautiful rainbows.
There is a car park just outside the village (paying) from where you can walk on a well made trail along the stream to the base of the falls and a couple of viewing platforms. Then the fun begins, a new trail has been built to the top of the fall, this comprises of an 80 meter long suspended walkway that rises to about halfway up the fall. This can sway about depending on how many people are on it and is not recommended if you suffer from vertigo. From there you can access a couple more viewing platforms one of which will leave you soaked as it is in the full blast of the spray.
After this you climb 700 steps up a spiral steel and wooden structure to the top of the fall. There is a natural bridge over the head of the fall and climbers who have scaled then cross over, which was great fun to watch. For the less adventurous there is a normal bridge which leads to a sky walk platform suspended out over the abyss. I believe it is possible to drive up a mountain road to the hamlet of Niederthai and approach the fall from the top but that would not be nearly as much fun.