This post was in response to Submit A Waterfall
The World of Waterfalls has been to this waterfall, which you can read about here.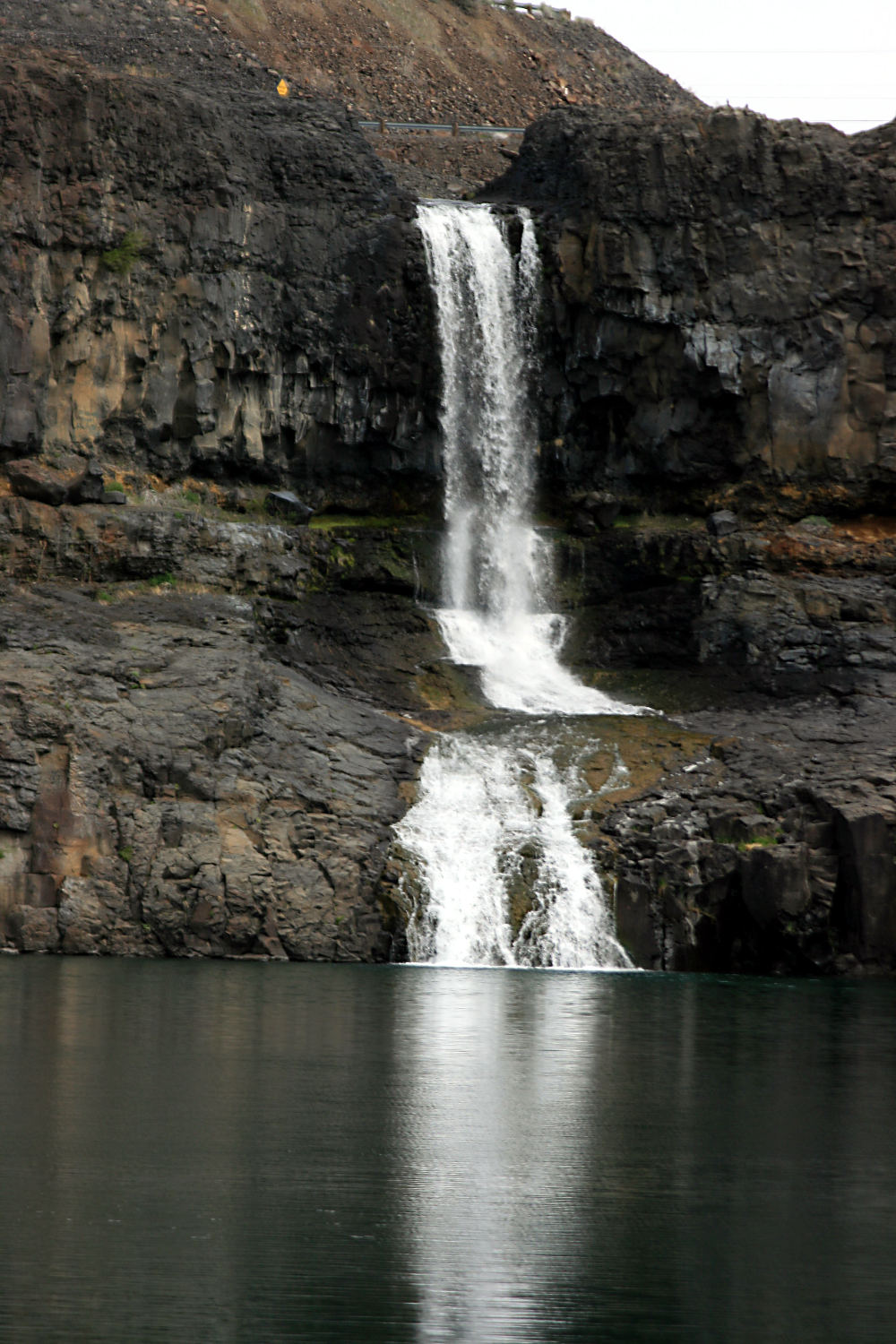 Washington (state)'s artificial waterfall. And that requires some explanation.
Obviously the water is real, and it's certainly falling! And it's occupying a natural watercourse.
The stream now in that watercourse, however, is not natural.
It's the distributary stream, the so-called Main Canal, for Banks Lake, the reservoir for the Columbia Basin (Irrigation) Project.
Banks Lake is filled by water pumped up from the Columbia River by power from Grand Coulee Dam. (It largely fills the bottom of the Grand Coulee, in fact, but that's another story.)
As far as possible, the distribution system for the irrigation water exploits natural channels in the Channeled Scabland.
To that end the Main Canal feeds into the channel that goes over this scarp, at what was the site of a Scabland falls. The lake in the foreground is Billy Clapp Lake, another holding reservoir formed by damming a Scabland coulee.
For decades Summer Falls fell free, but in the early 1980s a hydroelectric plant was built to recover most of the energy. So by comparison to the old days the falls are just a trickle.
An old photo (July 1983), a Photoshopped scan from an underexposed slide, is included that gives the flavor of what the falls used to be like. The powerplant was under construction when that photo was taken.
Even though the falls are now a shadow of their former selves, they remain interesting historically, as one consequence of a technological megaproject.
Especially in the old days, the currents below the falls were both strong and unpredictable, particularly as flow rates would vary due to irrigation demand.
For that reason this area is off-limits to swimming. There's a sad memorial to three teenagers who drowned here in the late 70s.
Last, the name "Summer" Falls comes because it runs only during growing season! There's no demand for water in the wintertime.
Getting there The falls are off Pinto Ridge Road, a paved highway that runs between US 2 at Coulee City and Washington SR 28, about halfway between Soap Lake and Wilson Creek. The turnoff is a bit closer to the highway 28 side.
It's paved and runs down to a park at the falls, but is not open in the winter months. There's a separate road to the powerplant, but it's not open to the public, probably due to post 9/11 security measures.