The World of Waterfalls has been to this waterfall, which you can read about here.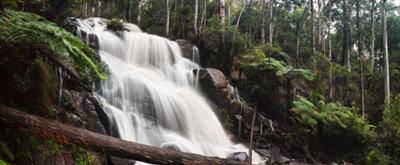 On Sunday the 10th of April 2011, I packed up the photo gear into the car and made the trek to Noojee to photograph these iconic falls, taking in the surrounding landscape and the Noojee trestle bridge and other waterways also.
I was not dissapointed. The river was in full flow. Normally I'd wade in to shoot some different angles, but had to resign myself to boulder-hopping instead of being swept away.
I followed this up with a casual drive back through Yarra Junction and Mount Dandenong.