This post was in response to Top 10 Lists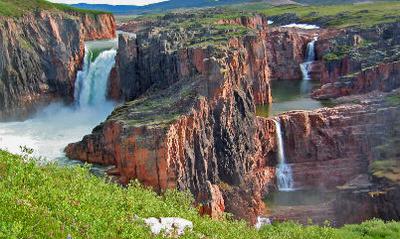 10. Kakabeka Falls, Ontario -Kakabeka is the largest waterfalls in Northern Ontario, and is protected by a lovely provincial park. Offers great lookouts, easy access, and is visually captivating.
9. Wilberforce Falls, Nunavut – One of the only major waterfalls north of the Arctic Circle, a series of cascades results in a natural masterpiece.
8. Kinuseo Falls, British Columbia – One of the greatest attractions Northern BC has to offer, Kinuseo Falls clocks in at around 60 metres high (200 ft). If for some god-forsaken reason the Mountain Ranges ever become a bore while you're in British Columbia, head north, and these falls will not disappoint.
7. Spahats Creek Falls, British Columbia – Part of the famous Wells Grey Provincial Park, Spahats Creek is the first of two waterfalls from the Park on this top 10 list. Spahats is incredible to view, with cliffs ascending from either side of the top of the waterfalls, it looks as if these waterfalls were literally carved halfway up into a massive bowl. When these falls mysteriously split from the otherwise perfect rock face, they plunge over 60 metres (200 feet) to the bottom of the punch bowl. A must see if you're ever in British Columbia
6. Louise Falls, Northwest Territories – Northwest Territories tends to avoid common thought when one ponders natural extremes in Canada. However, Louise Falls, the first of three Waterfalls from the Northwest Territories on this list, will positively change that common misconception. Aside from the four national parks that bless the Northwest Territories, it has an abundance of beautiful waterfalls to help compliment the province even further
5. Helmcken Falls – If the analogy of a "Punch Bowl" in the description of Spahats Creek Falls wasn't enough, Helmcken Falls sure is. The resemblance is undeniable, the only difference is that the punch bowl named Helmcken is made of Mountain Oasis, and towers at a height of 141 metres high (463 feet). Even on a bad day, this natural wonder is life altering, and if you're lucky to find yourself standing at the top of Helmcken Falls on a beautiful sunny day at the right hour, you may find it hard to ever leave British Columbia.
4. Montmorency Falls, Quebec – The natural gem of Quebec, the Montmorency falls bring tourists far and wide to Quebec's capital. Incredibly convenient, located hardly five minutes outside of Quebec City, these falls, towering at a height of 84 metres (275 feet) are absolutely incredible to look at. A winter phenomenon as well, as these falls almost always freeze and become even more astonishing, and uniquely… Canadienne
3. Lady Evelyn Falls, Northwest Territories – While paling in comparison in terms of the height regarding many of the other falls on this list, Lady Evelyn Falls makes it this high because of it's mere perfection. It looks as if it had to have been man-made. No official height has been recorded for the Falls, but no estimate lies less than 25 metres (80 feet) high. Literally perfect.
2. Virginia Falls, Northwest Territories – These next two descriptions will be less in depth than the ones previous, because the concerned Falls truly do speak for themselves. Virginia Falls has almost the same volume of water tumbling over it's cliff per second as the famous Victoria Falls of Zimbambwe. If not for it's isolation, it would surely be one of Canada's greatest tourist attractions. However, the fact that you could be one of the 1000 visitors (at the highest) whom make the trek to Virginia falls annually is incredibly enticing.
1. Niagara Falls, Ontario – What really needs to be said about Niagara Falls? Other than that they are obviously marred by the hotels, casinos, and Clifton Hill surrounding the falls… One still cannot deny their perfection. Nature's finest work to say the least, as 85000 cubic feet of water plunge over the falls per second, to a basin 50 metres (165 feet) below, the perfect teal-blue colour of the water travelling with such force is breath-taking, and unforgettable. Try to avoid the souvenir shops when you make the trip 😉