The World of Waterfalls has been to this waterfall, which you can read about here.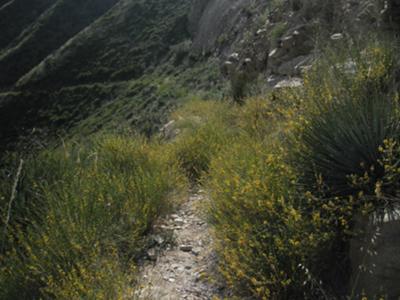 Just went to trail canyon falls today. The trail is closed due to fires that happened years ago but I think it is because they don't have the money to fix and maintain the trail to be honest. You must trespass at your own risk. I parked on Ollie Rd. just yards from the dirt road entrance so that no one would suspect that I was there.
In the beginning, there are homes and the trail is nice. The trail signs are gone. You must hike past the homes. Once you reach the last home which is separated from the others and further back you take the right side of the trail. You hike until there is a rusty and broken down tractor/mower-keep going strait along the stream. Then you hike along the stream for awhile. Once you reach an opening to the valley you will notice some rusty sheet metal barriers. This is the actual trail and it goes up the mountain. The trail is unmaintained here so I suggest using pants so that you don't cut up your legs. Then you just keep following the trail around the ridge until you see the waterfall tucked away in a valley.
Good luck to anyone else that tries it. It is worth it to some and not to others.