There is no write-up for this waterfall by the World of Waterfalls. Submit your own write-up!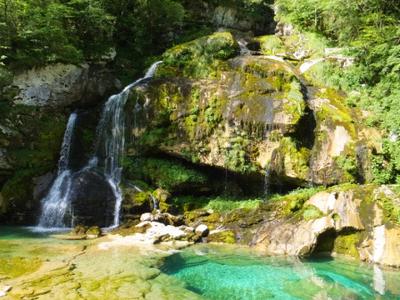 The beautiful Virje waterfall is located near the hamlet of Plužna not far from Bovec . An easy circular walk can be made to view the fall and the source of the Glijun stream which feeds it.
The fall is about 12m high and can be 20m in width depending on the flow of water, in late June on our visit the level was low. Virje is set in a pretty glade and the pools below it are a stunning colour, when we visited we had the place to ourselves and it had a truly tranquil atmosphere.
A little further walk you come to the source of the stream which just appears through the mossy boulders of this Karst area.