There is no write-up for this waterfall by the World of Waterfalls. Submit your own write-up!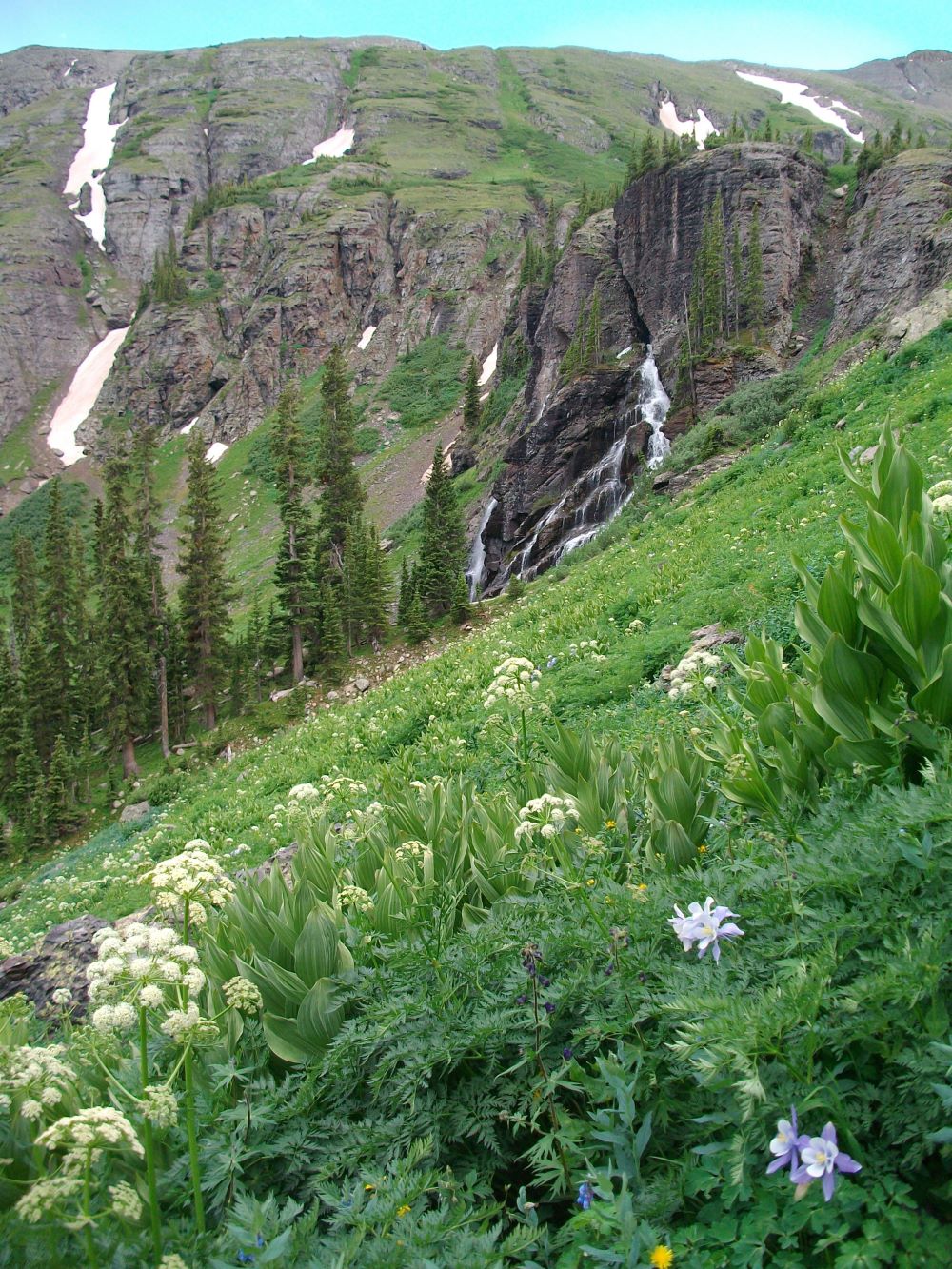 The hike to Ice Lake is with a steep gain in elevation. I've included a photo of the lake, as the hike to these falls is most of the distance from the trailhead to the lake.
The falls which you pass on the hiking trail are situated between Lower Ice Lake Basin and the Upper Basin.
The lake has a beautiful blue green color from the minerals being deposited into it. The falls are alongside the trail which you pass to the right of the falls. The falls flow in an unusual way through a diagonal crevice in the rock.
Be sure to take a short ten minute side hike to Lower Falls South Fork Mineral Creek from the area of South Mineral campground.
The trailhead to Ice Lake starts at the parking area just west of the entrance to South Mineral campground.
You might begin your hike at another point further up the road which would reduce your hike by about a half mile; that road continues up a steep grade to Clear Lake, however there is no large parking area at that starting point for the hike to Ice Lake.
The campground is large with many sites and the hike is one of the best in Colorado.
There are other waterfalls you'll see besides this one on your hike to Lower Mineral Basin and on up to Ice Lake.
I've put a scenic rating on these falls on the lower end and yet the overall scenic views on the hike would be near the upper end if the rating weren't limited to the falls.
There are many other waterfalls in this area known as the San Juan Triangle.
This was an area that was rich in silver, with some of the mines producing 30,000 ounces of silver per ton.
There is useful information about the scenic hikes and places to visit at the public lands office in Silverton.
If you make it this far to the waterfall, you're about 3/4 of your way to Ice Lake which is above timberline.
You might want to bring a raincoat or umbrella with you if you're hiking in the afternoon summertime.
I've been in the area painting a large landscape painting and it was expected for the rain to start and stop a half dozen times every afternoon.
You will usually get a five minute warning with a clap of thunder.