There is no write-up for this waterfall by the World of Waterfalls. Submit your own write-up!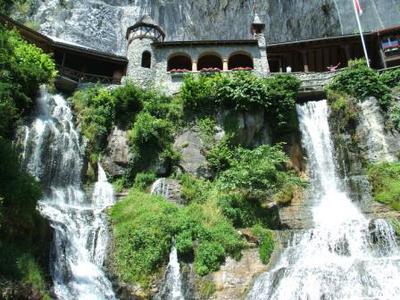 Saint Beatus Caves lie high above the northeastern shore of Lake Thun near Interlaken on the Niederhorn Massif. The subterranean river that flows through the caves makes a dramatic exit through the cave mouths falling in a series of about five cascades down to the lake below. From the car park it is a pleasant but steep walk zigzagging up the mountainside alongside the falls to the cave entrance.
Beatus was a sixth century Irish monk. Legend has it that when he got to the caves he found them inhabited by a dragon which he promptly drove off. He then settled there to convert the no doubt much impressed locals to Christianity!