There is no write-up for this waterfall by the World of Waterfalls. Submit your own write-up!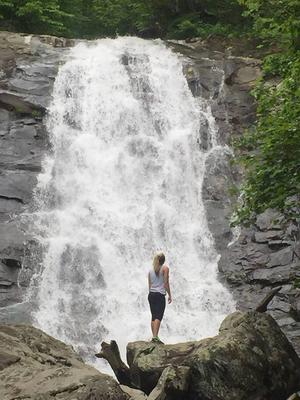 Below, I have listed my original story hiking to White Oak Canyon Falls. I was able to capture the upper and lower falls. All photos were taken by me. Enjoy the read!
The views were breath-taking, the air was crisp and clean, the sounds of the birds chirping and the wind blowing was calming and relaxing. We were in Shenandoah National Park trying to discover the head of the Whiteoak Canyon Trail. There are multiple ways to access the trail. You can start at the top and work your way to the bottom, or you can do the opposite. You can trek circuit hikes or choose round trip hikes that include the Whiteoak Canyon Trail within them. Whatever path you choose, be sure you have plenty of water, some snacks, and a stable mindset, because the hike can be steep, with some spots gaining 1,100 feet in elevation. Lisa and I finally found our parking lot and arrived at around 3:45pm – just enough time to hike a little over 5 miles before dark.
We began our hike, which immediately steeped downhill. In the back of our minds, we knew the hike returning would be uphill, but we didn't realize at the time how tough it would be coming back. As we pressed forward, we stopped along the way to capture some beautiful shots of the streams, rivers, flowers, and shrubbery along the way. I even did some modeling on a log over a stream to REALLY become one with nature. Our hike continued along, crossing bridges, almost slipping and falling into the water, making bathroom stops, and fighting off the many bugs that kept pestering us. Eventually, the sound of the water began to pick up and we knew the waterfalls were close. We came to the first overlook of a grand waterfall. This was a popular pit stop – and ending point for some – but we wanted to continue on to see what else lay ahead. We came upon a mini waterfall over an edge that fell at our feet, so I stuck my head under for a refreshing shower. It gave me a surge of energy, so we continued.
At this point, the downhill hike became steeper. Despite being on the brink of stopping, we surged ahead. I'm so happy we did because the next waterfall that presented itself was by far the most beautiful and impressive. We hung around this area for a while dipping our feet in the water, getting closer to the falls, resting, bouldering, and taking in God's perfection on display. Some of us even obtained a fancy profile picture from all of this 😉 After resting a while, we decided it was time to head back up after some travelers informed us that the additional 0.6 mile hike to the lowest part of the falls wouldn't be worth it. We were tired, exhausted, and spent of energy, so we turned around to hike back up the way we came. It started to sprinkle, then it began to rain a little harder, and the sun was dropping. The hike back to the top seemed impossible, and I'll just say this – it was a LONG hike back filled with a lot of adversity.
The point is, it may take a while to uncover our path in life, but once we find it, we can choose to embrace it or turn around. There will be forks and crossroads along the path, some of which we can take, but it's crucial to not lose focus on what lies ahead. However, even when we finally discover our path, that doesn't mean it will be an easy stroll. There will be points along the trail that are downhill and easy, where everything seems to go our way. But, there will also be uphill battles where the peak of the mountain seems impossible to reach. I'm not sure where you are in your life right now, but if it's downhill at the moment, embrace it and enjoy the waterfalls, trees, and beautiful sounds along the way. If you're facing an uphill battle that is daunting, even if it's raining on top of it, don't give up. Keep trekking along and fighting, because you will eventually reach a summit. And I promise you, what lies ahead at the end of your path is so beautiful and magnificent that you'll peer behind you, take a deep breath, and be happy you climbed that mountain. Don't give up and don't quit. You'll be happy you didn't.
Address: Whiteoak Canyon Trail, Syria, VA 22743
Location: Shenandoah National Park along the Whiteoak Canyon Trail