Getting to Victoria Falls was not easy because it was pretty much on the opposite side of the world for us.
In fact, we managed to visit this place as part of a larger around-the-world trip.
That said, if a long trip isn't an option, we recognized that there were logistical things we had to get through to even make just this part of the trip happen. And that's what we're going to focus on in this post.
That way, you can plan for the considerations that we had to deal with in order to make a dream visit to the "Smoke That Thunders" closer to reality!
Where is Victoria Falls and what does it take to get there?
Victoria Falls sits in Southern Africa on the Zambezi River right on the border between Zimbabwe and Zambia. Since we're based in Los Angeles on the other side of the world, the distance alone poses some logistical challenges.
While we recognize that there are many ways to get there, we'll just focus on our own experiences since that's what we know best. Based on that, then you can extrapolate to how you would be doing your visit.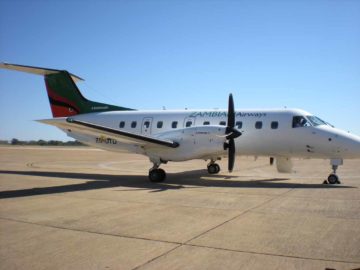 First, we'd have to fly here. The most obvious African hub would be the international airport in Johannesburg, South Africa (JNB). We managed to fly to Jo'burg from Sydney (SYD) on our around-the-world trip, which was a flight that took over 14 hours in the air.
Of course, we also had to fly from Los Angeles (LAX) to Sydney, which also took nearly 14 hours.
So the total flight time would be a minimum of 28 hours, but that doesn't count the inevitable delays in flights, customs, baggage claim, passport control, etc. On top of that, there is also the time spent waiting between flights. So I can easily imagine this taking well over 30 hours on just the air transport logistics alone if we went this route.
If we opted to fly eastwards from Los Angeles, then we'd have to connect in London Heathrow Airport (LHR). The leg from LAX to LHR would be around 11 hours of air time.
Then, we'd have to catch the connecting flight from London Heathrow to Johannesburg, which would be on the order of over 11 hours of air time.
So if Victoria Falls was the first and/or last destination of a trip, I'd imagine that going the London route would be shorter air time (around 22 hours as opposed to closer to 28 hours). But again, when you consider all the other airport logistics, it can still take upwards of 30+ hours.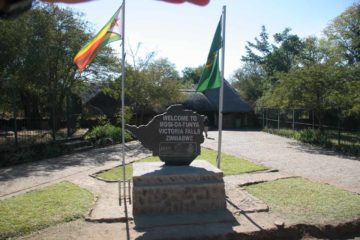 After arriving in Johannesburg, we'd then have to catch a connecting flight to the closest airports to Victoria Falls.
When we made our visit in late May 2008, the country of Zimbabwe was undergoing some political turmoil, which made it too risky to fly to the Victoria Falls airport. That flight would have taken us under 2 hours.
Instead, we wound up flying from Johannesburg to Livingstone, Zambia. That flight took us under 2 hours. However, the distance between Livingstone and the actual waterfall itself was around 11km, which was a bit much for a walk. So we had to take a taxi there.
On the other hand, had we been able to fly right into the town of Victoria Falls, Zimbabwe, then we conceivably could have been transported to the main part of town, then literally walk 2km or so to the actual waterfall itself.
Based on logistics alone, if I had to do it all over again, I would have chosen to stay on the Zimbabwe side assuming the political situation would have been calm on that visit.
One last thing we should caution you about is that there was a strict baggage weight limit of 20kgon our flight between Jo'burg and Livingstone. Both Julie and I didn't meet this requirement (we were about 3kg over) and we got burned by it by paying an additional 376 Rand or $60 USD equivalent for each bag as well as additional waiting time in line as we had to go from one queue to the next.
So that's something to keep in mind when coming out here. We normally packed light, but since we were on a much longer trip, we brought along more stuff that would help us last the eight weeks we were away.
Visas and Vaccinations
Visa Requirements Issues
In addition to the logistical hurdles covering the long distances between home and Vic Falls, there were also logistical issues on both the political and health side of things.
When we arrived at the Livingstone Airport, one of the big surprises we had to deal with was the Visa, which we had to fill out and pay for on the spot at the passport control.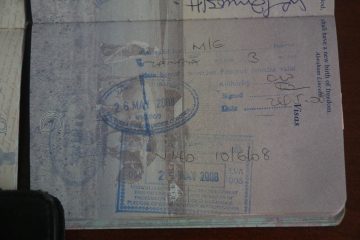 I'm not sure how much things have changed since our visit back in late May 2008, but we (being US Citizens) actually paid $135 USD in cash per person for a multi-entry Visa. We needed this type of Visa because we were staying in Zambia but intended to visit the Zimbabwe side before coming back.
The Visa was good for 30 days but it was said that it could be extended twice for a grand total of three months. I'd imagine that for most people, they'd do as we did and eat the fees even though our visit was nowhere near the Visa limit.
Conversely, when we visited the Zimbabwe side a couple of days after our arrival to Livingstone, we paid an at-the-gate Visa fee of $30 USD per person for single-entry. Since we weren't coming back to Zimbabwe on this trip, we didn't need to get a multi-entry Visa for Zimbabwe.
Vaccination Requirements
Another thing to watch out for was that officially, we were supposed to have a yellow fever vaccination certificate, which proved that we were vaccinated against that mosquito-borne disease. While we were not checked for it during passport control during our visit, I'd imagine getting vaccinated on the spot at the airport (where blood-transmitted illnesses like AIDS was still an issue) was not a chance we wanted to take.
In order to get the vaccination certificate, we went to a local doctor who was able to administer it (along with a battery of other vaccinations and boosters covering things like hepatitis A and B, tetanus, measles, etc.) and issue the yellow fever vaccination certificate, which was basically a yellow booklet with stamps and dates of our recent vaccinations. We also picked up some malaria tablets just in case.
My insurance didn't cover these vaccinations, and at the end of our injects (which took place a few weeks prior to this trip), I wound up paying around $1200 USD out-of-pocket covering the both of us (or about $600 per person).
I viewed this expense as kind of an "insurance" or piece-of-mind against contracting some kind of illness that could really put a halt to our "trip-of-a-lifetime".
Passport Requirements
Generally, we just had to make sure that we had at least one blank page (for the big Zambia Visa stamp) and that it was valid for at least 6 months after our departure date.
The blank pages requirement was actually challenging to us at the time because we were frequent international travelers. Thus, we even had to pay for supplemental pages on our passport prior to the trip just to ensure that we wouldn't be denied entry over issues like this.
Length of Visit
Well, after getting through all the logistics of how to get here, there's one more overlooked aspect of planning a visit…
How long should our visit to Victoria Falls be?
In our experience, we gave ourselves 3 nights (or roughly 4 days though that first day was really just an afternoon of touring and the better part of the morning on flying, Visa and passport control, and settling in our accommodation).
That gave us enough time to see the falls from both the Zimbabwe and Zambia side on our own with time for a paid excursion or two.
It didn't feel rushed nor did it feel too short, but I'd imagine that had the Zambezi River been in less crazier flow, we might have had more things to see and do, and then I could see us staying an additional night to really experience this place.
Clearly, the more time you spend, the less rushed the trip will feel and the more flexible your trip becomes. This can especially be the case with the weather since a bigger time window gives you a greater chance of experiencing the falls in good conditions (though it was sunny every day we were there).
The drawback to a longer stay will be cost and time. But that's usually the tradeoff you have to make when planning and executing on any trip since everyone has limits to how much time and money they have.
Visitor Comments:
Got something you'd like to share or say to keep the conversation going? Feel free to leave a comment below...
No users have replied to the content on this page