When is the best time to visit Victoria Falls?
That is a tricky question because it really depends on what you're looking for.
For instance, if you want to see the falls at its most impressive, you'll want to be here when it is flowing well. But if there's too much water, then the experience could be adversely impacted with closures as well as visibility issues.
If you want to do more things and get closer to the falls, you'll want to be here when the falls have low flow. However, the flow of the waterfall can't be so low that there's hardly a waterfall at all!
Of course, most of us like happy mediums and would prefer to come when you can get good pictures while also getting to do some of the excursions.
That said, it's very difficult to make such timing decisions, especially since this isn't exactly a place to make last minute plans and just show up.
Often times, you have to pick travel dates and cross your fingers for agreeable conditions. Indeed, there are numerous factors that come into play that are hard to predict, especially if you're traveling from far and away.
Our Personal Experience
We happened to show up in May 2008 so we can somewhat speak from experience. We can also supplement our observations to extrapolate patterns for the rest of the year based on what locals have told us, on pre- and post-trip research, and some intuition.
So here's the breakdown…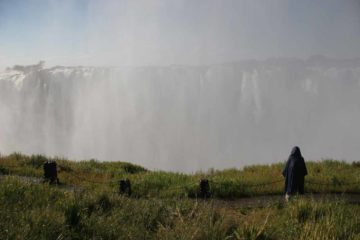 As you can see from the photos on this page, our trip happened to be at a time when the Zambezi River was in very high flow.
From looking at the river flow data, our visit happened to be during a time when the river was in peak or near peak flow. This typically occurred around the April through May (and even early June) time frame.
Certainly under these conditions, the entire 1.7km width of the Victoria Falls basalt wall dropoff was full of water.
And while it's tempting to think this would be the best time to experience the mighty waterfall, we actually found that most of the viewpoints were too misty to photograph effectively. Imagine what it would be like trying to take pictures in the midst of a torrential downpour!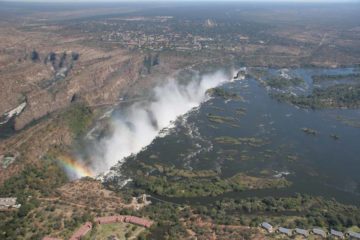 We definitely had to be careful not to destroy our electronic equipment by exposing it in the rain for too long.
It was a good thing we brought our rain ponchos to not only keep ourselves somewhat dry but also to protect our sensitive electronics like that camera. There were even vendors renting out large ponchos.
Since the close-up viewpoints weren't the best at this time of year, it did happen to be the time to see the waterfall from the air.
It was only then were we able to truly appreciate the falls' grandeur, scale, magnitude, and sheer beauty. And do all this without mist overwhelming us.
Climate Patterns
As for the non-peak flow months, here's what we can extrapolate.
The falls is said to be in its lowest flow around the October-December time frame.
Under this condition, the falls will likely to have been segmented into several smaller "strands" of water with much of the underlying basalt bedrock wall exposed.
Thus, the falls would probably lack its thunderous impact at this time. We've even read that sometimes large sections of the falls become dry due to some degree of water diversion for hydroelectricity on the Zambia side.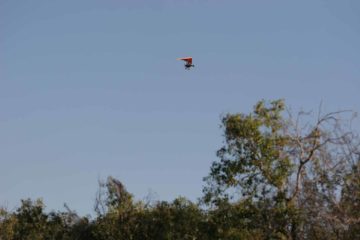 On the flip side, I'd imagine this would be the time to do some of the paid excursions that gets you real close with the waterfall. One such activity is the Devil's Swimming Pool, which lets you swim right at the edge of the falls!
As for the transition seasons, perhaps the most popular and optimal time to visit Victoria Falls (at least regarding the combination of good views and best weather) would be around the July through September time frame.
The falls is said to be gradually in transition from a flooded state to a low flow state so you might have fewer problems than we did with the mist while still having an acceptable volume of water so as to not feel underwhelmed.
But with this being perhaps the best time to go, I'm sure the demand rises and thus the cost of accommodations and amenities as well as the crowds (though even this waterfall is relatively less visited compared to other goliath attractions like Iguazu Falls and Niagara Falls) are probably at their worst.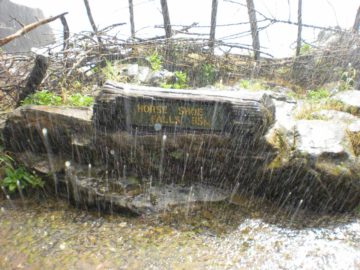 In any case, if we had to do it all over again, we'd probably come back around this time.
Finally, at around the January through March time frame is said to be the wet season. This is when the area is the hottest and muggiest, and thundershowers are more likely.
Like the peak season, the falls is in a transitional period, but it's going from from low flow to high flow.
I'd imagine that with the exception of the unpredictability of the weather, you'd likely get good but not overwhelming flow like in the peak visitation months of late Summer.
More Photos From Our Late May 2008 Visit
Just to give you an idea of how our experience went when the Zambezi River was near or at peak flow, here are some more pictures taken from that late May 2008 visit.
Visitor Comments:
Got something you'd like to share or say to keep the conversation going? Feel free to leave a comment below...
No users have replied to the content on this page