This trip was the first part of a longer 2.5-week itinerary combining a road trip over parts of Washington State and an Alaskan Cruise.
Each part of this trip could be done as separate itineraries, which is why I split them up in this manner.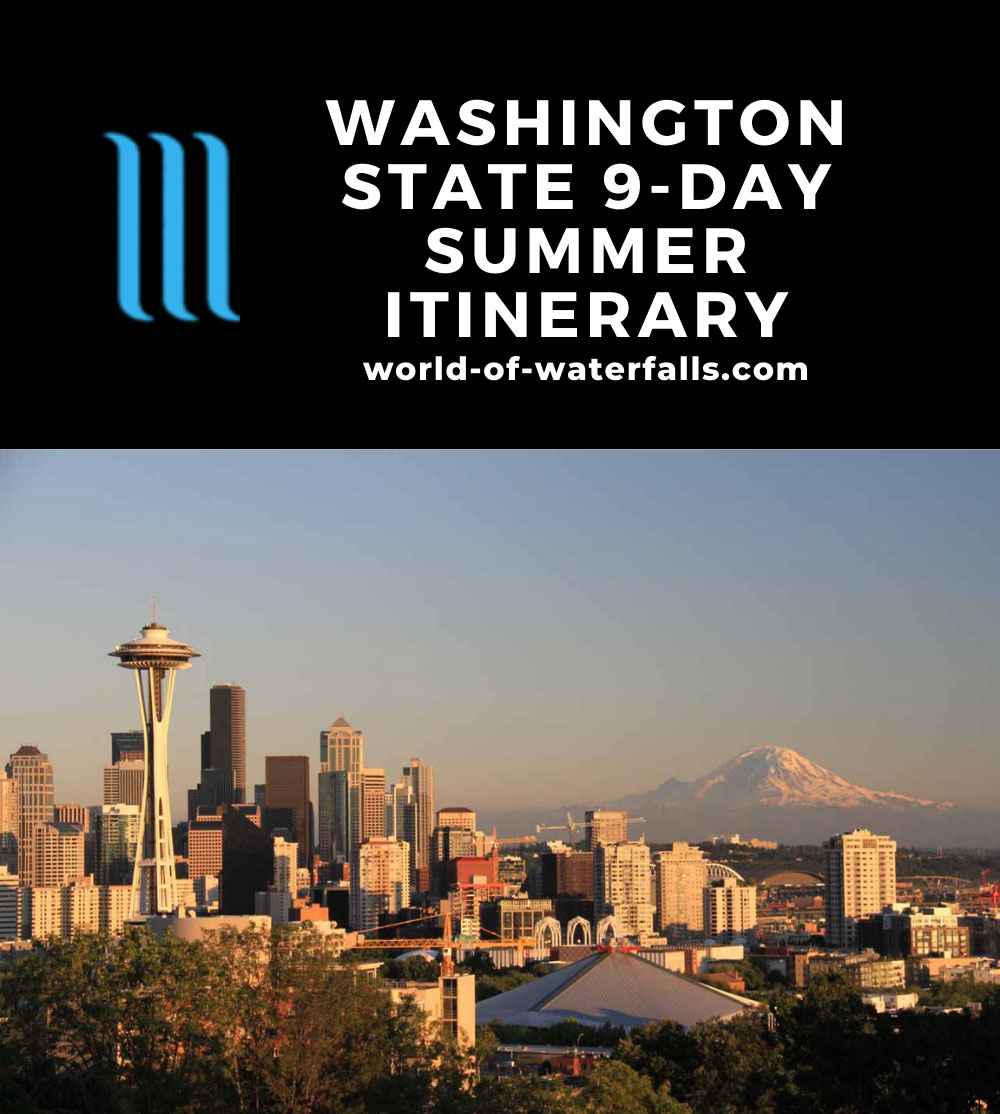 So even though the verbiage down below makes it seem like we're transitioning from the Washington part of the itinerary to the Alaska part of the itinerary, it easily could have been reworded to be a dedicated Washington-only itinerary that started and ended in Seattle.
This trip was motivated largely due to trying to test what we can and can't do with a newborn when we travel (especially considering we hadn't really done anywhere since our daughter was born). We also brought along Julie's mother on this trip, which was probably the longest she had hung out with us in our travels. She was an invaluable asset in terms of taking turns watching our little girl.
Here are some highlights and logistics of how we managed to pull this trip off…
Trip Highlights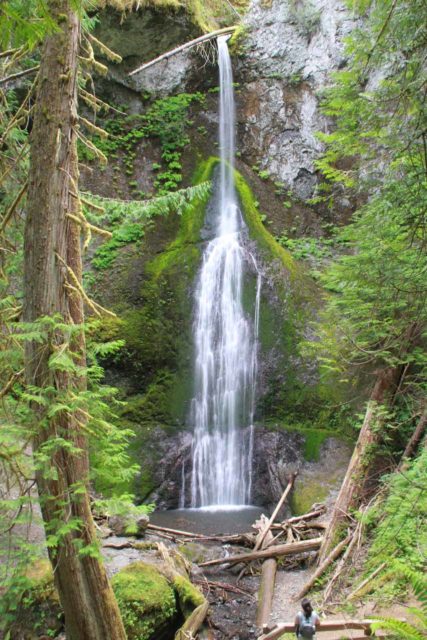 Marymere Falls – While this waterfall was impressive due to its height, I found the overall experience of this hike to be what made it a highlight. In addition to starting by the scenic Lake Crescent, the trail also featured big trees and lots of green (hinting at the high rainfall of this area).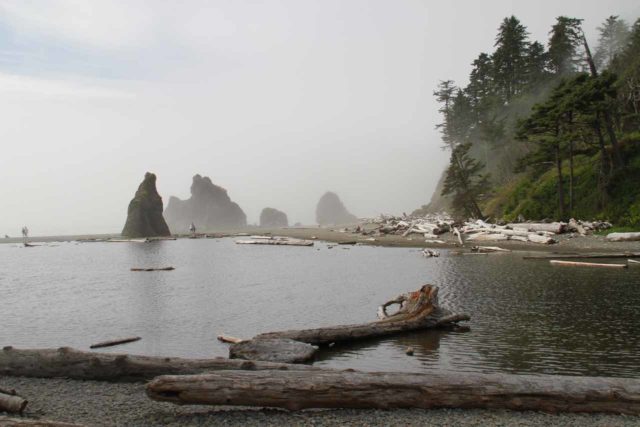 Ruby Beach – This coastal stop near Forks was nice because it was easy to access, the rock stacks were interesting, the driftwood-strewn tidal lagoons made for some interesting photos, and the fog that came in and out really added some mood to our photos. To me, this was quintessential coastal scenery that I'd imagine to be typical of the Pacific Northwest.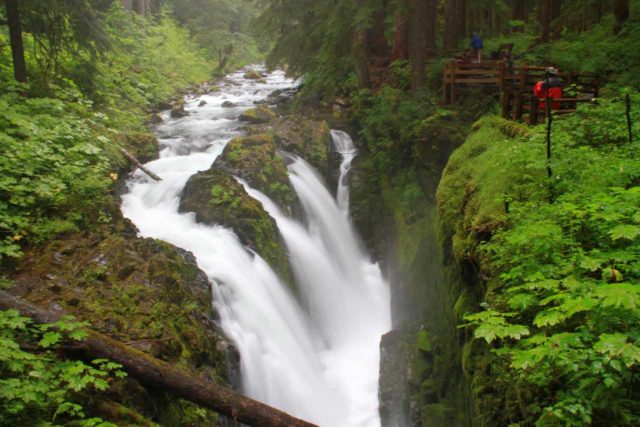 Sol Duc Falls – This was a waterfall where it seemed like the mist and overcast actually brought out a better experience. Indeed, the green trees and ferns affirmed to us that we were breathing clean cool air, and the waterfall itself contrasted all the green surroundings with its triple-barreled tumble. There was also a hot springs near the trailhead, making for a way to offset the cool, damp conditions.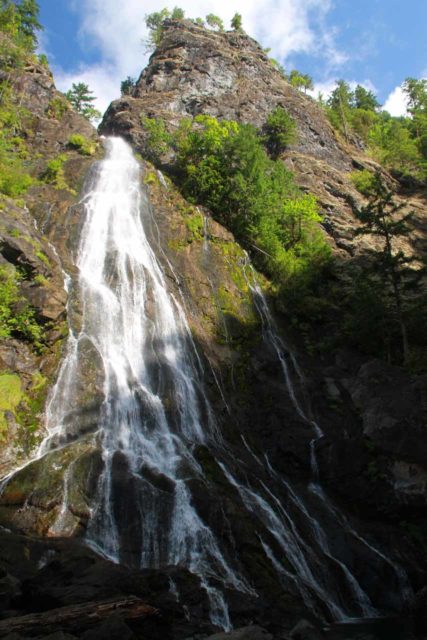 Rocky Brook Falls – This understated locals waterfall by Dosewallips State Park was impressively tall, but it was its ease of access that allowed us to share this experience with Tahia, who also seemed to enjoy it.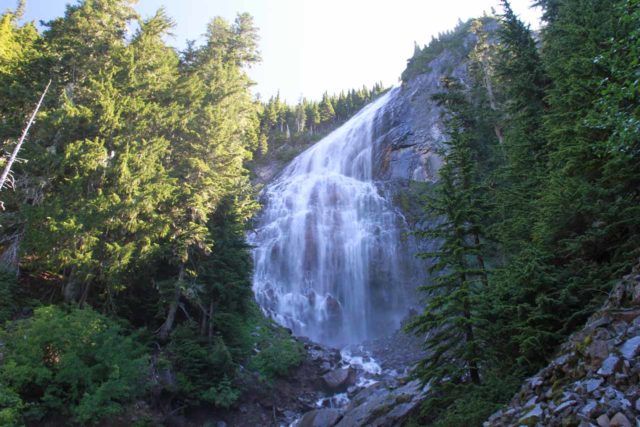 Spray Falls – It took some work to hike then cross the creek to earn this view of this unique waterfall, but it was worth the effort. In addition to this waterfall, I also got to see a lake, lots of unusual views of the imposing Mt Rainier, and I even made it up to a meadow called Spray Park, where I could even see Mt Rainier reflected in an alpine tarn!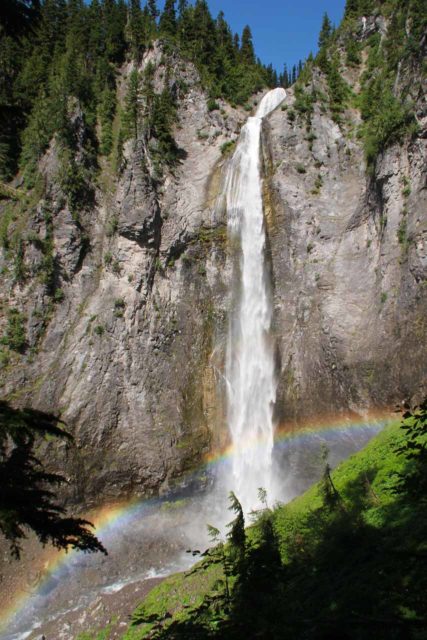 Comet Falls – This very tall waterfall took a long uphill hike to reach, but along the way, we saw Christine Falls near the trailhead, and various cascades belonging to the Van Trump Falls. Like with Spray Falls, we could have climbed up above this waterfall to reach another alpine meadow, but we opted to turn back and visit other attractions in the Paradise side of Mt Rainier.
Narada Falls – This easy-to-visit waterfall produced rainbows within its wafting mist given its height and width. It was popular for that reason, but we did find lower overlooks further downstream that afforded us a little more peace and quiet while gawking at this waterfall.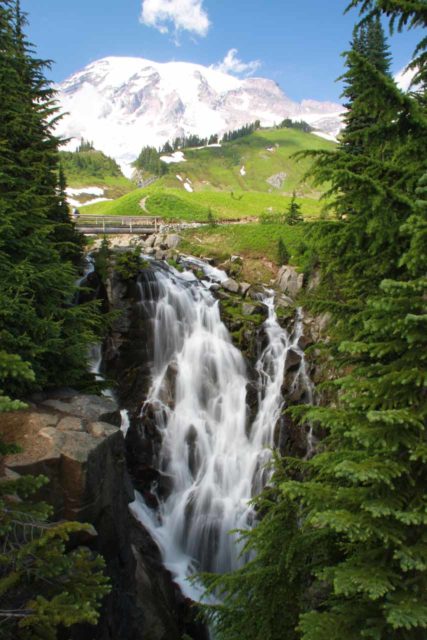 Myrtle Falls – There are not many waterfalls that allow you to see it with the imposing Mt Raininer, but this one certainly gives you that view! The short walk from Paradise to the falls lookout was also atmospheric because we always saw the imposing summit of Mt Raininer ahead of us. Also, there were other side canyons and waterfalls in the distance along the way, which kind of tempted us to leave the paved path and go on a longer hike further up the mountain.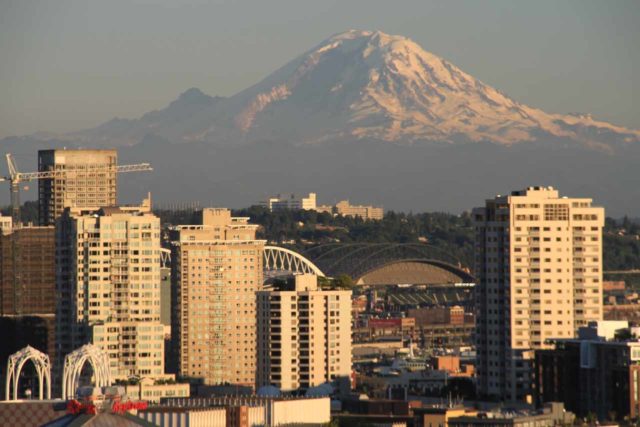 Kerry Park at sunset – In my mind, this was the signature skyline view of Seattle backed by Mt Raininer. And the time to see it is when the haze starts to sink and Mt Rainier jumps out on the horizon revealing itself as the neighbor to the familiar Seattle downtown area. Indeed, we never get tired of seeing this each time we're in Seattle, but seeing it this way for the first time was quite a treat!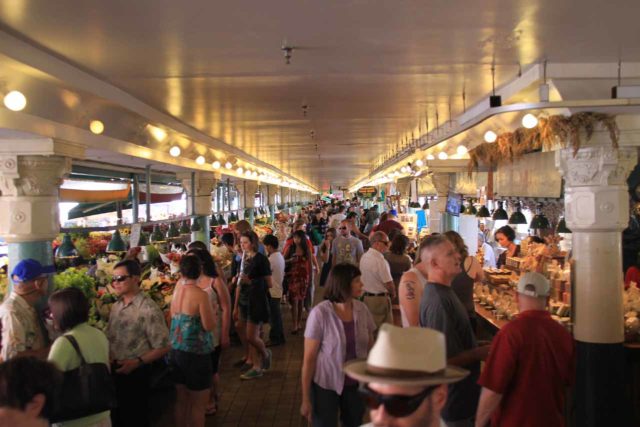 Pike's Place – It may be a cliche in Seattle, but there's something to be said about the buzz around this marketplace where people converge to soak up the atmosphere, the views, and the food.
Trip Advice
This trip doubled as a test to see what we can and can't do with a baby. Needless to say we probably packed more things than we ever did before when going abroad. But at least this was a short flight, and we did have family in the Seattle area. So that afforded us some flexibility.
In any case, here are some of the lessons learned on this trip…
Pitfalls of Renting A Car Outside the Airport: The original plan was to rent a car in downtown Seattle and save about $200 by not picking up at the airport. The reality was that these smaller offices tend to close early (4pm in our case; exacerbated by all the self-imposed delays of pumping, restroom stops, diaper changes, etc.), and we actually had to go back to the airport to rent a car from there and be out all the taxi expenses plus the expensive rental from the airport anyways! I guess you can say we lost our gamble.
So the moral of the story here is that when you're not renting from an airport, you really have to consider ALL scenarios and details, especially since the agency hours are more abridged. You could end up with the dramas and frustrations that we had to go through as a result if you're not cognizant of such things.
Divide and Conquer: The whole concept of splitting up so someone could remain behind with the baby while the rest of the group could do more adult things was conceived and put to practice on this trip. And we've been doing it ever since even if the trip just consisted of Julie and I.
It was pretty successful on this trip, and you might think it's a no-brainer to keep doing this. However, the cons of doing this are that there's added risk if I was doing a hike solo (you never know if injury or who knows what else can happen). The other con is that it's not the same doing excursions on your own versus doing it as a family (more people to share the experience with). This is the trade that has to be weighed but at least you're not chained to the restrictions that come with a larger group with diverging interests.
Important Gear: Although we'll get to some of the travel essentials later on in this article under "What to Bring", there were some additional personal ones that we used for our specific situation. This included Julie's pump, a handy portable changing station
(so we could use the back of the rental car or a table or car seat to change Tahia's diaper as well as keep all such essentials in one place), and an ErgoBaby
for hands free carrying of our precious cargo.
Travel Itinerary
Day 1: Fly from LAX to Seattle
Overnight: The Moore Hotel (Seattle, Washington, USA)
This was a travel day. Eventually, we picked up a rental car towards the end of the day, then ran errands before checking in.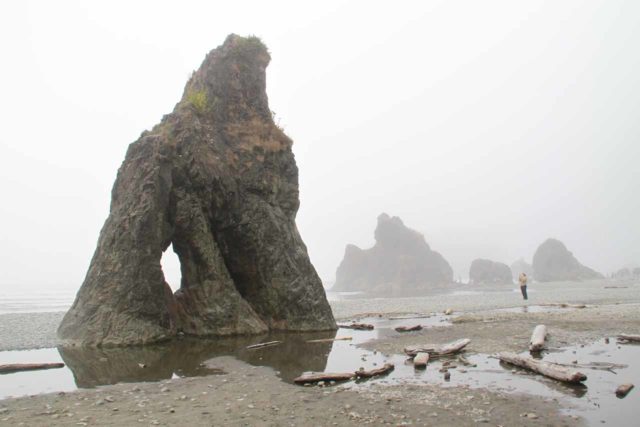 Day 2: Drive from Seattle to Forks
Overnight: Kalaloch Lodge (Forks, Washington, USA)
First, we caught a morning ferry to Bainbridge Island, then we drove across the Olympic Peninsula making stops at Madison Falls, Marymere Falls, and Ruby Beach. Eventually, we got settled in the hamlet of Kalaloch, a short distance south of Forks.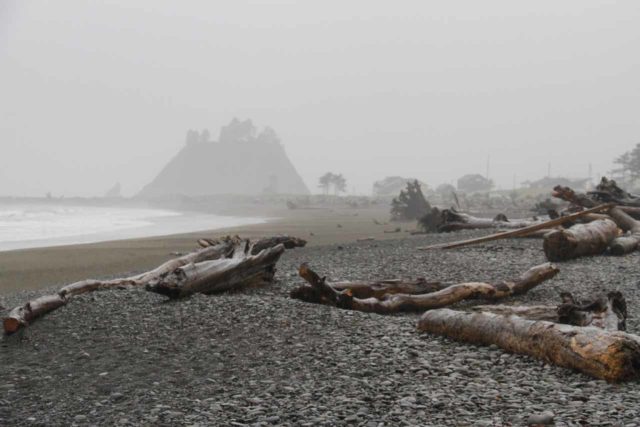 Day 3: Drive from Forks to Port Angeles
Overnight: Olympic Lodge (Port Angeles, Washington, USA)
This was a rainy day where we made a brief visit to La Push before heading back east towards Port Angeles. Along the way, we stopped by Beaver Falls, and we spent the better part of the day at Sol Duc Falls.
Day 4: Drive from Port Angeles to Seattle
Overnight: The Moore Hotel (Seattle, Washington, USA)
After leaving Port Angeles, we continued back east towards Rocky Brook Falls. Then, we took the Bainbridge Island Ferry back to downtown Seattle, where we spent the remainder of the day.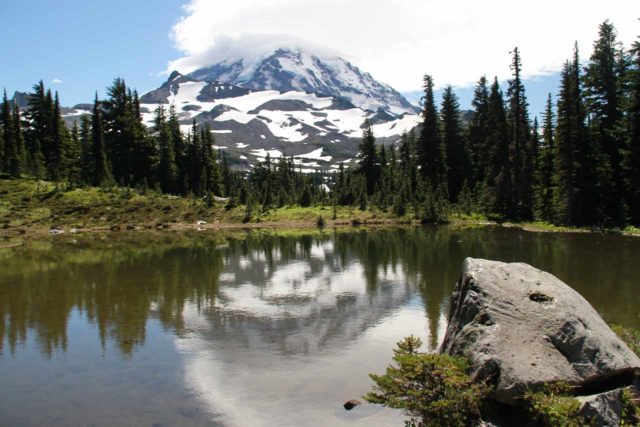 Day 5: Divide-and-conquer Mt Rainier / Seattle day
Overnight: The Moore Hotel (Seattle, Washington, USA)
I got an early start and self-drove to the north side of Mt Rainier. Meanwhile, the rest of the family stayed in the Seattle area. The primary excursion that I did was Spray Falls and making it up to the Spray Park meadow.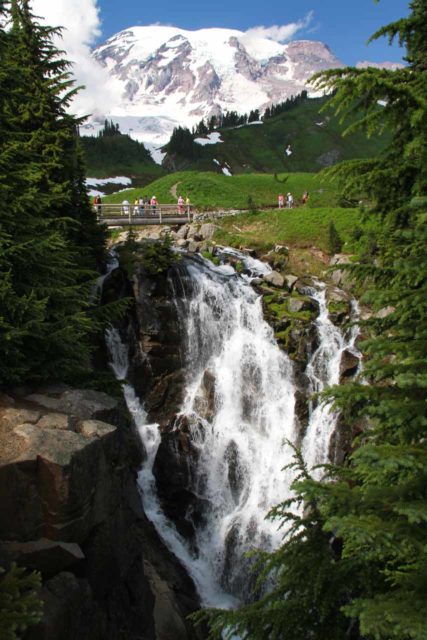 Day 6: Divide-and-Conquer Mt Rainier / Seattle day
Overnight: The Moore Hotel (Seattle, Washington, USA)
This was another divide-and-conquer day but this time Julie went with me back to Mt Rainier, while Tahia and Julie's Mom stayed in Seattle to hang out with relatives. Julie and I primarily hung out around the Paradise side of Mt Rainier. Along the way, we visited Christine Falls, Van Trump Falls, Comet Falls, Narada Falls, Myrtle Falls, Paradise, Martha Falls, and Reflection Lakes.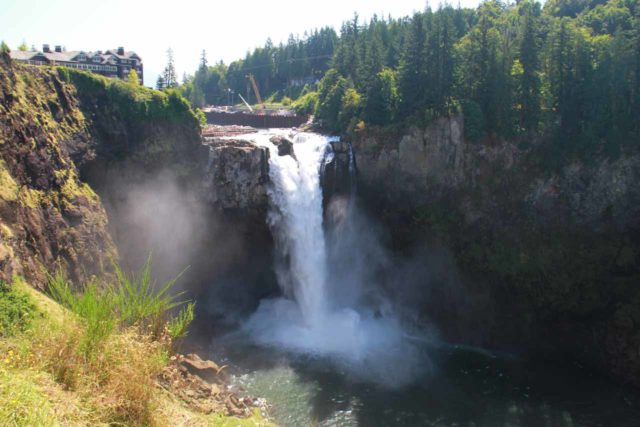 Day 7: Seattle
Overnight: The Moore Hotel (Seattle, Washington, USA)
This was a day at leisure touring the Seattle area. We also carved out an afternoon hanging out with a friend from high school who now lives in the greater Seattle area. Prior to that, we visited Snoqualmie Falls though most of that area was closed due to major renovations.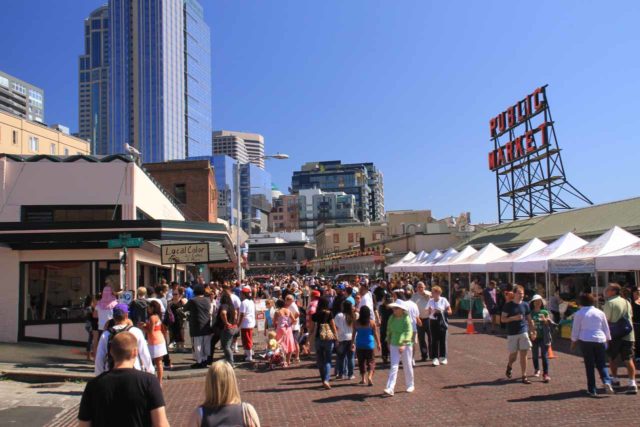 Day 8: Seattle
Overnight: The Moore Hotel (Seattle, Washington, USA)
This was a day at leisure hanging out with a former co-worker at Alki Beach and Pike's Market in downtown Seattle. We ended the day catching a gorgeous sunset at Kerry Park.
Day 9: Transport to the Cruise Terminal
After leaving Seattle and returning the rental car, we hired a taxi ride to get from the airport to the cruise terminal to begin the next phase of this trip.
Best Places We've Stayed At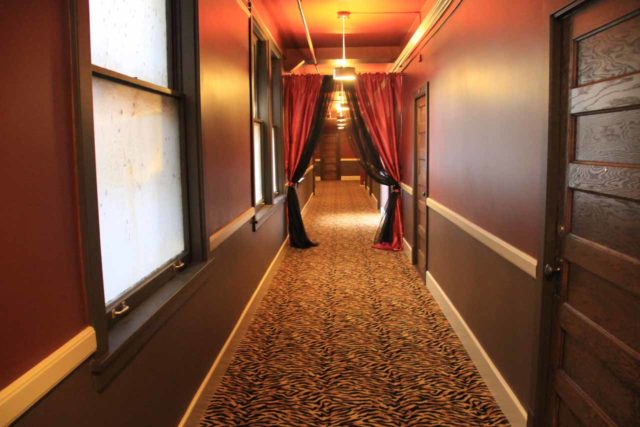 The Moore Hotel – For this trip, we needed a base that allowed us to divide-and-conquer while also enjoying some sightseeing within the Seattle area. We wound up picking this avante-garde decorated kind of place because of its location (in downtown Seattle) and its room rate, which was reasonable for such a location.
Julie also appreciated how spacious the room was as it also had a kitchen (which was handy now that she's a mom). But the spaciousness helped us to carve out a little play area for Tahia when she felt like playing. It also was the place to set up the Pea Pod so she could sleep without fear of rolling over or crawling to places where she could get hurt.
Perhaps the only catch was the area was a little bit on the edgier side of downtown Seattle. I guess there has to be a reason why the room rate was reasonable considering we were spending almost a week here.
What to Bring
In addition to the equipment that we bring on all of our trips, we've also found the following items were especially useful for this particular trip.
Travel Stroller: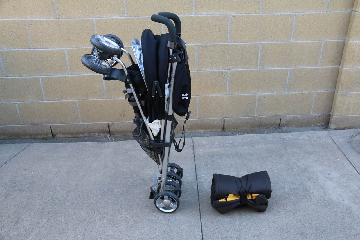 On a trip like this where we didn't have to carry our baby around everywhere, the travel stroller came in handy. It came with a bag so it was contained and able to be transported on the plane as a hand-checked luggage. We also used it to carry stuff around while we were wheeling our little girl. However, we had to be careful in that if we hung stuff on the handles, it does get top heavy (meaning it's prone to falling backwards).
While bringing stuff like this wasn't convenient, at least it served its purpose while we were on travel.
Pea Pod: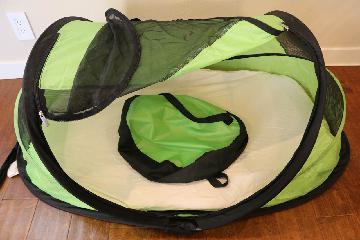 No crib? No bassinet? No problem! We found out that the Pea Pod Tent was perfect for our needs as it was compact (the tent, the blow-up pad, the blankets, etc.) all fit within a bag. And when it came time to set it up, it was self-expanding and self-standing. And thus, the setup only took less than 15 minutes.
The powerful thing about the Pea Pod was that we could set it up pretty much anywhere we deemed to be safe on the floor. So whether we were in a cramped hotel room or a spacious one without a bed for her, we were fine as long as we had this. Not only that, but if our baby would roll over or move around, the tent kept her out of harm's way. We definitely used this on every trip until she outgrew it. So it was definitely worth its weight in gold!
Car Seat: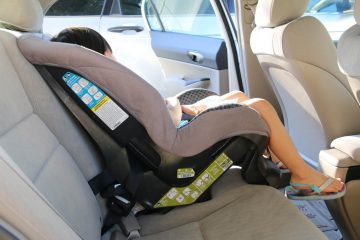 Even though we could have rented a child car seat temporarily for something on the order of about $15 per day, we actually used this when we hailed a taxi as well as when we drove around Washington State earlier on in this trip. So not only did we save money, but we also had piece of mind that it would at least keep our child in place as well as being sanitary.
Related Trip Reports
Waterfalls included in this itinerary
Visitor Comments:
Got something you'd like to share or say to keep the conversation going? Feel free to leave a comment below...
No users have replied to the content on this page