About Cascades de Setti Fatma
---
Hiking Distance:
2km round trip (1st falls); > 4km round trip; scrambling (upper falls view)
Suggested Time:
2 hours (1st falls); 3 hours (upper falls view)
---
Date first visited:
2015-05-16
Date last visited:
2015-05-16
---
Waterfall Latitude:
31.21984
Waterfall Longitude:
-7.66905
---
Cascades de Setti Fatma (Setti Fatma Waterfalls or Cascades Ourika; I think is pronounced "OO-reek-ah") were said to be a series of seven waterfalls above the village of Setti Fatma (or Sti Fadma) nestled in the Ourika Valley.
The valley itself was within the High Atlas Mountains of Morocco, which was one of the physical barriers to the Sahara Desert.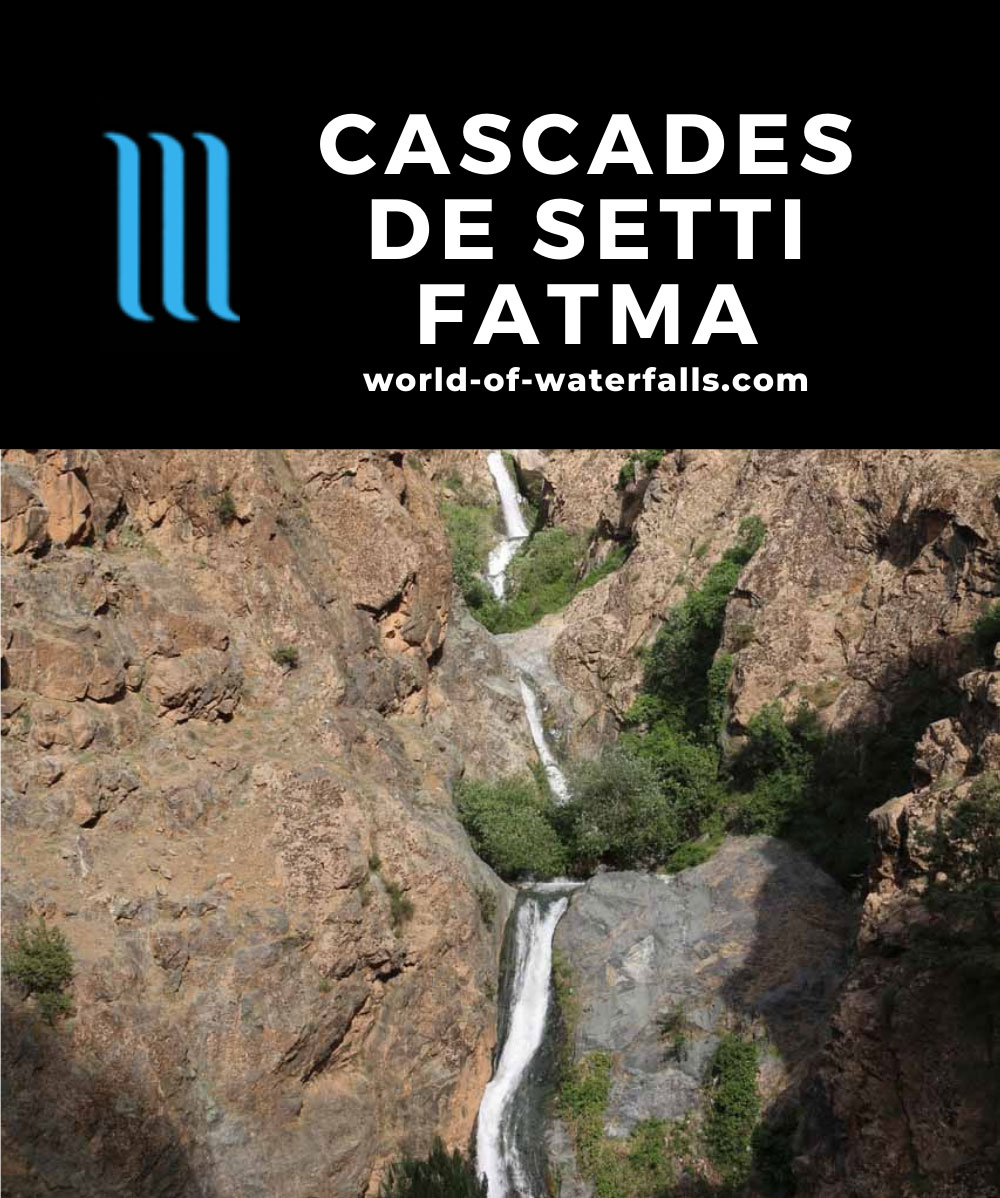 So it provided a dramatic contrast between lush snowmelt-fed valleys and the unforgiving desert climate that pervaded most of Northern Africa.
In our experience, we managed to reach just one of these waterfalls (not counting the handful of smaller waterfalls and cascades en route), which seemed to have an impressive drop of about 25-30m.
I also managed to scramble up to an even higher overlook that revealed at least two more waterfalls, which you can see in the photo above.
Paradoxical Contrast Between Accessibility and Nature
Perhaps what really stood out to us about the Setti Fatma Waterfalls experience was the seemingly paradoxical contrast between accessibility, popularity, and commercialism.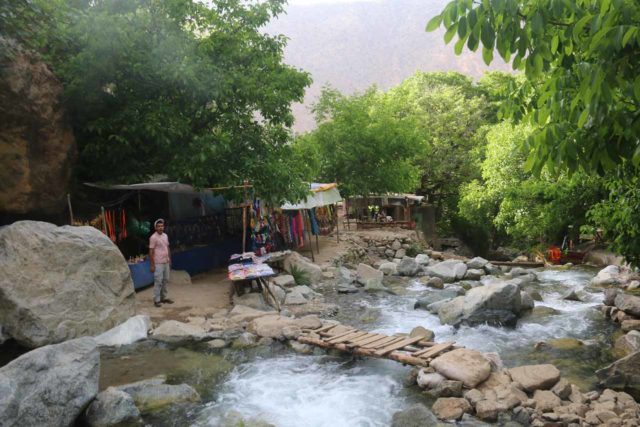 First, the trail was not easy by any stretch of the imagination.
It involved a steep and persistent climb that went from an established footpath to a rocky scramble with stream crossings over harrowing makeshift bridges and dropoff exposure the higher up we went.
Overall, we spent about three hours in total on this hike, where we had to pay more attention to the hazards than we did to the modest trail length.
Second, despite the difficulty of this hike, it was also very popular, which seemed almost crazy to think that this could be possible.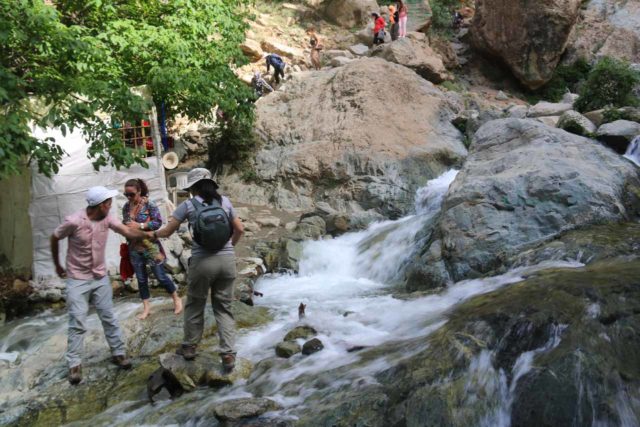 I attribute this to the fact that the Ourika Valley was said to be about 64km southeast of Marrakech, which itself was a very popular and busy city.
While we've read that many foreigners came to the Cascades de Setti Fatma as half-day or full-day trips from Marrakech, we've noticed many more Moroccans during our May 2015 visit (and hardly any foreigners).
In fact, I recalled seeing folks like older children, middle-aged, and even senior Moroccans hiking in flip flops, barefoot, or even dress sandals (in the case of some women).
We had a hard enough time on the trail with our sturdy hiking boots, but yet other less geared up individuals seemed to have a successful visit themselves.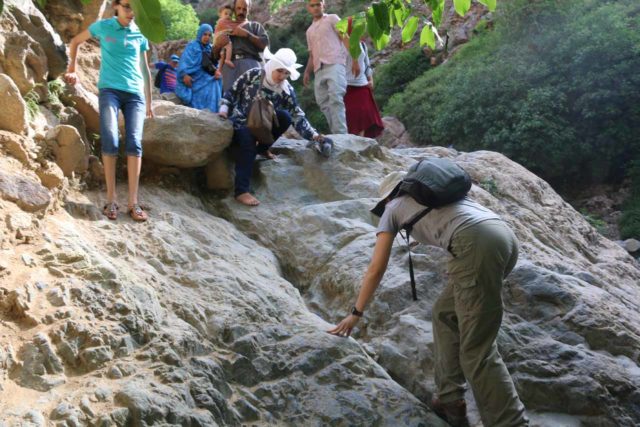 Lastly, the trail seemed to have no shortage of opportunities for Berber locals to monetize the traffic on this somewhat difficult trail.
We encountered several cafes, souvenir shops, rink stands, and even fruit stands throughout half of the trail.
It seemed like a lot of trouble to even haul up the goods up to some of these spots on the trail, which perhaps spoke volumes about how the Berber people were very acclimated to the mountains.
We even encountered a built-up cafe right next to the base of the first of the Cascades de Setti Fatma as well as a refreshment stand in the precarious overlook where I ultimately earned the view you see pictured above!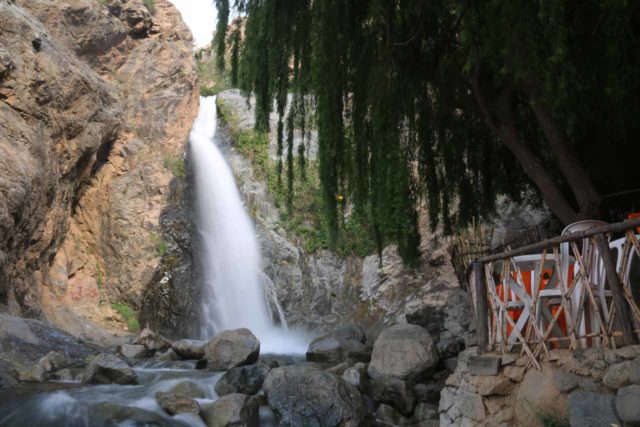 Little would we realize that this was actually a pretty common practice on just about all the popular trails that we happened to encounter throughout Morocco.
The Hike to the First Setti Fatma Waterfall
The hike to the first of the Cascades de Setti Fatma started off innocently from the village of Setti Fatma.
It was on a mostly uphill trail that crossed bridges (none of the bridges we encountered had railings mind you) over fast-moving rivers and streams, before continuing uphill on a series of steps.
The path then became uphill dirt paths with more stream crossings (mostly bridged though some not) before ultimately scrambling on rocky surfaces.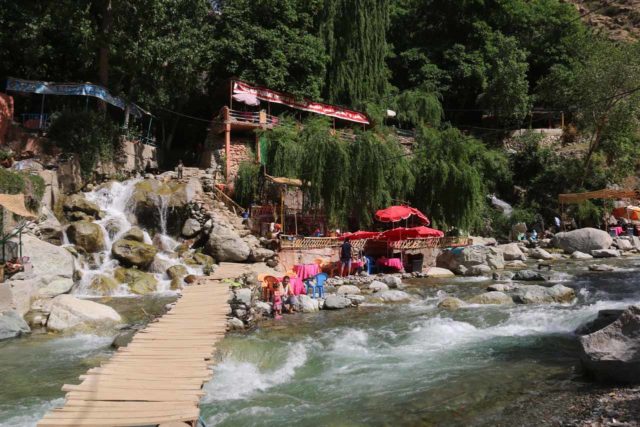 During this ascent, we encountered several smaller waterfalls and cascades.
I wasn't sure if these counted as part of the seven waterfalls that our guidebooks
talked about or not, but I didn't count them as such.
There were also some water channels providing some small scale water diversion besides some of these waterfalls.
Our guide was quick to point out that the Berber people knew how to do this before the Romans.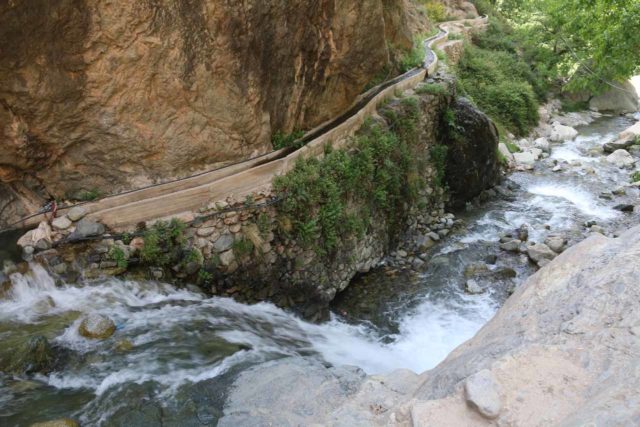 In fact, he said that the Romans may have learned their water channeling techniques from the Berber people.
As we went higher up, the rocky scrambles were more persistent with some mild dropoff exposure.
Often times, the trail was steep and potentially slippery enough (especially with wet shoes) that we needed to use our hands as well as our feet to get by some of the obstacles.
The trail ultimately crossed one last sketchy scramble and bridged stream crossing before arriving at the cafe fronting the first of the Cascades de Setti Fatma.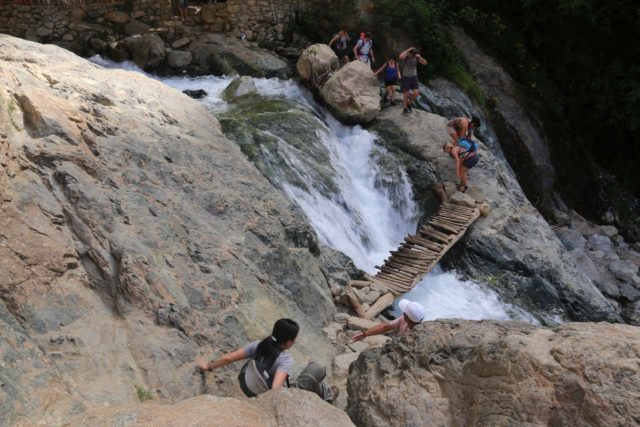 The uphill hike took us about an hour to reach this first waterfall.
That said, I did carry our four-year-old daughter in a carrier throughout this hike so it could take a little less time and degree-of-difficulty than what I'm making it out to be.
The Hike to the Upper Viewpoint of More Setti Fatma Waterfalls
Beyond the first of the Setti Fatma Waterfalls, I went alone with the guide on a very rough trail climbing high up to an overlook.
This overlook allowed me to view at least two more waterfalls in addition to the first one (see photo at the top of this page).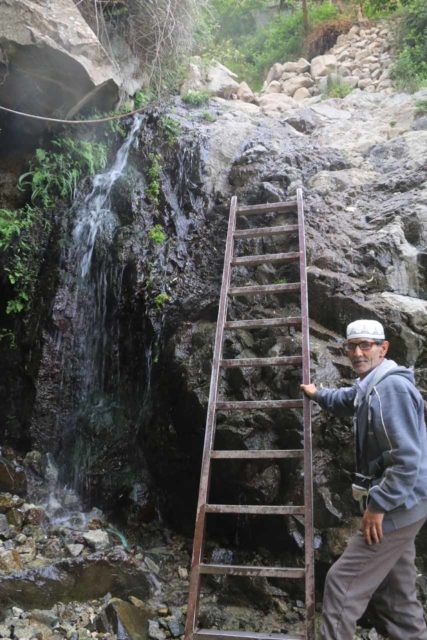 The climb began right behind the cafe by the first falls, but it quickly degenerated into a very dangerous steep scramble.
I definitely needed help from the guide to know where to place my hands and feet as well as position my body.
There were at least a couple of moments where I thought I was going to fall and take a nasty spill even with this guidance!
Eventually after getting above this harrowing scramble (where I knew going down would be even more difficult than going up), I then climbed up to a seemingly out-of-place refreshment stand.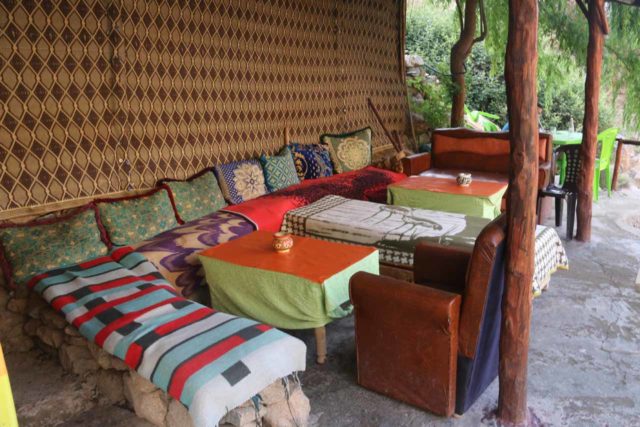 Up here, there were intricately patterned seat pillows and blankets with tables and railings taking in the view of at least the first three of the Cascades de Setti Fatma.
I had read in our guidebooks
that it was possible to conceivably trek and scramble to the remaining waterfalls, but it was clear to me that it became more difficult and dangerous the further up I went.
Thus, I can't comment any further on the remaining Cascades de Setti Fatma.
That said, I did see a handful of other Moroccans scramble closer to the top of one of the upper waterfalls before me.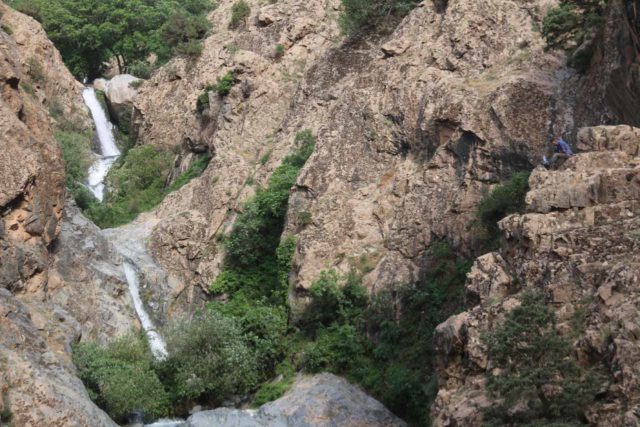 Anyways, this perspective made me appreciate the context of the overall scale of the Setti Fatma Waterfalls and the deep valleys they spilled into.
The Return Hike from the Setti Fatma Waterfalls
As taxing as the climb up to the Setti Fatma Waterfalls were, the return hike was actually not as quick as I had hoped.
Normally, going down would be much faster than going up, but given how rough the trail was, this was not the case.
Indeed, the first hour of our hike was spent on the ascent up to the first waterfall.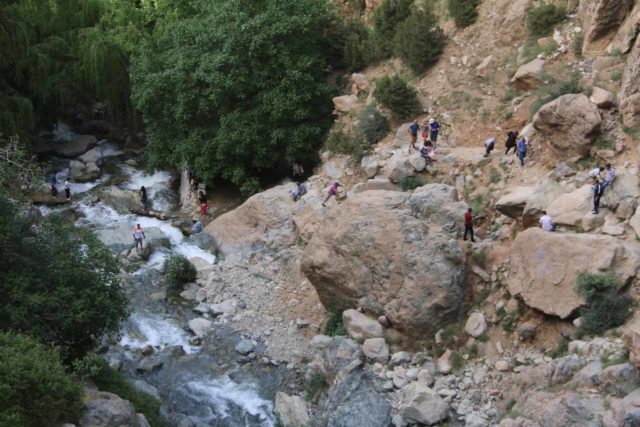 The next hour was spent enjoying the first waterfall while I also scrambled up to that lookout of most of the first three waterfalls.
Then, the last hour was spent descending back to the Setti Fatma village, where the rough terrain conspired to bust our ankles while our knees were already wearing the stress of pounding on the hard and uneven surfaces.
The hiking difficulty given at the top of this page includes the scramble I did to get up to the lookout of the first three waterfalls.
The difficulty could be bumped down to 3 or 3.5 if the goal is only to reach the first waterfall then return.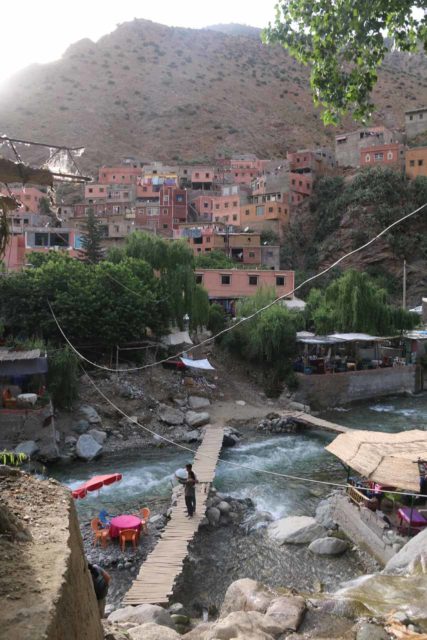 Finally, even though I carried our daughter on the hike, I have to admit that it was a little risky given the exposure to hazards.
Have a look at the photo journal below and make your evaluation as to whether the risk reward would be worth it to you or not if you're in a similar situation with kids.
Authorities
Les Cascades de Setti Fatma (or the Setti Fatma Waterfalls) reside in the village of Setti Fatma in the Ourika Valley of the Al Haouz Province in Morocco. I don't think the waterfalls are administered by any formal authority, but there are Setti Fatma locals who are motivated to maintain the trails for commerce. For information or inquiries about the area as well as current conditions, you may get leads from the Morocco National Tourism website.
Our starting point to Les Cascades de Setti Fatma was at the village of Setti Fatma in Ourika Valley.
Setti Fatma was said to be about 64km southeast of Marrakech yet it took our driver about 90 minutes to two hours in each direction.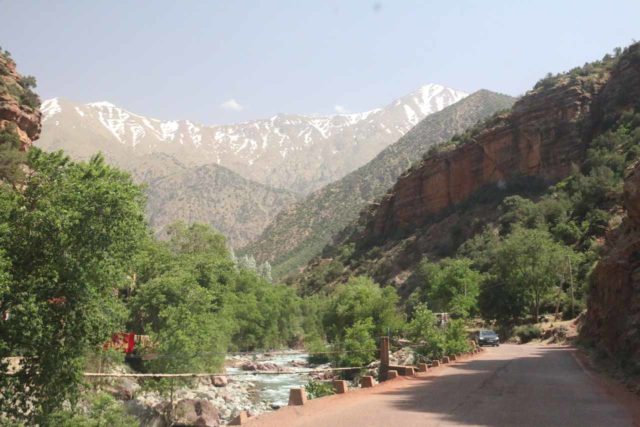 Since we were driven here, we can only give the time commitment.
We can't give specific directions.
That said, if you do decide to hire your own car, besides the challenges of driving in a developing country, you do have to be cognizant of numerous police checks along this route.
Our driver was even stopped at one point for speeding.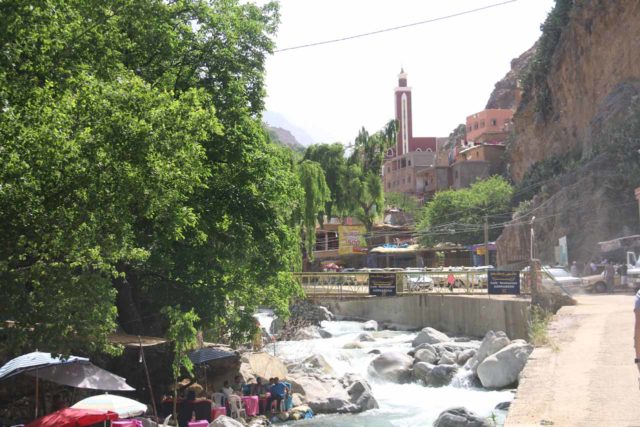 So if you're wondering why it takes so long to go about 40 miles, these are the big reasons why.
Find A Place To Stay
Related Top 10 Lists
Trip Planning Resources
Nearby Accommodations
Featured Images and Nearby Attractions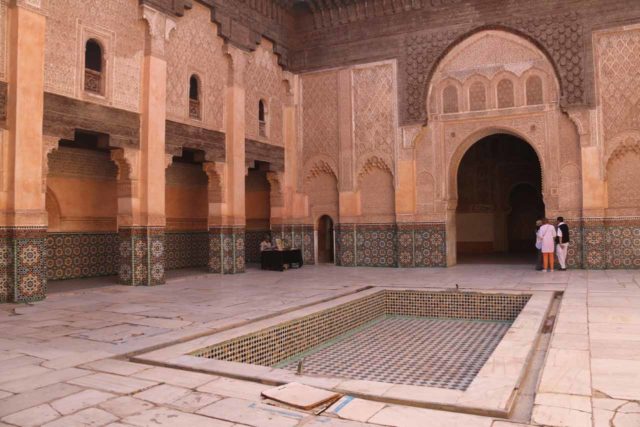 Tagged with:
marrakech, ourika, al haouz, morocco, africa, waterfall, high atlas, setti fatma
Visitor Comments:
Got something you'd like to share or say to keep the conversation going? Feel free to leave a comment below...
No users have replied to the content on this page
Visitor Reviews of this Waterfall:
If you have a waterfall story or write-up that you'd like to share, feel free to click the button below and fill out the form...
No users have submitted a write-up/review of this waterfall