About Murchison Falls (Kabarenga Falls)
---
Hiking Distance:
tour (bottom)
Suggested Time:
2.5-3 hours
---
Date first visited:
2008-06-14
Date last visited:
2008-06-15
---
Waterfall Latitude:
2.27787
Waterfall Longitude:
31.68497
---
Murchison Falls (also known as Kabarenga Falls) was perhaps the most famous waterfall in Uganda.
What made this waterfall a real memorable experience for us was the rare opportunity to combine a waterfalling excursion with the chance to see big game wildlife.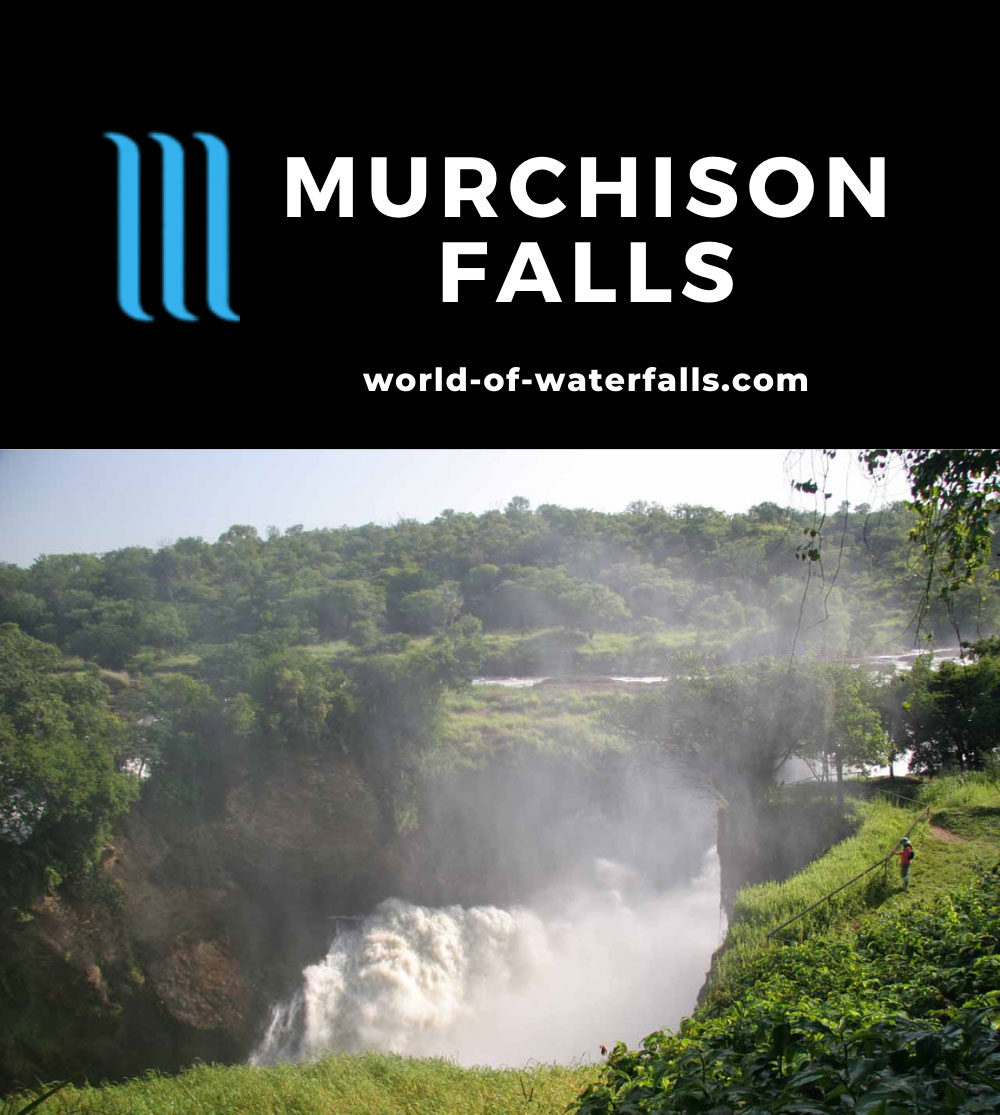 Add to that the odd distinction that this could possibly be the world's most "powerful" waterfall in terms of the force of water ejected from the falls itself.
We felt this notion had some credibility based on our observation that the wide Victoria Nile River was squeezed into a 6m – 8m width chute into the so-called Devil's Cauldron at the base of the Murchison Falls.
In terms of its height, from what we could tell, the Victoria Nile dropped roughly 20-30m.
However, I've also seen in the literature that the total cumulative height of the Murchison Falls was more like 45m.
As for the waterfall's characteristics, it dropped in multiple cascading stages where some of the river had split apart before eventually rejoining partway down its overall descent.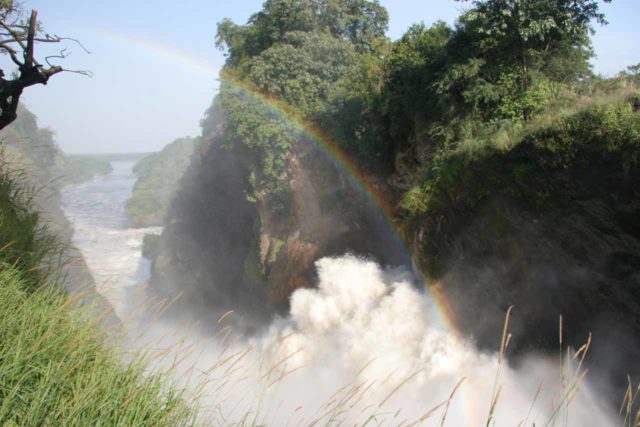 Much of the falls was somewhat concealed thanks to its position within the depths of that tight chute that left the Victoria Nile squeezed and churning, and that created plenty of mist and turbulance.
Combining all of these effects, it certainly seemed to us that this didn't fit the classical definition of what a waterfall would look, and that made the Murchison Falls rather unique.
Further adding to its uniqueness, the presence of big game wildlife also made Murchison Falls very memorable.
The Turbulent Past of Murchison Falls
The reserve of Murchison Falls National Park was once world famous for an abundance of wildlife on the river cruise up to the waterfall itself.
This status was maintained up until the 1960s years after the creation of one of Uganda's first national parks here.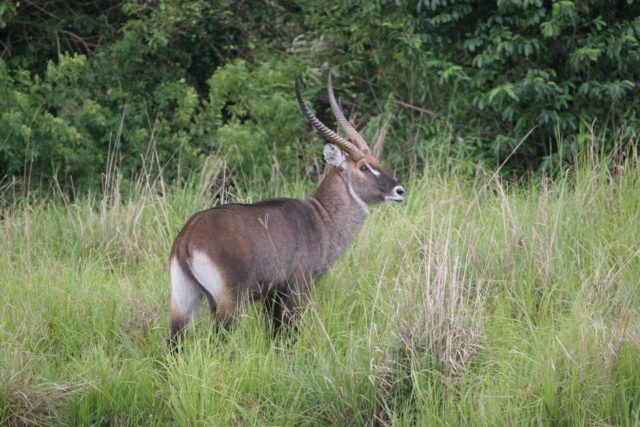 Then, the cumulative effects of poaching, wars, and residual rebel activity in the country's north (bordering Sudan) took its toll on the ecosystem here.
Such events resulted in the indiscriminate slaughter of much of the big game including the big cats (e.g. lions) that were now no longer present.
Since those turbulent times (especially post Idi Amin regime
and post war with Tanzania and its aftermath), we sensed the area experienced a resurgence in ecosystem recovery and wildlife.
As a result, the accompanying tourism soon followed.
Corroborating this sense of recovery, we managed to see a variety of wildlife along the Victoria Nile that included numerous sightings of hippos, crocodiles, elephants, cape buffaloes, water bucks, and numerous birds.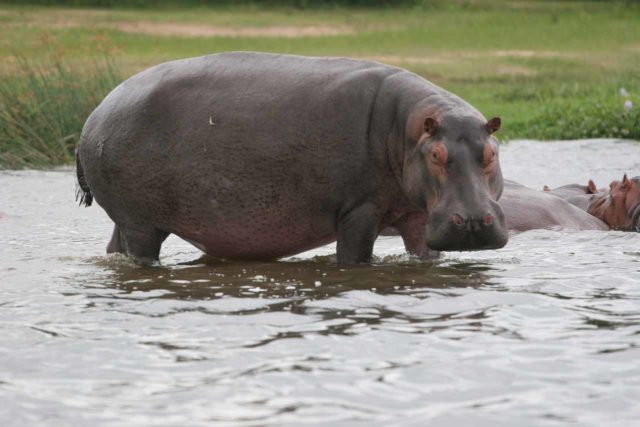 Just to give you an idea of how abundant the wildlife was on our visit, it was way more impressive than our sunset cruise on the Zambezi River above Victoria Falls, which was an area that did not quite suffer the same human-induced trauma on the ecosystem.
Experiencing Murchison Falls
We ended up experiencing Muchison Falls in two very different ways.
As alluded to earlier, we were able to combine a wildlife safari with waterfall touring through a boat tour on the Victoria Nile.
Moreover, we also got to experience the falls by being driven up to the top of the falls for viewing that was more about observing the turbulence of the falls itself and less about the big game wildlife.
Below, we describe in greater detail each of the methods of experiencing the Murchison Falls as well as their logistics.
The Victoria Nile Boat Safari to Murchison Falls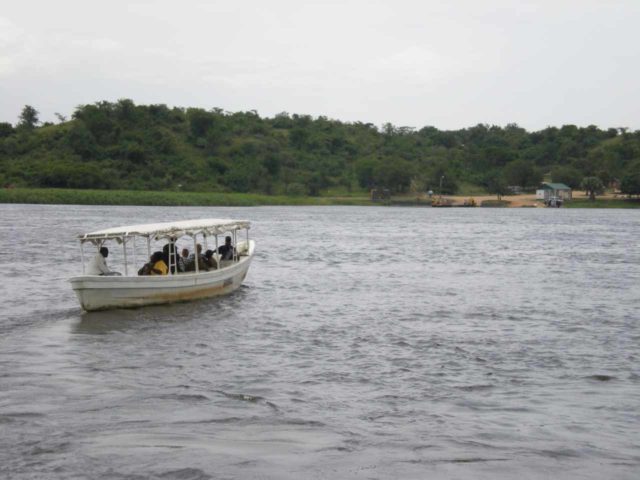 The first way we experienced Murchison Falls was through a boat safari on the Victoria Nile River.
We regarded this excursion as a must-do mostly because it allowed us to combine waterfalling with big game wildlife spotting (i.e. the holy grail of the African experience).
In fact, it was this wildlife spotting exercise that really made us better appreciate the inherent dangers of sharing the river with denizens such as the Nile Crocodile as well as the very territorial (and violent) hippopotamus.
I recalled there was one instance when an unhappy hippo dove into the river upon seeing our boat, then tried to ram us from the bottom as it re-emerged right where our boat had just vacated moments earlier!
To further the sense of how we were part of the food chain in this ecosystem, there was one group of hikers who used the boat tour to reach the start of a trail going to the top of Murchison Falls.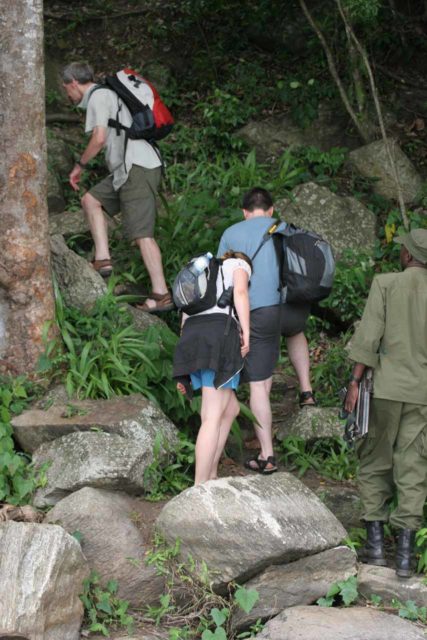 That group was accompanied by a soldier who was wielding a semi-automatic assault weapon as a precautionary measure in case there was a wildlife encounter (or even some possible militant activity)!
Eventually, the boat safari would reach its dead-end in front of the turbulent Murchison Falls.
However, the boat couldn't get us very close to the falls given the fierce current fighting our boat as we got closer.
So it was a good thing that we brought a telephoto lens
to bring the waterfall closer in our photographs.
As a matter of fact, the same thing could be said about taking wildlife photos.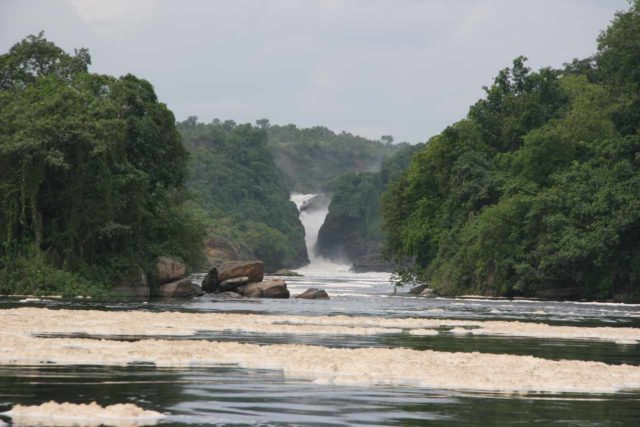 After all, maintaining a healthy distance from the wildlife would minimize the chances of being mauled in an attack.
Given the turbulence of the river near the falls, we saw lots of white foam accumulating around the falls itself at the Devil's Cauldron as well as well further downstream.
We weren't sure why this foam persistence happened so far downstream of Murchison Falls (could it be because the river was full of bacteria or other microbes?), but it was certainly something worth noting.
Once we had our fill of the waterfall from this perspective, we then headed back the way we came.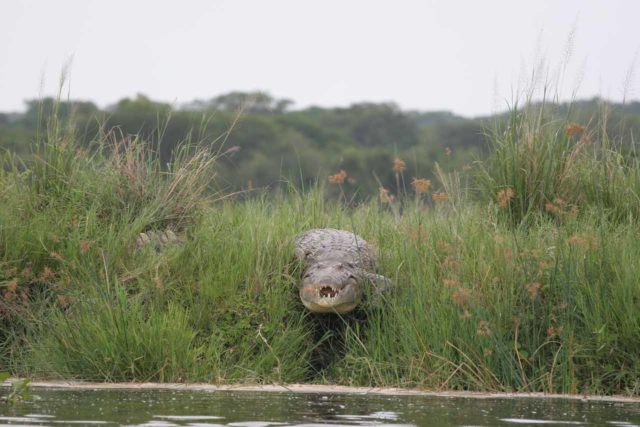 So that meant getting a chance to see more wildlife on the return.
The boat cruise lasted about 2.5 hours, where we began our tour at 1:30pm and it ended at 4pm.
Tse Tse Flies Around Murchison Falls and Much of East Africa
One last thing we should mention about our boat safari was that despite the humidity of the general area, we had to cover ourselves as much as we could to avoid getting excessively bitten by tse tse flies.
These insects (which looked like ordinary flies), didn't seem fazed by DEET, and they inflicted a noticeably painful bite while also potentially transmitting a parasite known to affect the brain.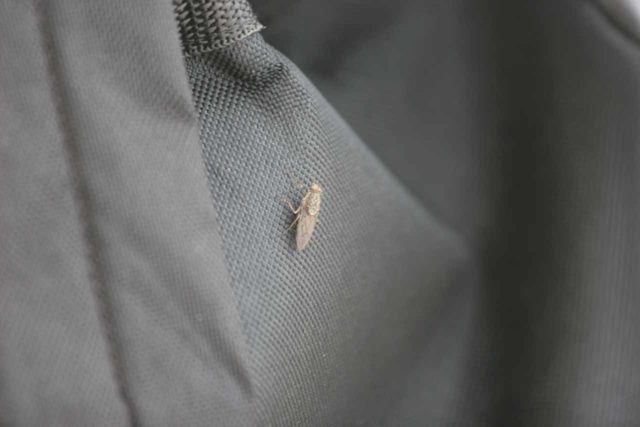 We noticed throughout Eastern Africa that locals tried placing dark blue and black banners or flags tied to trees.
The thinking behind this was that perhaps this might trick tse tse flies towards these flags believing that the colored flags would represent large mammals to them.
After all, anything large and dark surely must be coming from a potential source of blood, right?
We weren't sure whether this was effective or not.
Nevertheless, we took whatever precautions that we could to minimize the likelihood of tse tse fly aggression, and this included trying to wear light colored clothing (as opposed to dark-colored clothing).
The Top of Murchison Falls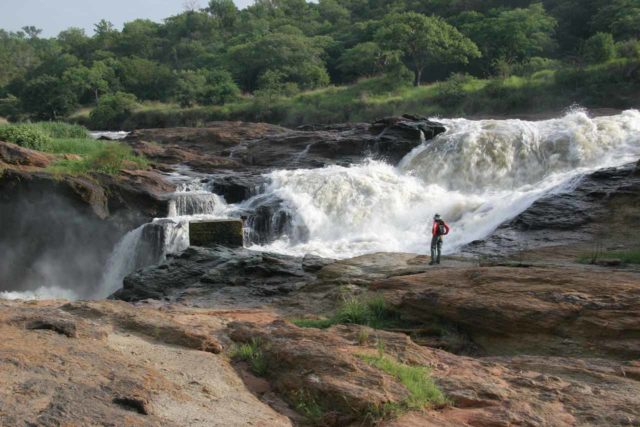 For a more intimate experience at Murchison Falls, we were also able to visit the waterfall's brink.
We were under the impression that not many tours let alone tourists include a visit to this part of the falls as part of a typical itinerary to Murchison Falls.
Nevertheless, a separate road branched off the main road that connected the park's gate with the river ferry near Paraa.
The turnoff was probably about 20 minutes or so east of the south bank of the river ferry crossing along that main road.
Once we were at the small unpaved car park there, we walked down a short path that led us right to the precarious brink of the falls.
We had observed there were some rectangular support columns on both sides of the river going over the falls, and we suspected that there might have been a bridge that spanned this section of the Victoria Nile.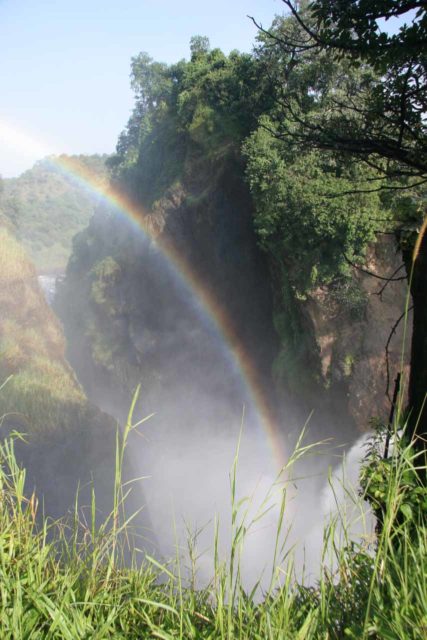 Given the lack of barricades around Murchison Falls, we had to exercise caution and keep a healthy distance so as to not get swept into the river.
However, as we walked towards an elevated overlook of the falls, we did notice some fencing put in to prevent anyone from getting too close to the Devil's Cauldron.
Indeed, this vantage point allowed us to best appreciate the size and magnitude of the falls even though most of the pictures we took didn't seem to do it justice.
That said, the one photo we took that might have best communicated some sense of power and scale of Murchison Falls was shown at the top of this page, and it came from this spot.
Anyways, we thought this could very well be one of the few waterfalls we've seen where the viewing experience might have been better from its top than from its bottom.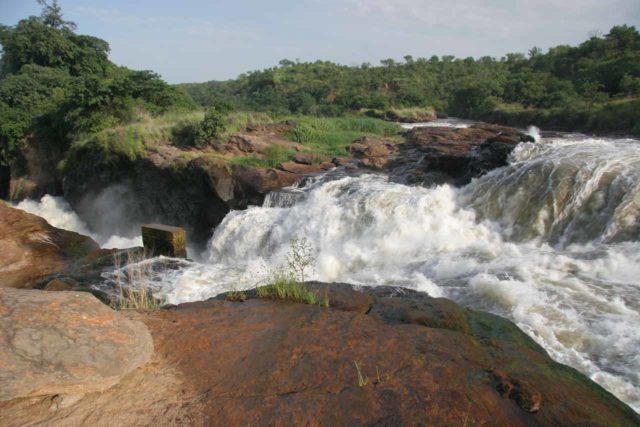 In our experiences, we tend to prefer viewing waterfalls from its bottom as opposed to its top.
Nevertheless, Julie and I spent a little over an hour here, which was plenty of time to appreciate Murchison Falls and the surrounding landscape.
Finally, as alluded to earlier, we did witness a group of hikers who managed to combine this experience at the top of Murchison Falls with the boat safari.
I'd imagine that they would have hiked up the trail to these overlooks that we've describing.
And in order to make the logistics work out, they must have had a waiting safari vehicle to either bring them back to the lodge or to some other spot in the Murchison Falls National Park.
Authorities
Murchison Falls resides in the Murchison Falls National Park in the north of Uganda. It is administered by the Uganda Wildlife Authority. For more information or inquiries about the area as well as current conditions, you can try visiting their website or Facebook page.
As for getting to the Murchison Falls National Park itself from Kampala, we had to make a very long drive (possibly around 5-6 hours) from the city to the reserve.
Even though it would appear the drive shouldn't take that long (at least from looking at the maps and distances), we had to contend with potholed roads for most of this leg of our journey, especially after leading north from Masindi.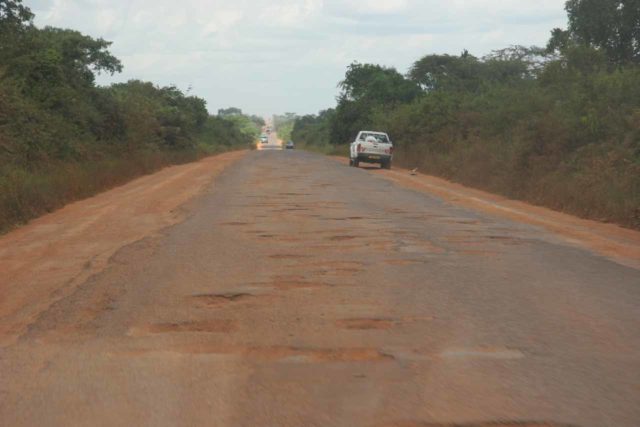 As a result, the pace of travel was significantly slower than what we were used to coming from an industrialized country.
If road conditions would improve, then I could imagine this drive taking as little as four hours or less.
There would be more driving (on unsealed roads) that was necessary to make it from the park entrance (I recalled there was an interesting-looking monkey statue fronting its gate) to the banks of the Victoria Nile River.
This part of the drive would typically require another 90 minutes or so, but we made haste in order to catch an infrequent ferry across the Paraa River at 12pm.
Had we missed the ferry, then we had feared that we would have missed our boat tour as the next ferry was said to occur much later in the afternoon (after our pre-booked boat safari tour).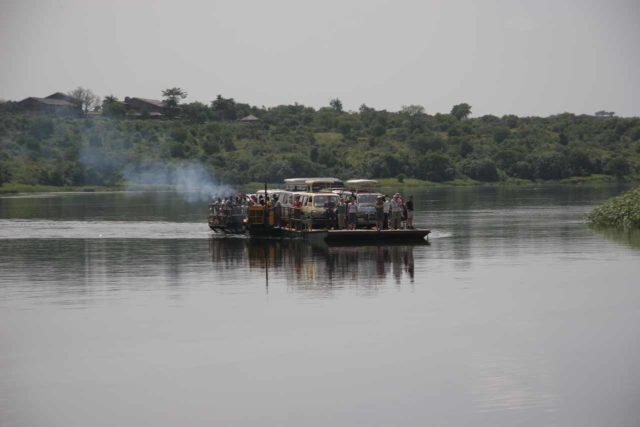 Therefore, we ended up taking us closer to 75 minutes plus an eventual flat tire.
Overall, this drive would be 211km (where GoogleMaps claims this was a 3 hour drive).
However, our experiences have shown us that the roads here required us to move much slower thanks to large potholes.
Thus, the GoogleMaps estimates were really too optimistic compared to the reality of our actual speeds and pace.
For an extended stay in the park, the area was also known for rare chimpanzee sightings.
Since we only spent one night here (at the Paraa Safari Lodge), it wasn't possible on our June 2008 visit.
Therefore, we hope to be able to return here under less haste and truly experience the wildlife to be found in Uganda (especially the gorillas and chimps, which we didn't do on this go around).
Find A Place To Stay
Related Top 10 Lists
Trip Planning Resources
Nearby Accommodations
Tagged with:
masindi, kabarenga falls, victoria nile, nile, paraa, uganda, africa, waterfall, wildlife, safari
Visitor Comments:
Got something you'd like to share or say to keep the conversation going? Feel free to leave a comment below...
No users have replied to the content on this page
Visitor Reviews of this Waterfall:
If you have a waterfall story or write-up that you'd like to share, feel free to click the button below and fill out the form...
No users have submitted a write-up/review of this waterfall