About Adams Falls (Adams Canyon Falls)
---
Hiking Distance:
3.5-4 miles round trip with scrambling
Suggested Time:
2.5-3.5 hours
---
Date first visited:
2017-05-27
Date last visited:
2020-08-09
---
Waterfall Latitude:
41.06731
Waterfall Longitude:
-111.88516
---
Adams Falls (also known as Adams Canyon Falls) was an attractive 40ft rectangular waterfall on North Fork Holmes Creek that was a worthy reward for the adventure it took to get to it.
The underlying red cliffs also added more color to the overall scene, and its spray was refreshing after all the pretty hard hiking it took to get up here.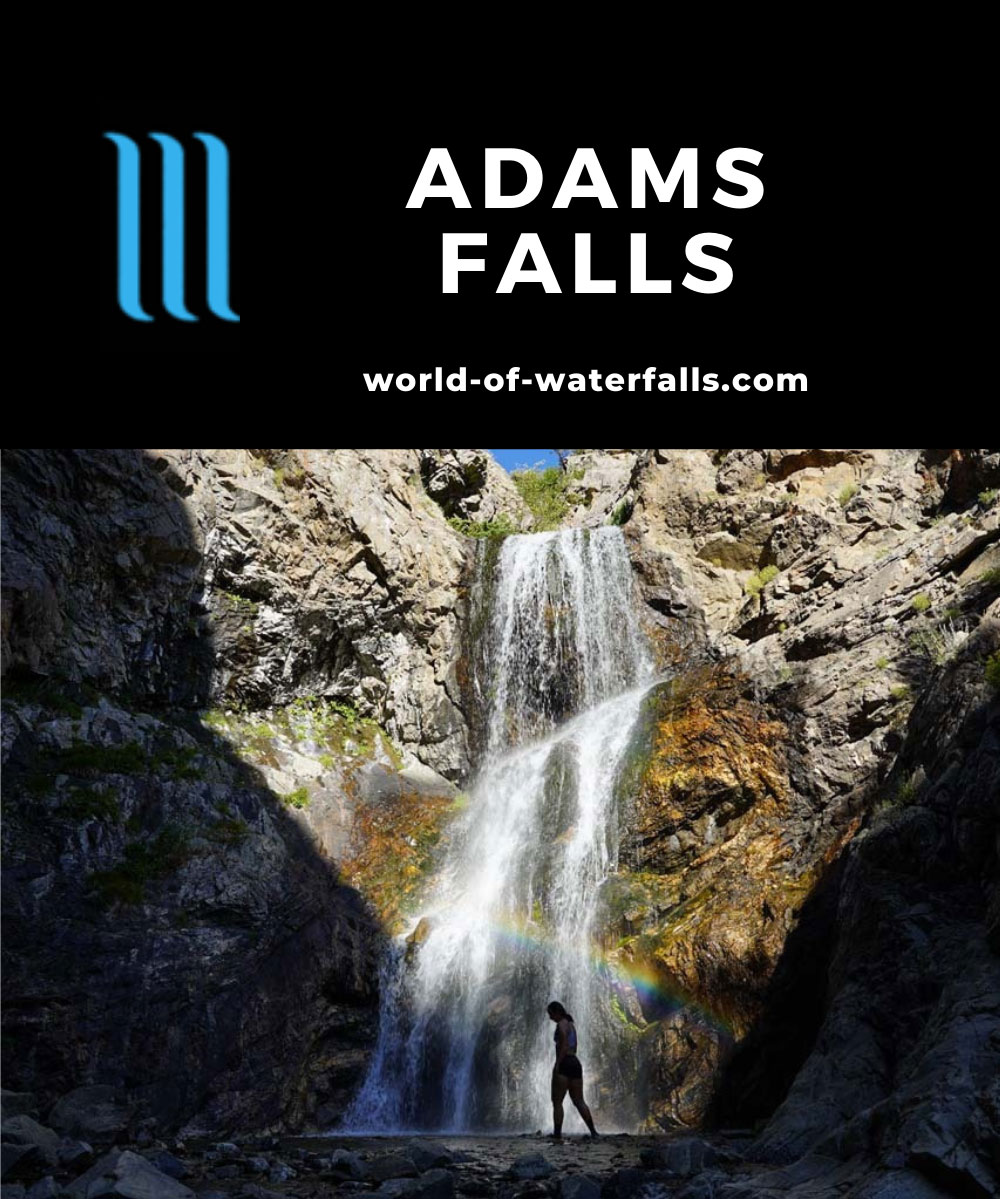 I happened to visit this waterfall twice – once in late May 2017 and again in mid-August 2020.
During my late May 2017 visit, North Fork Holmes Creek had very high flow, and that made for a rather wet hike with quite a bit of trail erosion causing lots of rough unanticipated scrambling.
As a result, I wound up getting quite a bit more adventure than I had anticipated.
On my mid-August 2020 visit, North Fork Holmes Creek was significantly less vigorous, and I even noticed some degree of trail maintenance to rectify some of the eroded parts that I had encountered three years prior.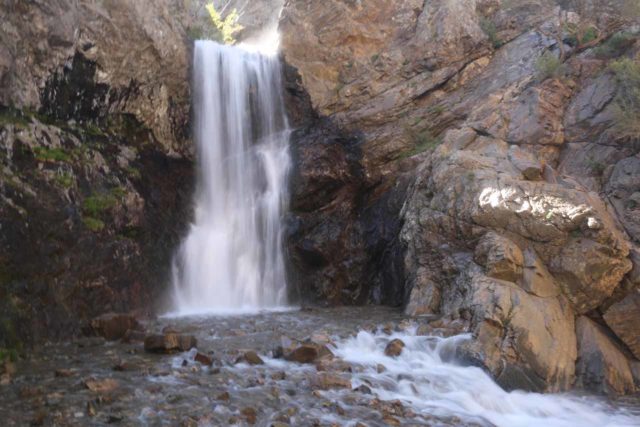 While it was still not an easy hike overall, it was much easier than that first visit.
Both photos you see above show you the differences in Adams Falls, which illustrates how conditions can change depending on snow pack and time of year.
By the way, Adams Falls was named after Elias Adams who was an early settler of East Layton, which was the town from which this waterfall adventure began.
Nevertheless, despite some of the difficulties I had in hiking to this waterfall, it was quite obvious to me that this was seemingly Layton's most popular hike.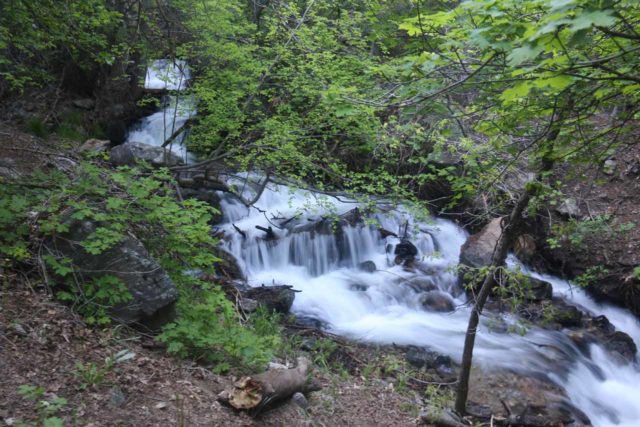 Overall, each time I've done this hike, my GPS logs had indicated that I had hiked about 4 miles round-trip.
This was despite a trailhead sign suggesting that it was 1.75 miles each way or 3.5 miles round-trip.
It took me 3.5 hours round-trip on my May 2017 visit (2 hours up and 90 minutes back down).
Meanwhile, it took me 3 hours total on my mid-August 2020 visit, which included brief interludes to the Lower Adams Falls.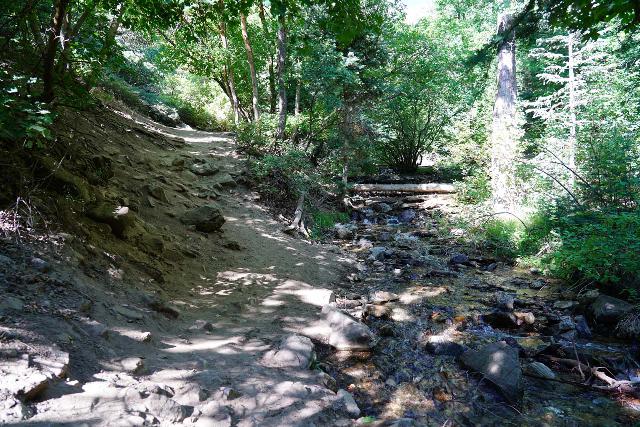 That kind of indicated how much easier the hike seemed to be the second time around as compared to the first.
Adams Falls Trail Description – from the trailhead to Adams Canyon
The hike began from a pretty spacious unpaved lot though there was also parallel parking available on Eastside Road (see directions below).
The trail initially followed some fencing preventing the public from accessing some kind of rectangular pond.
Then, the trail ascended a series of switchbacks with high wooden fences to prevent people from taking shortcuts.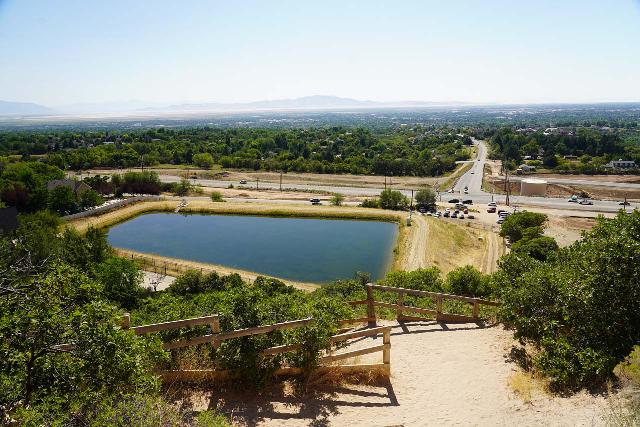 There were at least 10 of these switchbacks, including a sign talking about Elias Adams in one of the switchbacks.
After the tenth switchback, the trail climbed a little more as it approached a rest bench with a couple of unmarked spur trails heading off to the right.
Those trails happened to lead to the Adams Canyon Lower Falls, which has a separate write-up since it was an optional detour.
Nevertheless, the Adams Canyon Trail had gained some 250ft over mostly sandy surfaces up to this point.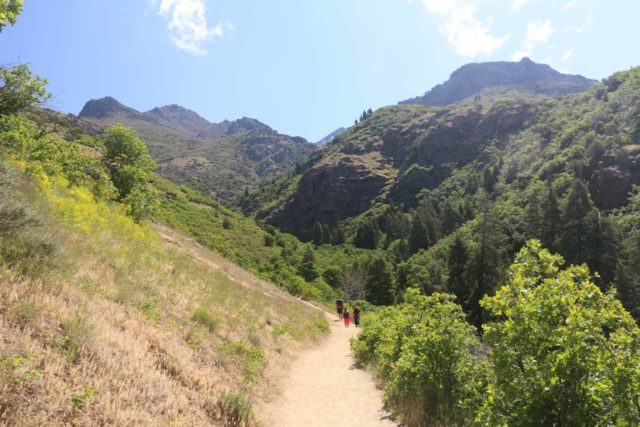 The trail would gain about another 100ft further above the switchbacks beyond the rest bench.
Eventually, after a half-mile from the trailhead, the path joined up with the Bonneville Shoreline Trail.
The Adams Canyon Trail continued to the right as it entered the canyon itself.
As I entered Adams Canyon, I got some nice panoramic views looking back towards Layton and the Great Salt Lake.
Adams Falls Trail Description – hiking and scrambling in Adams Canyon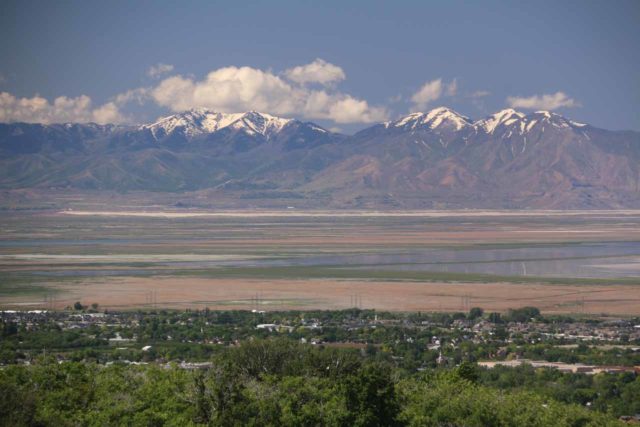 As the trail entered Adams Canyon, there was a bit more tree cover as the path narrowed, which provided some welcome relief from the sun.
After about another quarter-mile from the junction, I reached another fork with the Bonneville Shoreline Trail, where that trail descended towards a footbridge over North Holmes Creek on the right.
The left fork continued on the Adams Canyon Trail, which was the fork that I followed to continue towards Adams Falls.
The trail now pretty much followed along the North Holmes Creek for the remainder of the hike.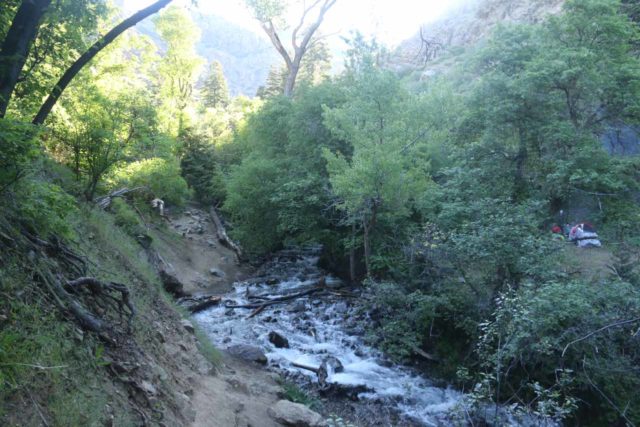 During this stretch, the path continued climbing while passing by some small intermediate cascades.
On my late May 2017 hike, parts of the trail appeared to have eroded quite a bit, which made this part of the hike seemingly more rugged.
I wasn't sure if this was from years of wear and tear from the popularity of the trail or if a large chunk of earth got swept away from the higher water levels of Holmes Creek.
Whatever the case, there were moments where I had to quickly walk along sloped embankments with dropoffs.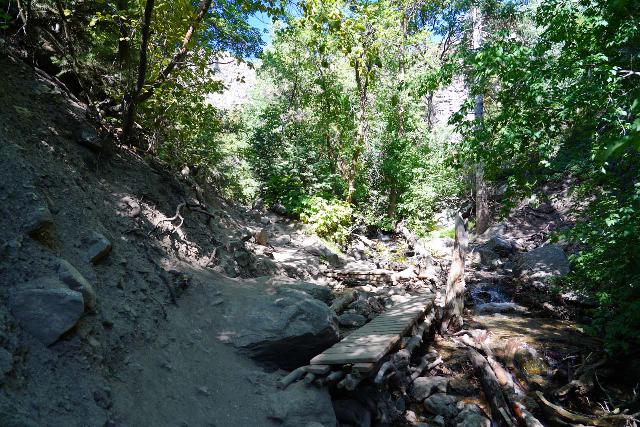 I also had to figure out how to walk on the sides of Holmes Creek itself without getting wet in the spots where there was no trail between the embankments and the creek.
Under such conditions, progress on the Adams Canyon Trail was slow, and I sensed that such high water conditions weren't really the norm here.
When I came back to do this hike again in mid-August 2020, it seemed like the eroded parts of the trail were bypassed by new bridges, which made this hike significantly easier.
It also helped that North Fork Holmes Creek did not flow into the trail itself, which further made the hike much easier than the first time around.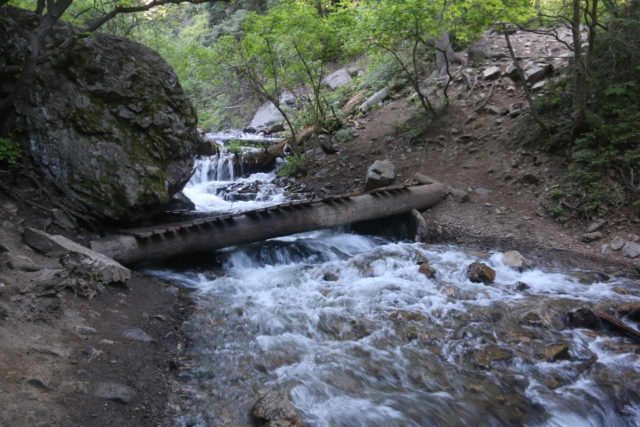 Regardless, at about 0.8 miles from the Bonneville Shoreline Trail junction, the trail crossed North Holmes Creek over a slanted wooden footbridge.
In my mind, this bridge was kind of the landmark where the Adams Canyon Trail started to degenerate more into a rough semi-scramble as opposed to the more straightforward trail that persisted up to this point.
Indeed, the rougher upper parts of the Adams Canyon Trail started to force me to scramble hand over feet in the steepest sections.
There were also more attractive cascades that the trail meandered alongside, including one small waterfall where a large boulder formed a kind of "cave" or alcove with water running through it.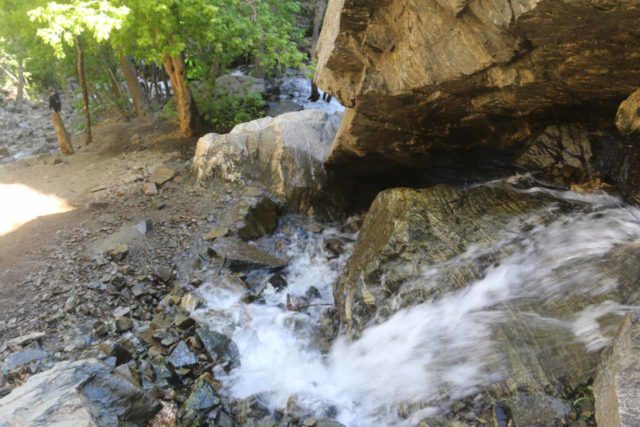 Further upstream beyond this spot, the trail then went around a bend in the creek.
After this bend, the steepening trail skirted North Fork Holmes Creek, which made for some tricky scrambling in the high water conditions that I encountered in May 2017.
Under such conditions, I opted to hike into the creek itself on its far right side to avoid doing a pretty daring steep scramble further up the embankment (just to try avoiding getting wet).
Once again, when I got to this part in mid-August, the hiking was pretty straightforward given the lower flow of North Fork Holmes Creek.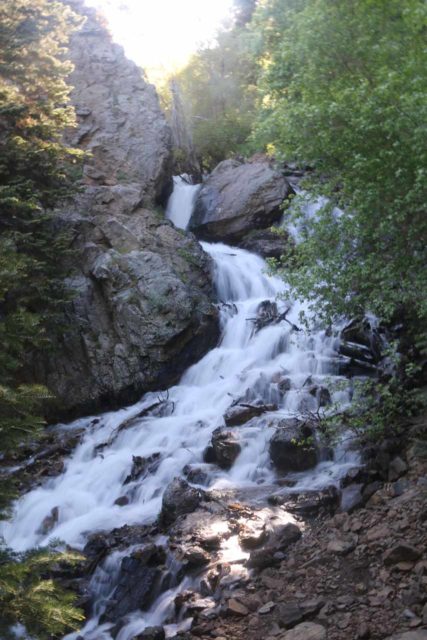 At about 0.2 miles from the footbridge over North Holmes Creek, I had to traverse a narrow rocky ledge before winding up in front of the most impressive intermediate cascade seen so far.
Adams Falls Trail Description – from the intermediate waterfall to the main waterfall
Aside from its photogenic quality as a legitimate standalone waterfall, I had to scramble on the trail alongside the cascade's right side.
This eventually brought me to the top of the attractive intermediate falls and beyond.
Then, the trail continued to get rougher as it hugged the right side of North Holmes Creek while involving some more steep climbs.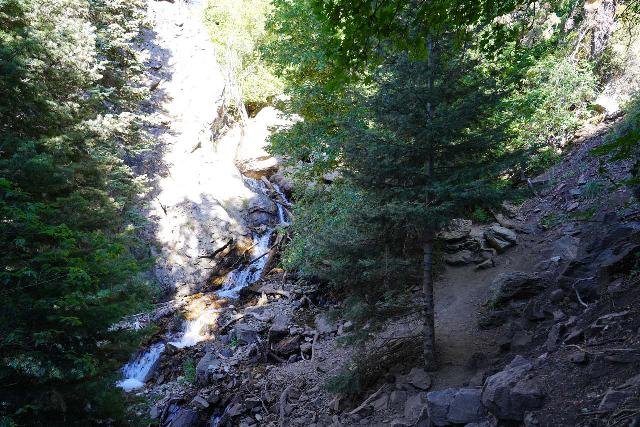 Eventually at about 2 miles from the trailhead, the trail then reached an unbridged crossing of North Holmes Creek.
This was pretty much before the Adams Falls, but it could not be seen without getting into the creek.
During the time that I did this hike in late May 2017, the creek was running pretty high so inevitably, I had to get my feet wet as the water was easily ankle- to shin-deep.
I've also seen trip reports where at lower water levels, it was possible to easily cross North Holmes Creek without getting water inside Gore-tex hiking boots or even day hiking low-top shoes.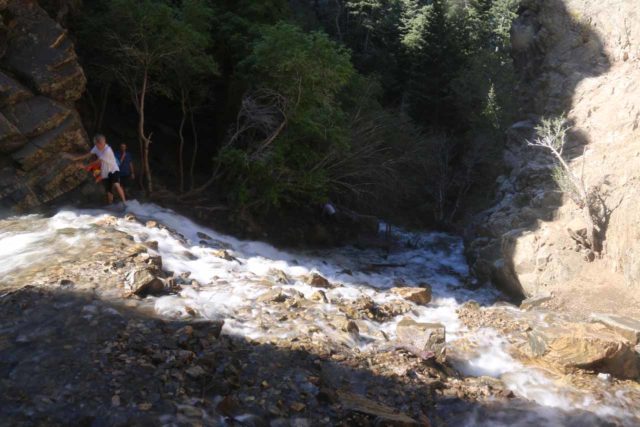 However, when I came back in August 2020, North Fork Holmes Creek was much lower, but it was actually still high enough to get low-top shoes miserably wet.
Nevertheless, once I made it to the other side of the creek, that was when I could finally see Adams Falls in all its glory (just like in the photo at the top of this page).
When I showed up at about 9:30am, there was still enough of a morning shadow to take decent photos.
However, this was a west-facing waterfall so afternoon provided the best lighting.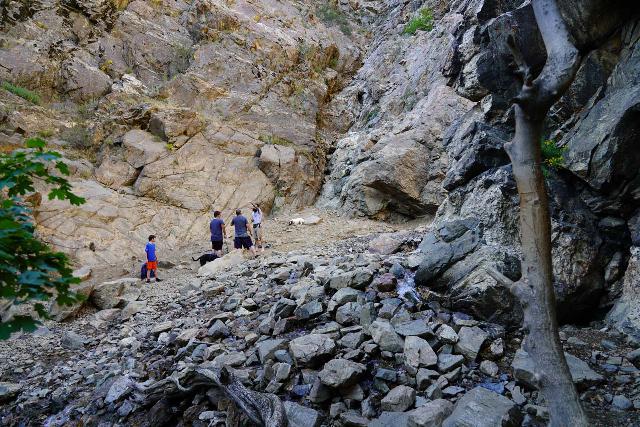 Of course, waiting until the afternoon to do this hike would mean the initial sandy switchbacked climb from the trailhead to the Adams Canyon Trail junction would be a brutally hot stretch.
And if you're not acclimated to the altitude, it could make an already tough hike even tougher right off the bat.
In fact, when I did do this hike on a hot Summer afternoon, I noticed quite a few people struggle with the trail, especially past the slanted bridge.
So despite the tree cover for most of the remainder of the Adams Falls Trail once it entered Adams Canyon, it was still mostly uphill, which further added to the difficulty of the hike.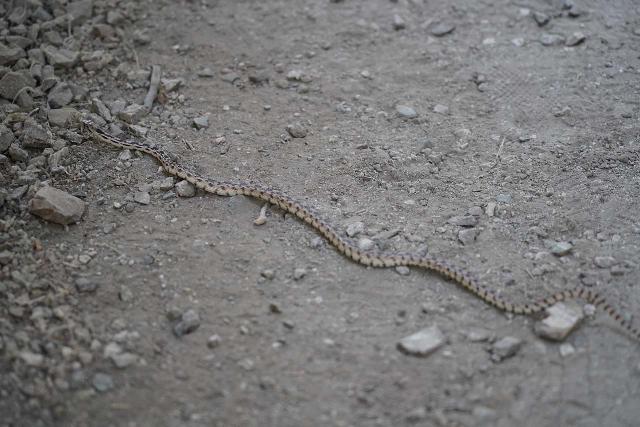 That's something to consider when partaking on this adventure and attempting to time it for the afternoon.
Speaking of the afternoon, when I used my downhill momentum to go quickly back towards the trailhead from Adams Falls, I narrowly missed stepping on a rattlesnake that was crossing the trail!
Indeed, even though I thought I could make good time on the trail, that snake bite could have ruined the remainder of our trip.
But aside from that, I still made pretty good time making my way quickly downhill to the trailhead.
Authorities
Adams Falls resides near the city of Layton in Davis County, Utah. It is administered by the Davis County government. For information or inquiries about the area as well as current conditions, visit their website.
To reach Adams Falls from downtown Salt Lake City, I drove north on the I-15 for about 16 miles before leaving the interstate to go onto Hwy 89.
Then, I drove about another 6 miles along Hwy 89 before turning right onto a short access road leading to Eastside Drive.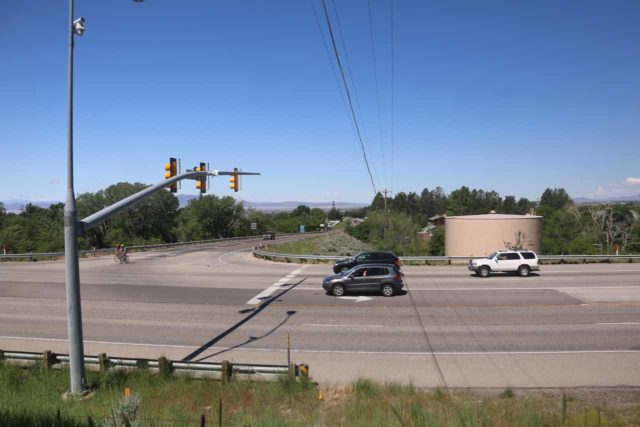 Note that there were stop signs on this road though Hwy 89 kept moving at high speed as it didn't have one here.
This was the first right turn after the traffic light at the intersection of Hwy 89 and Oak Hills Drive.
There was also a water tank on the northwest corner of this intersection, which could be another telltale landmark when looking for the Adams Canyon Falls Trailhead.
Once I made another right onto Eastside Drive, I then drove the remaining 0.4 miles to the Adams Falls Trailhead on the left.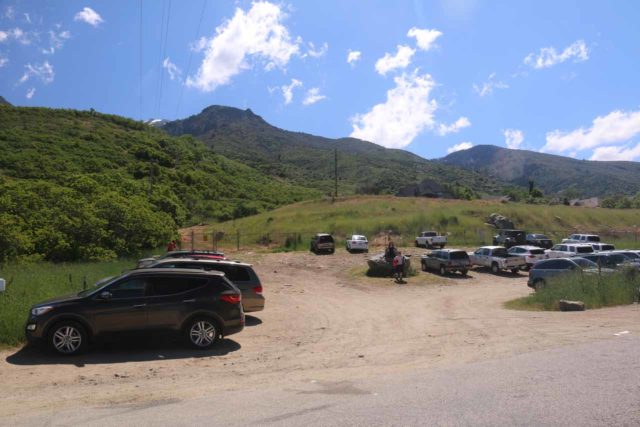 While the unpaved parking lot was fairly spacious, when I showed up at 7:45am, there were already dozens of cars here.
When I returned to the trailhead shortly after 11pm on a Saturday, Eastside Drive was full of cars parallel parking both north and south of the formal trailhead parking.
This attested to how popular this hike was.
In any case, this drive from downtown Salt Lake City took me about 30 minutes.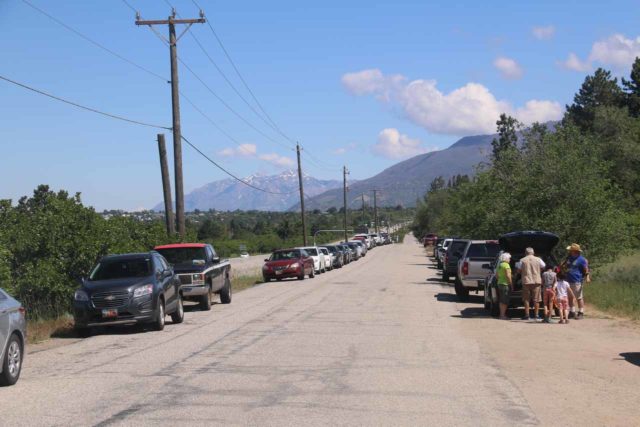 To give you some overall context, Salt Lake City was about 302 miles (over 4 hours drive) north of St George, 234 miles (over 3.5 hours drive) northwest of Moab, 215 miles (3 hours drive) south of Idaho Falls, Idaho, 421 miles (over 5.5 hours drive) north of Las Vegas, Nevada, and 688 miles (over 9.5 hours drive) north of Los Angeles, California.
Find A Place To Stay
Related Top 10 Lists
Trip Planning Resources
Nearby Accommodations
Featured Images and Nearby Attractions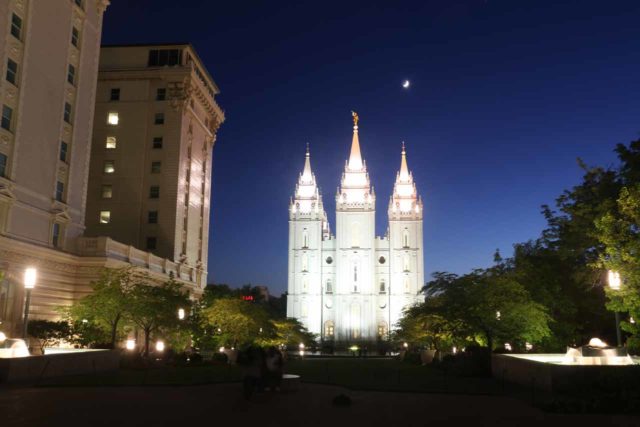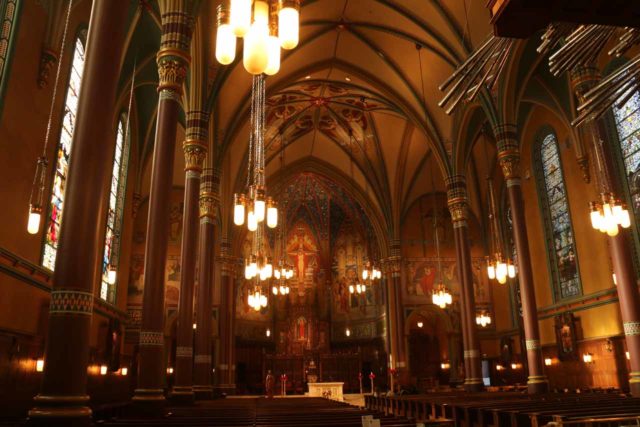 Tagged with:
layton, adams canyon, bonneville shoreline trail, antelope island, great salt lake, salt lake city, us 89, davis county, utah, waterfall
Visitor Comments:
Got something you'd like to share or say to keep the conversation going? Feel free to leave a comment below...
No users have replied to the content on this page
Visitor Reviews of this Waterfall:
If you have a waterfall story or write-up that you'd like to share, feel free to click the button below and fill out the form...
No users have submitted a write-up/review of this waterfall