About Bridal Veil Falls
---
Hiking Distance:
roadside
Suggested Time:
---
Date first visited:
2017-05-28
Date last visited:
2017-05-28
---
Waterfall Latitude:
40.33832
Waterfall Longitude:
-111.60115
---
Bridal Veil Falls was easily the most impressive and scenic waterfall that we managed to visit in the Salt Lake City vicinity.
Its spring-fed year-round flow coming out of Cascade Mountain consisted of a pair of plunging drops followed by a long cascading segment.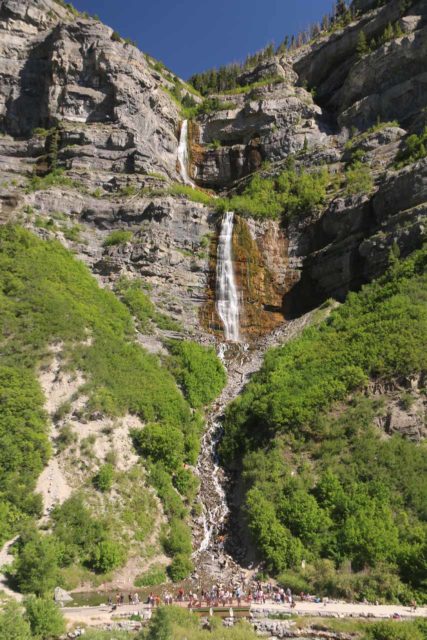 Combining all of these parts, Bridal Veil Falls had a cumulative height of 607ft, which made it one of Utah's tallest.
Being a private waterfall, apparently this place had a history of development dating back to the 1960s.
This included the Eagle's Nest Lodge and Restaurant, an aerial tramway to the waterfall's top, and even a tourist train called the Heber Creeper that went along the Provo River before the falls.
Over time, these facilities were destroyed by avalanche and fire.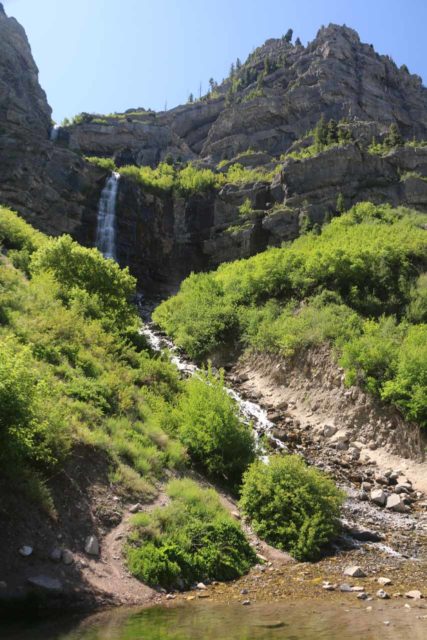 By the time we showed up on Memorial Day Weekend in 2017, we didn't see much evidence of these things except for some fenced off construction site across the Provo River next to the Provo Canyon Road.
I wondered if they were seeking to remove any further remnants of such facilities or to mitigate some apparent flood damage when Provo River was swollen with snowmelt from this heavy snowpack year.
Although the falls was easily seen while driving the Hwy 189 through the south end of Provo Canyon, we were able to experience the falls in a couple of different ways.
Experiencing Bridal Veil Falls from a scenic roadside lookout
The easiest and our most favored method of experiencing Bridal Veil Falls was from a scenic roadside lookout area (see the picture at the top of this page).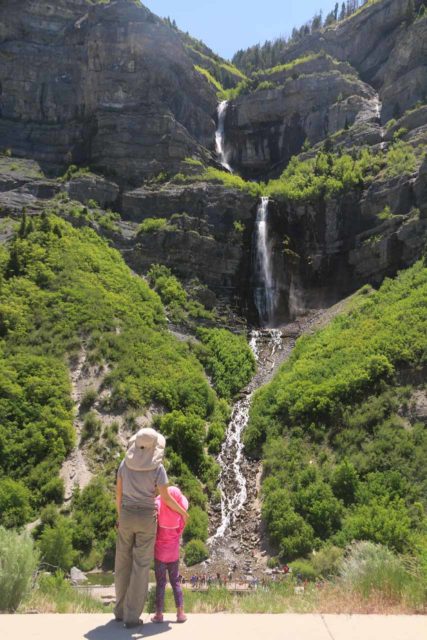 This was where we were able to best appreciate the overall grandeur of the falls from an elevated photogenic spot right by the Hwy 189.
As a result, we could enjoy this waterfall without driving the Hwy 189 distracted.
As the falls faced in a more westerly direction, we found out that the best time to take photos was in the afternoon when it benefitted from good backlighting.
We learned this the hard way as we were looking against the sun when we showed up earlier in the day.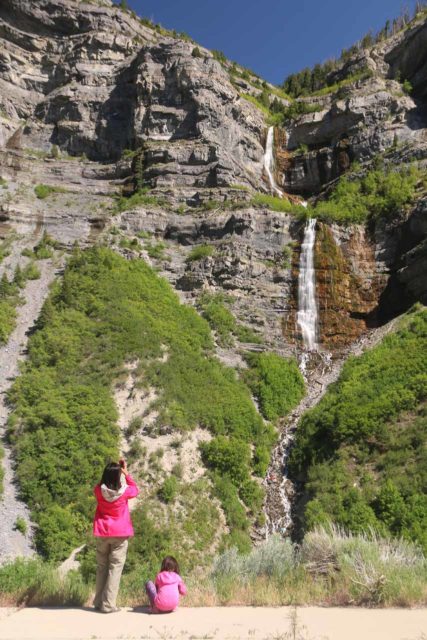 However, we came back later in the afternoon and took full advantage of the better lighting.
Experiencing the base of Bridal Veil Falls
The second method of experiencing Bridal Veil Falls was where we were able to do a short paved stroll alongside the Provo River towards the base of the waterfall.
This was where there was a little stagnant pond full of algae (said to be a fish pond) as well as a neck-cranking view right up at parts of the waterfall.
Both the lowest cascade and the waterfall's middle tier were easily visible, but the uppermost tier was only partially seen from this position.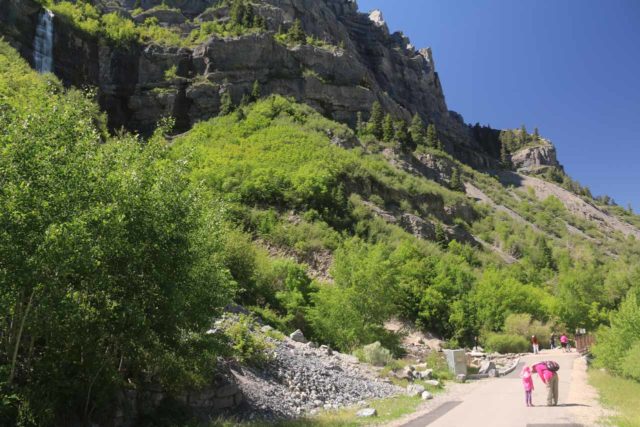 By the way, that paved path was said to be where the old Heber Creeper tourist train tracks were once laid.
During the paved stroll to the base, we did notice signs for several spur trails climbing steeply and joining up with a trail leading up to the base of the lower plunging drop roughly half-way up the waterfall's cumulative drop.
Although we didn't do this climb (so we can't really say much about this experience), we saw dozens of people that did it.
While we were content with treating this as a virtually roadside attraction, we easily could have extended our time here by doing this hike for a totally different experience.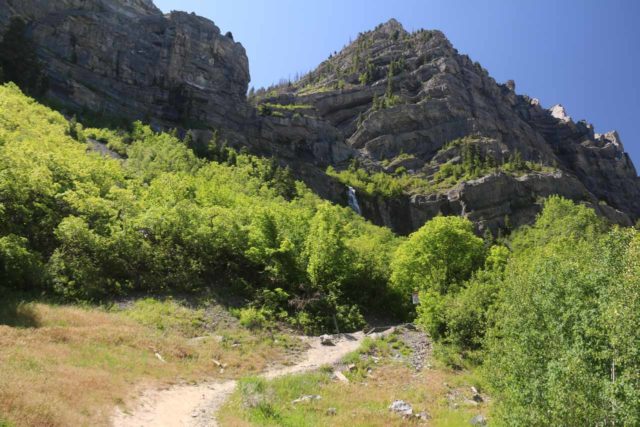 We'll have to get around to doing that next time if we're fortunate to come back here.
As you can see from the pictures on this page, judging by how many people did the hike, it seemed like a great way to get close and intimate with Bridal Veil Falls.
I'm sure it would also yield nice views across Provo Canyon from such an elevated vantage point.
A Separate Waterfall called Upper Falls?
Further east along the Provo River, there was a separate picnic area and parking lot for the so-called Upper Falls.
This waterfall was on a separate drainage from the Bridal Veil Falls.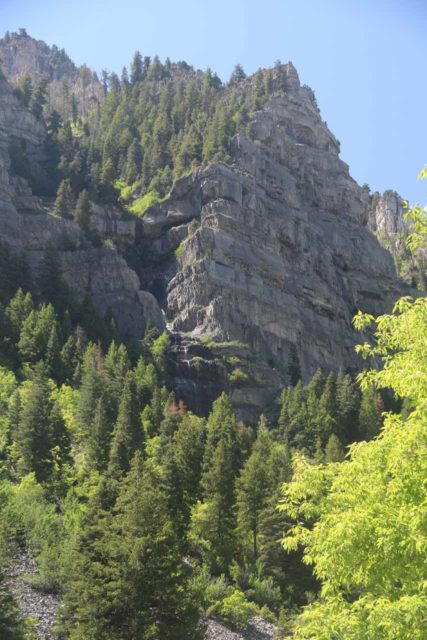 The view of that waterfall from the picnic area was also only a partial one.
It turned out that the best place to view that falls was along the Hwy 189 though there wasn't an official pullout to better enjoy it.
There was, however, only a road shoulder that wasn't particularly wide so putting on emergency blinkers while stopped would be a good idea if you were to try this, especially with such high speed traffic driving on the highway.
We did none of the things to improve our experience of the Upper Falls so we can't really say more about it, nor do we have a good picture of it as a result.
Authorities
Bridal Veil Falls resides in Provo Canyon near Provo in Utah County, Utah. It is administered by the Utah County Public Works Department. For information or inquiries about the area as well as current conditions, visit their website.

To reach Bridal Veil Falls from downtown Salt Lake City, we went west towards one of the on-ramps for the I-15 heading south.
We then drove on the I-15 South for roughly 36 miles to the Hwy 52 in Orem (exit 272).
Leaving the I-15 and heading east on Hwy 52, we then drove for roughly 4 miles before keeping left to join the Hwy 189.
Once we were headed northeast on the Hwy 189, we then were able to choose how we wanted to experience the Bridal Veil Falls and neighboring Upper Falls.
Each of these options were roughly 45-50 minutes drive from downtown Salt Lake City.
Option #1: The Base of Bridal Veil Falls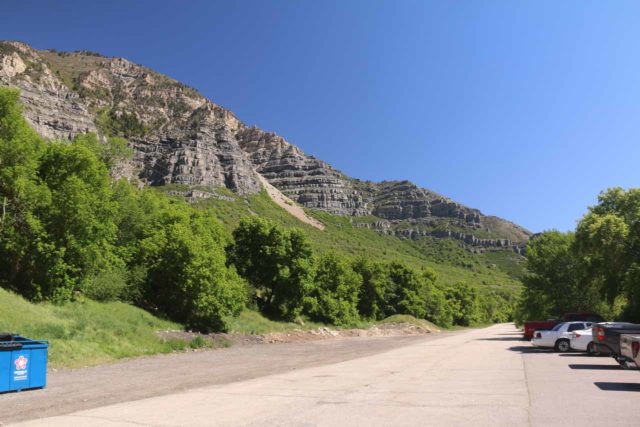 In order to reach the base of Bridal Veil Falls, we took the exit by the brown sign pointing the way to Upper Falls Park, Nunn's Park, and Bridal Veil Park (roughly 3.2 miles from the Hwy 52/Hwy 189 junction).
This offramp put us on Provo Canyon Rd, which we then drove another 0.6 miles to a parking area just past the Bridal Veil Falls itself.
From there, we were able to walk over a footbridge spanning Provo River, which then allowed us to join the bike and pedestrian paved path towards the falls.
Option #2: The Upper Falls Picnic Area
In order to reach the Upper Falls Picnic Area, we merely had to drive another 0.7 miles east of the aforementioned parking area (option #1) along Provo Canyon Road.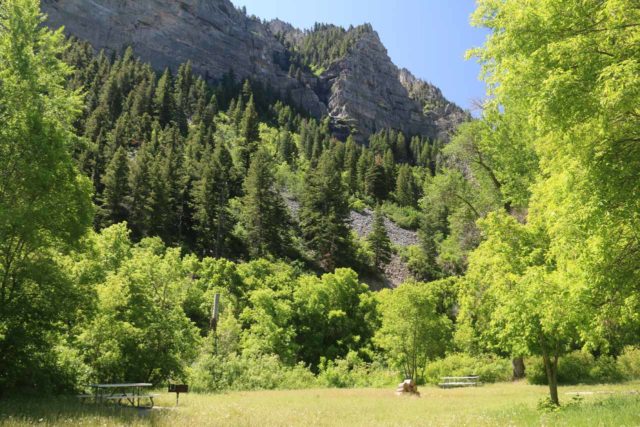 It was well-signed and it had a dedicated parking area with restroom facility.
Option #3: The Scenic Lookout of Bridal Veil Falls
In order to reach the scenic lookout, we took a blue-signed exit labeled "Scenic Area" roughly 3.7 miles from the Hwy 52/Hwy 189 junction (or about 0.5 miles past the exit towards Nunn's Park mentioned above).
This scenic area had a fairly spacious parking lot with a commanding view of Bridal Veil Falls.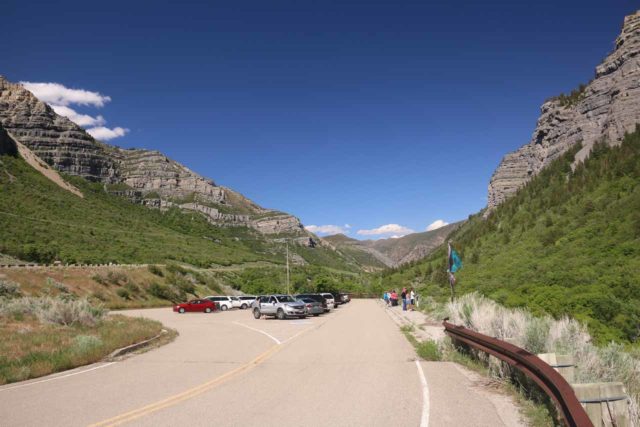 From this vantage point, the base of the lower drop was at nearly eye-level.
To give you some geographical context, Salt Lake City was about 45 miles (45 minutes drive) north of Provo, about 302 miles (over 4 hours drive) north of St George, 234 miles (over 3.5 hours drive) northwest of Moab, 215 miles (3 hours drive) south of Idaho Falls, Idaho, 421 miles (over 5.5 hours drive) north of Las Vegas, Nevada, and 688 miles (over 9.5 hours drive) north of Los Angeles, California.
Related Top 10 Lists
Trip Planning Resources
Featured Images and Nearby Attractions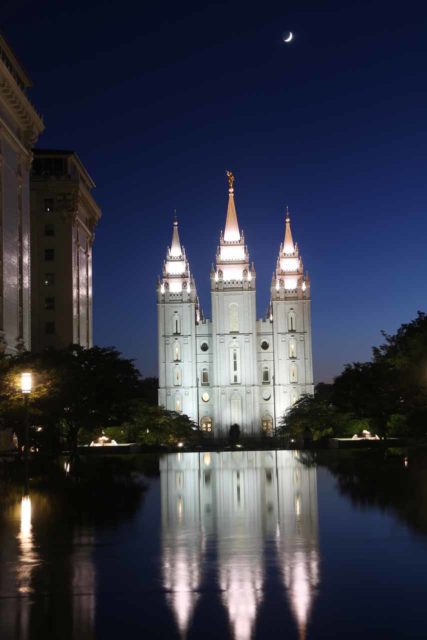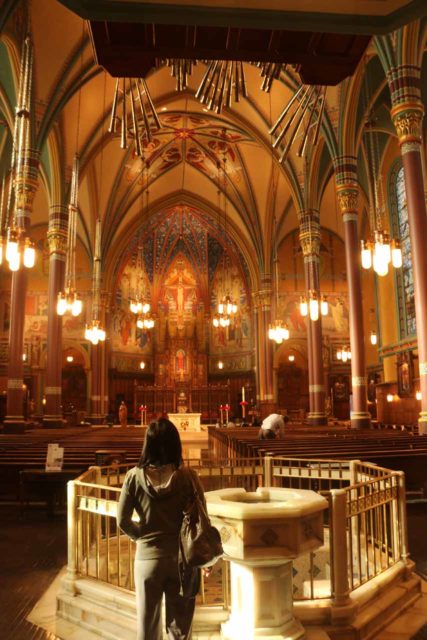 Tagged with:
provo, provo canyon, orem, utah county, utah, waterfall, provo river, timpanogos, hebert city, provo river parkway
Visitor Reviews of this Waterfall:
Bridal Veil Falls
July 14, 2011 4:30 pm
-
Wow! I lived in Utah until I was almost 25 and had no idea we even had waterfalls. I only recently visited Bridal Veil Falls going up Provo Canyon. I forgot my camera when I visited, but it's a beautiful falls and I'll make sure to take a pic and upload it here the next… ...Read More