About Donut Falls
---
Hiking Distance:
3.2-3.8 miles round trip; scramble to reach donut hole
Suggested Time:
2-3 hours
---
Date first visited:
2017-05-26
Date last visited:
2020-08-09
---
Waterfall Latitude:
40.62977
Waterfall Longitude:
-111.65472
---
Donut Falls (I've also seen it spelled Doughnut Falls) was so named because the Mill D South Fork Creek spilled into a pothole that someone imagined was shaped like a donut.
Beneath the donut was a natural bridge where the water continued cascading down a series of bouldery slopes to comprise the overall main drop of the waterfall.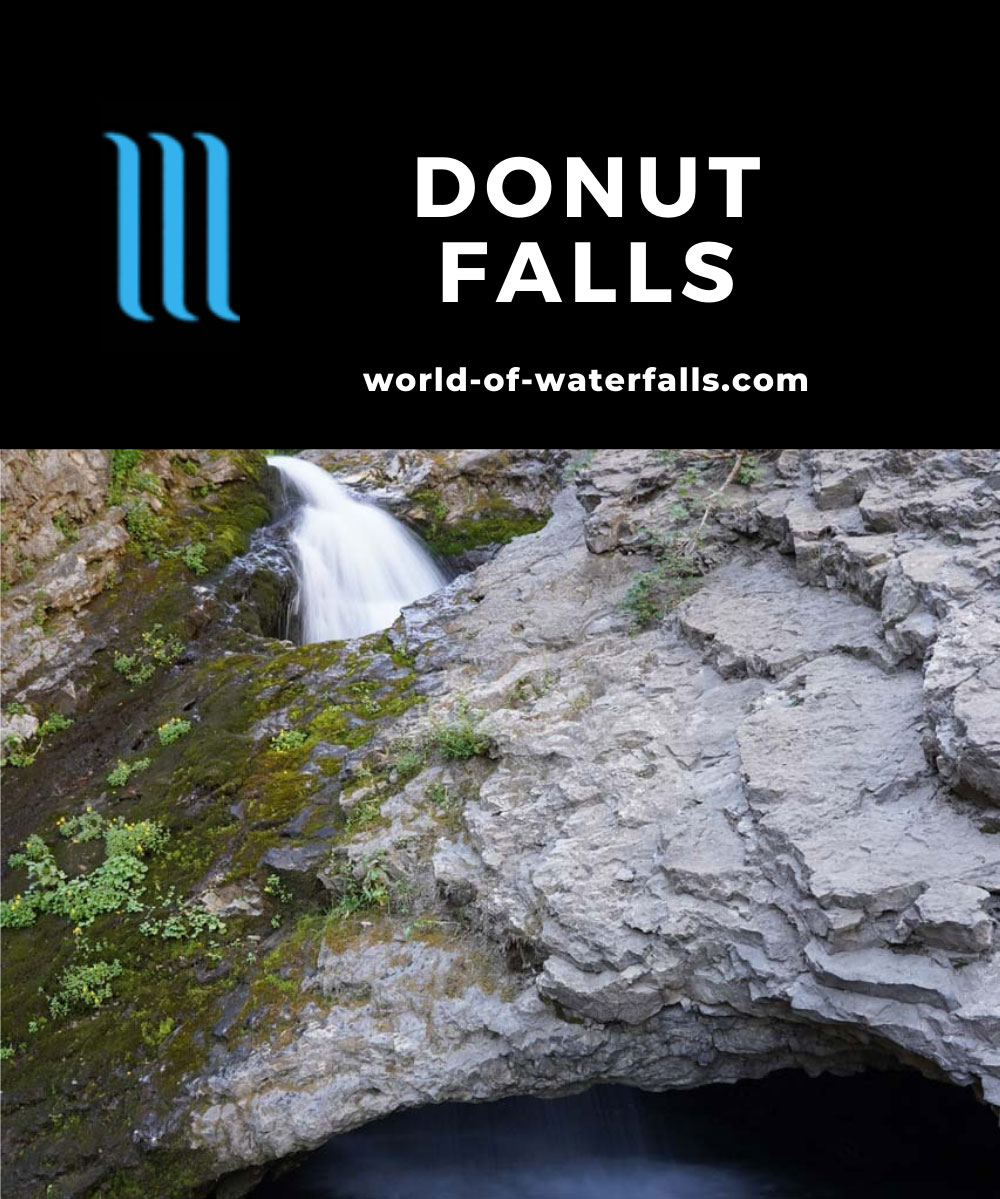 That made this one of those rare waterfalls where we got to witness that combination of a natural bridge and waterfall.
And for that reason alone, that made this place quite popular, especially considering how close it was to Salt Lake City.
Beneath the donut part of Donut Falls, Mill D South Fork Creek would continue cascading some more before reaching more flatter terrain well downstream.
Some of this cascading stretch was what I had to traverse before climbing up a jumble of boulders in order to get the view that you see pictured above.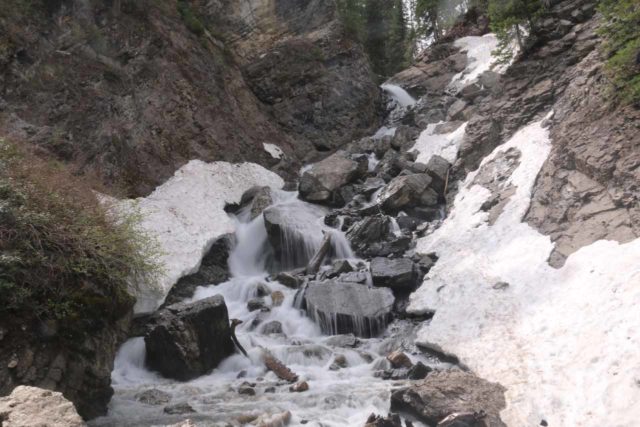 As for the waterfall itself, the donut part was towards the top of the cascade, and it was quite miniscule compared to the rest of its overall drop.
Speaking of which, I'd imagine that Donut Falls probably had a cumulative height of around 100ft.
Donut Falls Trail Description – walking to the official trailhead
We visited Donut Falls twice so far – once in late May 2017 and another time in mid-August 2020.
Each time we've hiked to this falls, we started from Cardiff Fork turnoff, which made the hike on the order of 3.2-3.8 miles round trip.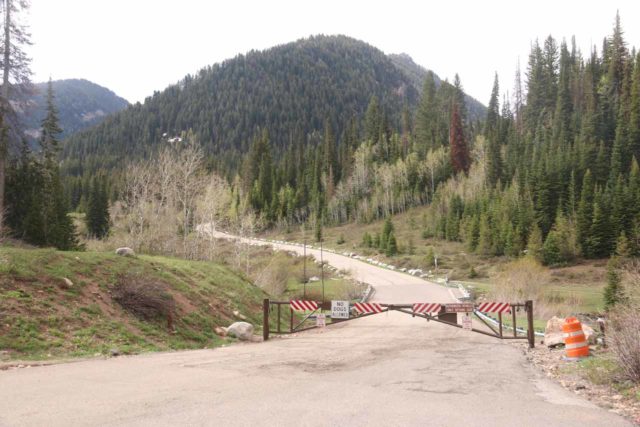 Typically, if we only started hiking from the official Donut Falls Trailhead, then the overall hike should be only 1.6-1.8 miles round trip.
On our first visit during Memorial Day Weekend in May 2017, the gate was closed at the Cardiff Fork turnoff so we had to walk that road to the official trailhead.
This walk was on the order of 0.8-mile, and it only took us less than a half-hour.
On our second visit, which happened in mid-August 2020, the gate was open, but we still opted to do the walk from the Cardiff Fork turnoff.
We figured that it might not be worth the trouble to compete for limited spots at the official trailhead.
So when we did this, we walked down the familiar road just under 0.2-mile before we encountered a signed trail that left the road and followed a narrower tree-shaded path.
The trail did a few more twists and turns than the straightforward Cardiff Fork Road so it was a little longer and narrower (which made it a little harder to socially distance).
However, it crossed a road leading to a campsite at one point before meandering through more tree cover and curves.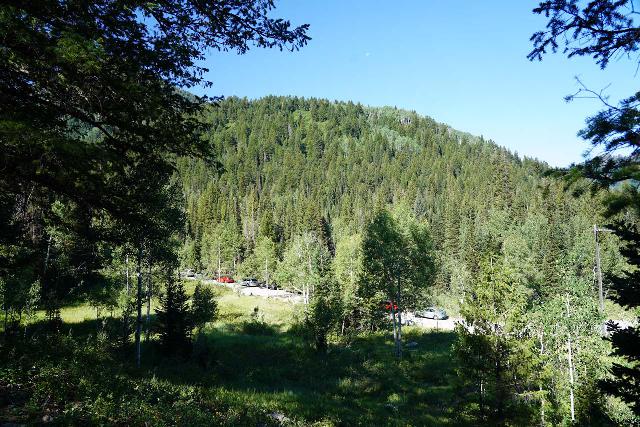 Eventually after another 0.8-mile (or 1-mile from the Cardiff Fork), this trail descended upon the official Donut Falls Trailhead.
We never noticed this trail on our first visit, and we wondered if this was a newly-built trail.
I suspected that if this was the case, then it might have been motivated by the Cardiff Fork Community.
After all, it would make sense that they would want to alleviate trespassing concerns given the Cardiff Fork Road passed between residences.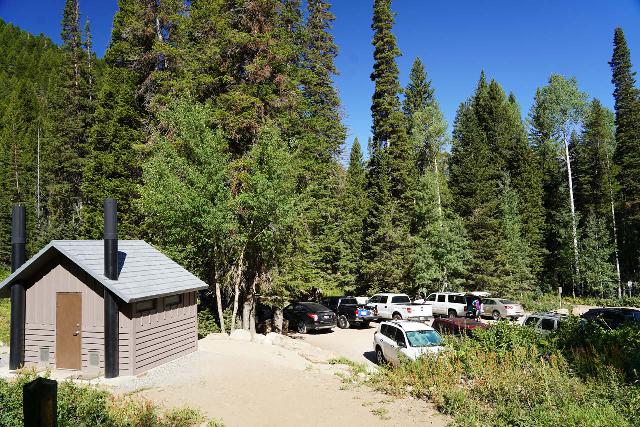 Add to that the Donut Falls' popularity, then it also made sense to try to reduce the number of pedestrians walking the road as well.
In any case, despite the relatively easy walk to the Donut Falls Trailhead, we had to take it slow if we weren't acclimated to the high elevation.
This was because the Cardiff Fork was nearly 7,300ft and the official trailhead was at nearly 7,500ft elevation.
Donut Falls Trail Description – hiking from the trailhead to the waterfall
Beyond the trailhead, where there was a little restroom as well as some signage, the Donut Falls Trail then resumed its ascent along a pretty wide dirt path.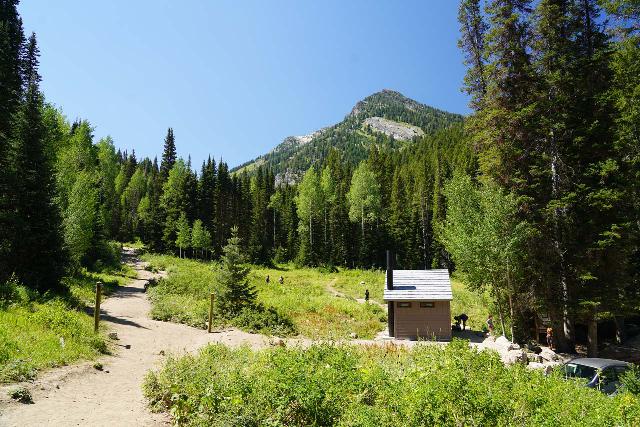 Apparently, there was also a separate path that crossed the Mill D South Fork and followed a track on the opposite side of the creek though we've never taken that path.
Anyways, there was a lot of tree cover, including some groves of the cottonwood trees that probably earned Big Cottonwood Canyon its name (so the Fall Colors here must be amazing).
In addition, there was still quite a few patches of snow flanking and crossing over the trail when we first did this hike back in late May 2017.
However, for the most part, the hiking was pretty straightforward though the high altitude made our hearts race and our lungs burn.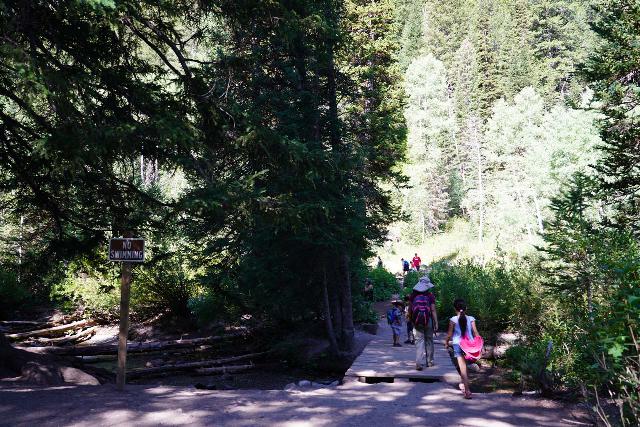 At around a half-mile beyond the official trailhead (or 1.5 miles from the Big Cottonwood Canyon Road), we then crossed over a footbridge.
The trail then promptly intersected with a wider trail that continued south along the west side of the Mill D South Fork Stream.
I suspect that the other trail we didn't take from the Donut Falls Trailhead would eventually arrive at this trail junction.
In any case, this intersection was noteworthy because it would be easy to miss on the return hike given how much narrower the trail to the bridge was compared to the larger trail paralleling the Mill D South Fork Stream's west side.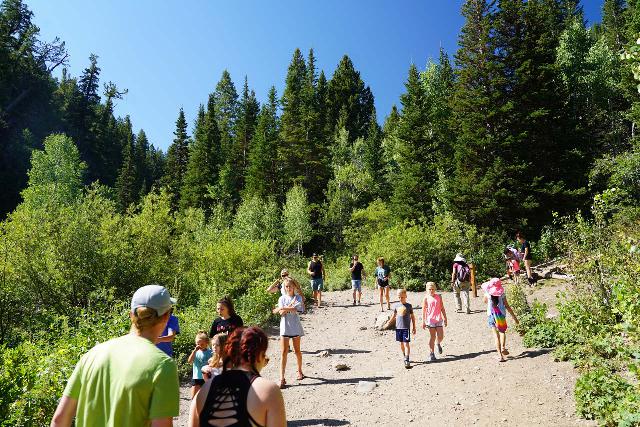 For the remaining 0.3 miles or so, we kept left at the forks and eventually scrambled down a short but steep embankment leading to the Mill D South Fork.
Since we didn't pursue hiking on the right side of the forks, we can't say anything more about where those paths went.
Nevertheless, we then followed the Mill D South Fork until the trail abruptly ended where any further progress involved crossing the very cold and fast-running Mill D South Fork.
In addition to signage proclaiming that swimming and wading was prohibited, this obstacle was pretty much the end-of-the-hike for most visitors unwilling to get wet to continue.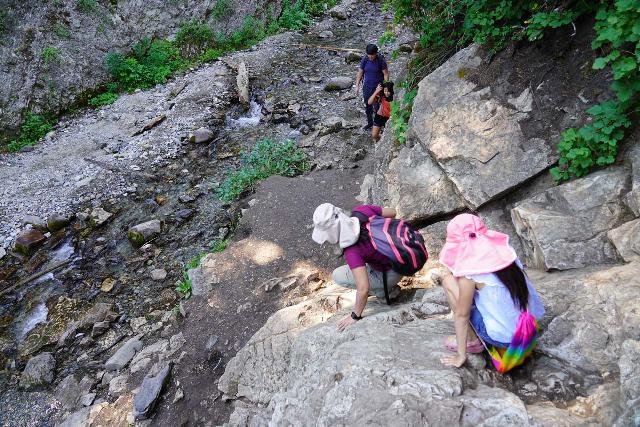 While the view from here left a lot to be desired given the presence of obstructing trees and how distant the falls was, it was still possible to get decent photos as well as a glimpse of the donut that earned this falls its name.
Donut Falls Trail Description – getting closer to the donut
We came prepared with Keens so we were ready to scramble across the Mill D South Fork.
However, on our first visit back in late May 2017, there was still a lot of snow around Donut Falls.
So that made the crossing this creek painfully cold (it would have been a good idea to wear neoprene socks at the time).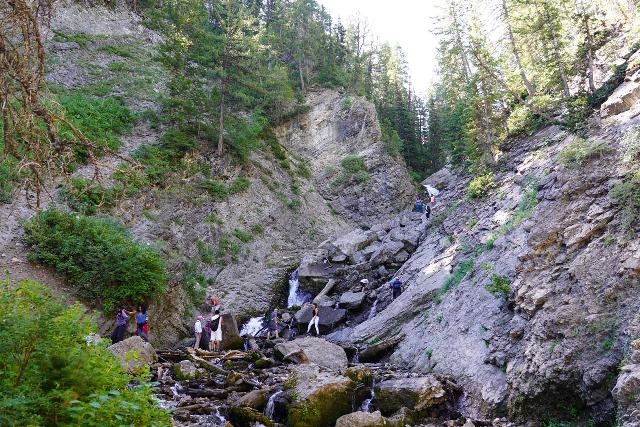 It also made climbing up to the donut hole dangerous so I didn't try it on that trip.
On our return visit in mid-August 2020, the creek was significantly lower, but it was still high enough to make it harder for those who tried to avoid getting their feet wet.
It was especially difficult to keep the feet dry trying to scramble up the boulders to the donut hole.
I found the boulder scramble up to the donut hole to be fairly moderate for the most part.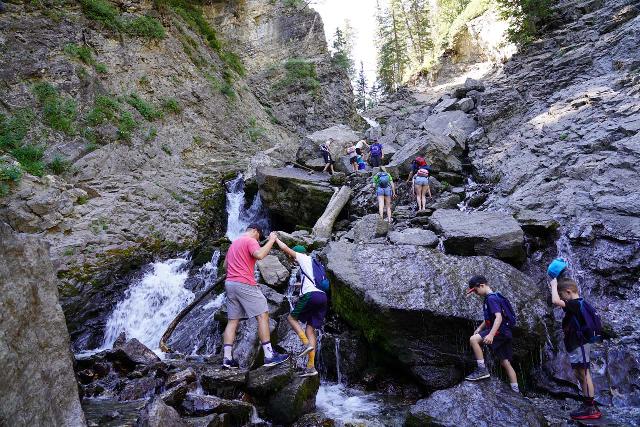 There were some tricky sections though I didn't find them to be all that bad.
That said, there were some high-touch rock scrambling sections, which concerned me in terms of COVID-19 possibly sitting intact on the rocks that got touched a lot.
Anyways, I managed to get right in front of and inside the little "cave" that Donut Falls dropped into.
Some people scrambled even higher above the waterfall, but it looked too steep for my liking (or at least when I considered the risk versus reward of doing that).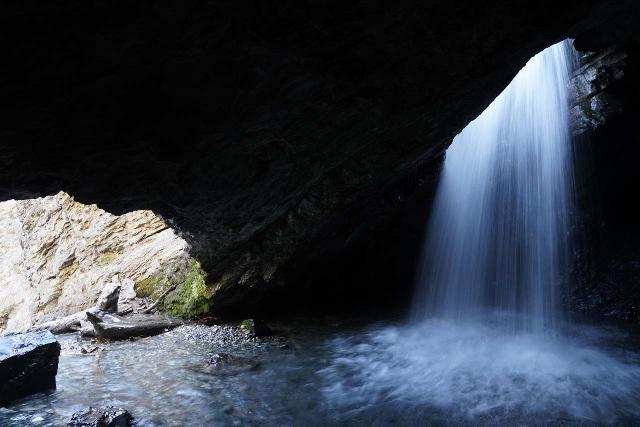 After having my fill of this intimate experience with Donut Falls, I then scrambled back the way I came to rejoin my wife and daughter, who didn't want to do the scramble.
Then, we hiked back the way we came to the official trailhead before deciding to continue walking down the Cardiff Fork Road (instead of the trail) given the lighter foot traffic and the straightforward descending trajectory.
Overall, the trip log on our August 2020 visit said that I hiked a total of 3.8 miles round trip, and we had spent about 3 hours in total away from the car.
Authorities
Donut Falls resides in the Uinta-Wasatch-Cache National Forest near Salt Lake City in Summit County, Utah. It is administered by the USDA Forest Service. For information or inquiries about the area as well as current conditions, visit their website.
We reached Donut Falls from downtown Salt Lake City by driving west towards one of the on-ramps for the I-15 heading south.
We then drove on the I-15 South for roughly 3 miles before taking the I-80 East.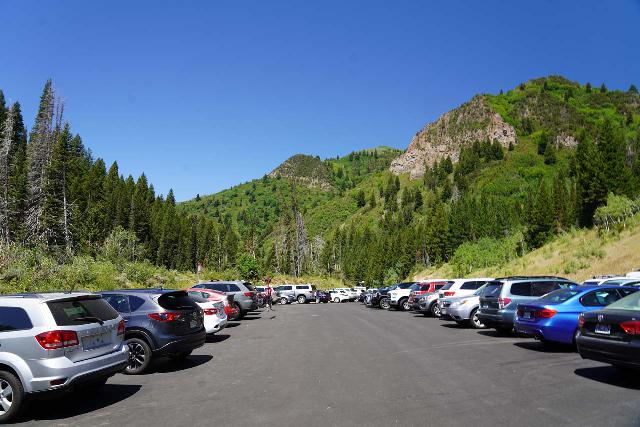 We then continued east on the I-80 for roughly 5 miles before keeping right to go south on the I-215 South.
After roughly another 5.5 miles or so on the I-215 South (Belt Route), we then took exit 6 for 6200 South then kept left to continue east on UT190.
Then, after roughly 1.7 miles on the UT190, we turned left onto Big Cottonwood Canyon Road.
From there, we took the winding road up roughly 9 miles to a large turnoff turned parking area before the gate for Cardiff Fork on the right.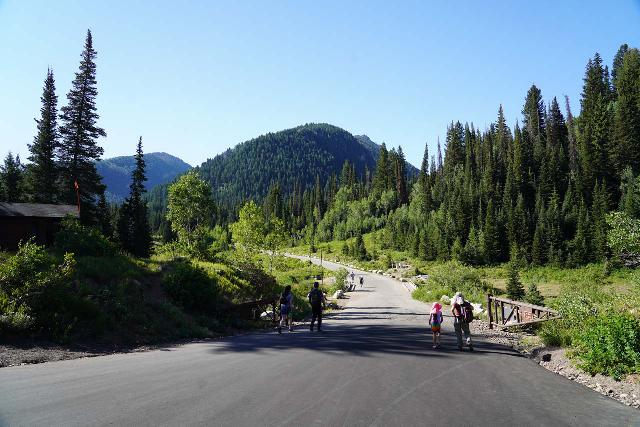 This area might also be known as the Mill D Parking Area, and this was where we stopped the car and began our hike.
There was parking on the other side of the UT190 though there was a trail for a different hike that started on that side.
Overall, this drive took us around 35 minutes including all the traffic lights.
Of course, if the gates were open, then it was possible to drive the last mile to the official Donut Falls Trailhead (shaving 2 miles off the total hiking distance), but parking was more limited there.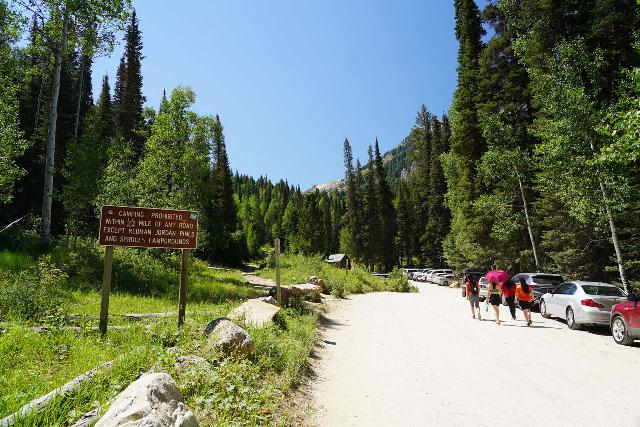 To give you some overall context, Salt Lake City was about 302 miles (over 4 hours drive) north of St George, 234 miles (over 3.5 hours drive) northwest of Moab, 215 miles (3 hours drive) south of Idaho Falls, Idaho, 421 miles (over 5.5 hours drive) north of Las Vegas, Nevada, and 688 miles (over 9.5 hours drive) north of Los Angeles, California.
Find A Place To Stay
Related Top 10 Lists
Trip Planning Resources
Nearby Accommodations
Featured Images and Nearby Attractions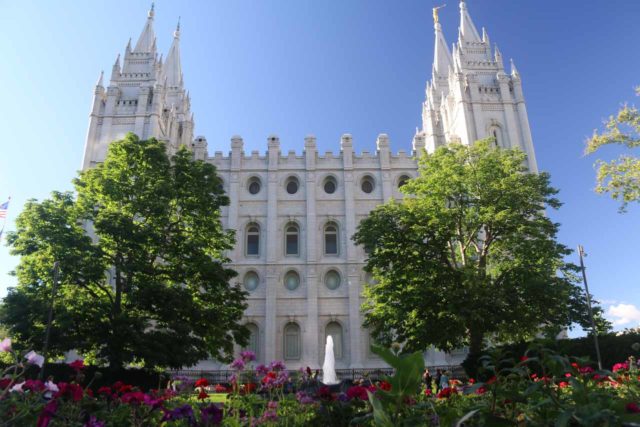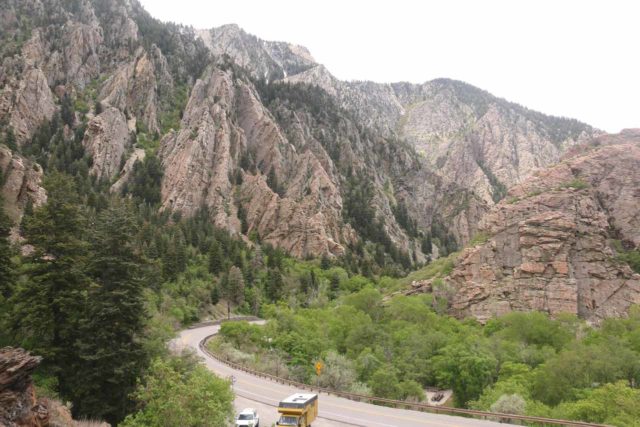 Tagged with:
salt lake city, wasatch front, big cottonwood canyon, cardiff fork, natural bridge, utah, waterfall, park city, summit county
Visitor Comments:
Got something you'd like to share or say to keep the conversation going? Feel free to leave a comment below...
No users have replied to the content on this page
Visitor Reviews of this Waterfall:
If you have a waterfall story or write-up that you'd like to share, feel free to click the button below and fill out the form...
No users have submitted a write-up/review of this waterfall