About Horsetail Falls
---
Hiking Distance:
about 4.4 miles round trip with scrambling
Suggested Time:
3-4 hours
---
Date first visited:
2017-05-27
Date last visited:
2017-05-27
---
Waterfall Latitude:
40.49888
Waterfall Longitude:
-111.72756
---
Horsetail Falls was a sloping waterfall that might assume the shape of a horse's tail when viewed directly and when Dry Creek was in high flow.
The flow conditions certainly met this criteria during my Memorial Day Weekend visit in 2017.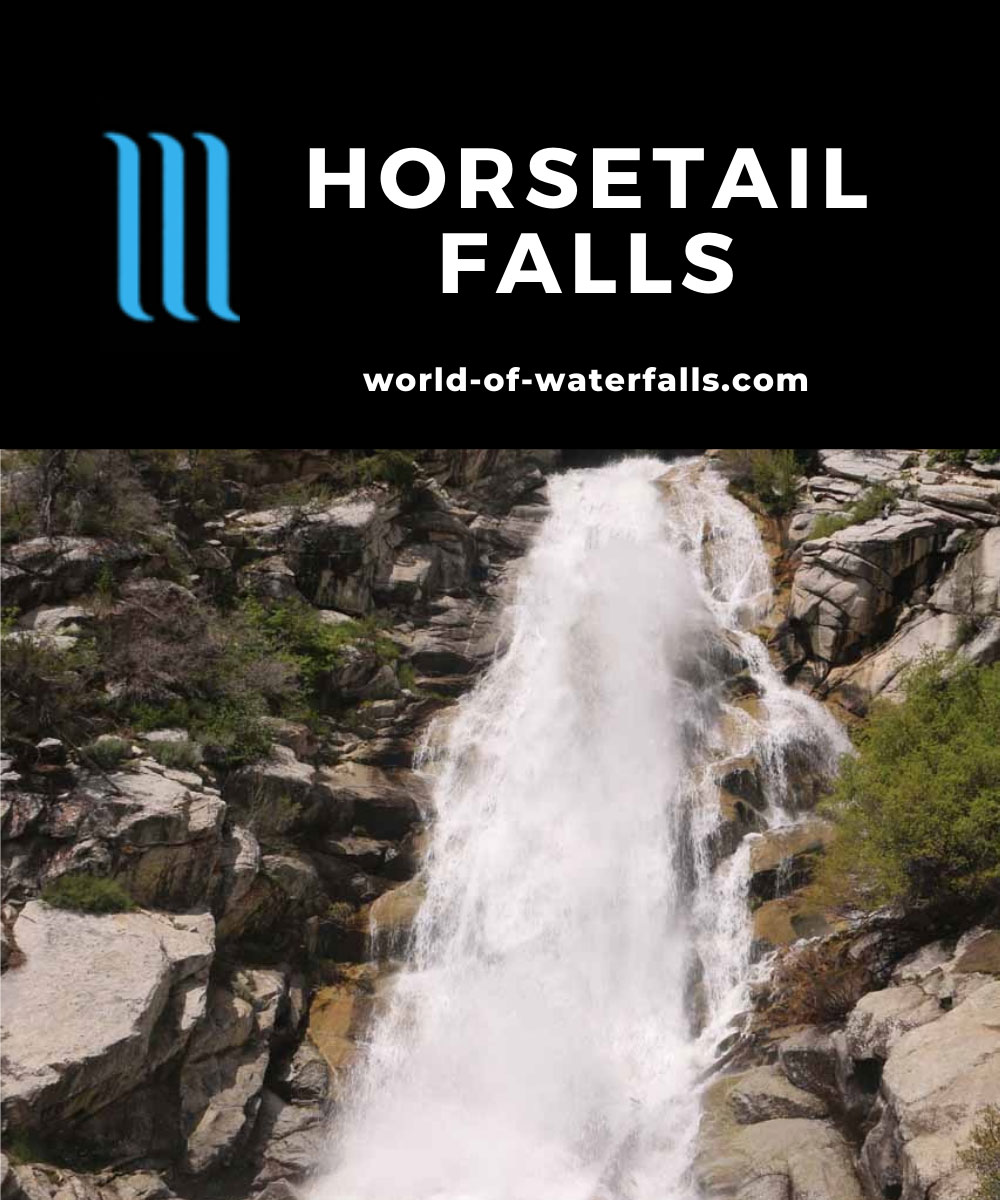 I have seen in the literature that the falls supposedly has a cumulative height of 35ft, but I swore that it must have been much taller than that since I had to engage in a dicey scramble from its top to its base.
By my total guess at this, the main drop seemed to be at least 75ft tall, but it could be taller since there were more parts of it both above and below the spot I viewed it at.
About the Horsetail Falls Adventure
Speaking of dicey scrambles, Horsetail Falls had to have been another one of the waterfalls in the Salt Lake City vicinity that I really had to earn while going on a bit of an adventure.
It involved going up a relentlessly uphill trail, which ultimately took me to its top after some not-so-obvious scrambling.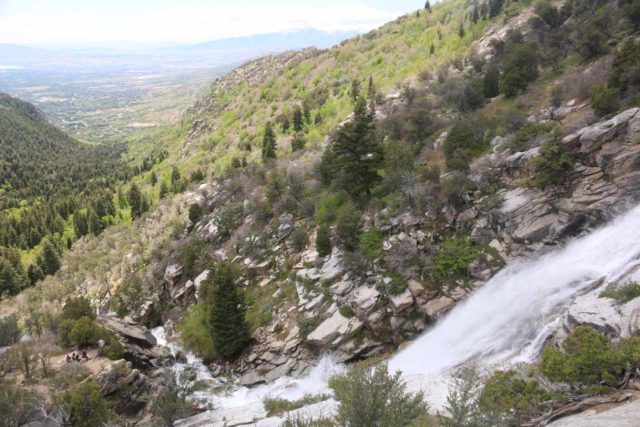 When I saw people far below where I was standing, I knew that I had to do some additional scrambling on some pretty dicey and steep game trails to improve the viewing experience.
Indeed, after having gone through so much work just to even get here, it seemed like getting that elusive satisfying experience with this waterfall required an extra bit of effort and risk.
Anyways, no matter how I looked back at this experience (from the frustrations to the thrills of having success), nothing about it was easy, and this was reflected in its difficulty score.
Nevertheless, the hike's payoff also featured gorgeous views towards both Alpine and Utah Lake while surrounded by intriguing peaks like Box Elder Peak and Lone Peak.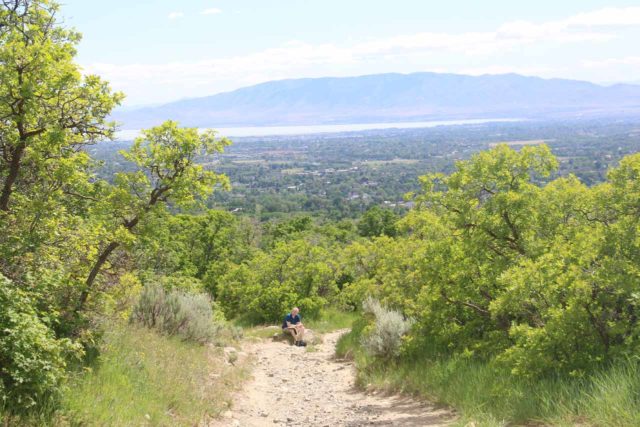 Overall, I hiked about 4.2 miles round trip gaining nearly 1,600ft in elevation.
The entire excursion took me nearly 4 hours away from the car, but that included pursuing a false detour, the picture taking, and the much-needed rest breaks in between.
Horsetail Falls Trail Description – from the trailhead to a false trail
I started off the Horsetail Falls hike from a well-established parking lot at the end of Grove Drive (see directions below).
Although the trail signage here made no mention of the waterfall, I knew I was in the right place given how many cars were here (especially how many additional cars were parallel parked along the Grove Drive).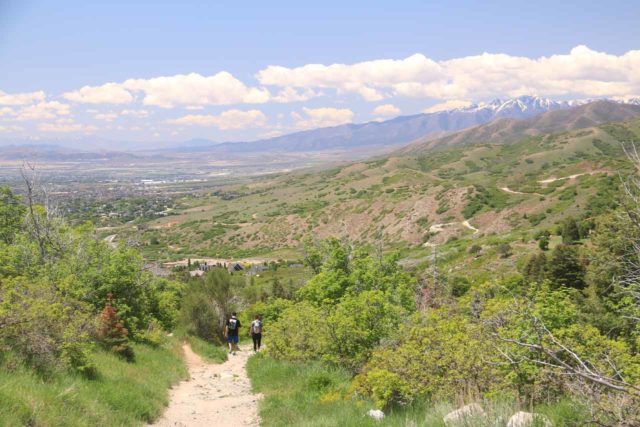 Anyways, pretty much from the get go, the trail made its relentless climb.
Little did I realize that this climb would pretty much persist for the entire hike with some sparse breaks where the trail briefly flattened out.
The trail was pretty obvious to follow given its width, but it was full of big rocks and stones conspiring to undermine my footing.
In addition, every so often, I had to pause to let horseback riders pass through.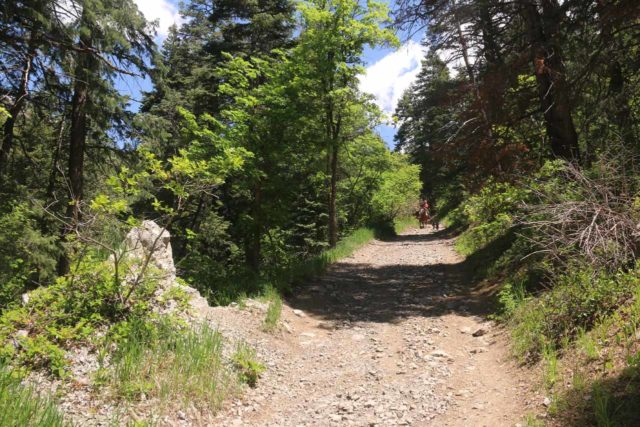 That kind of gives you an idea of how wide the Horsetail Falls Trail was in order to support this mode of transport.
I also had to contend with some narrower false trails that had red tape attached to some branches in the first quarter-mile or so.
Horsetail Falls Trail Description – Accidental pursuit of a false trail
I fell for one of these false paths, which took me down to the banks of Dry Creek as well as some informal campsite where someone didn't properly put out a campfire and left it smoking.
Anyhow, that false trail eventually degenerated into an overgrown scramble and it was supposedly a path direct to the base of Horsetail Falls.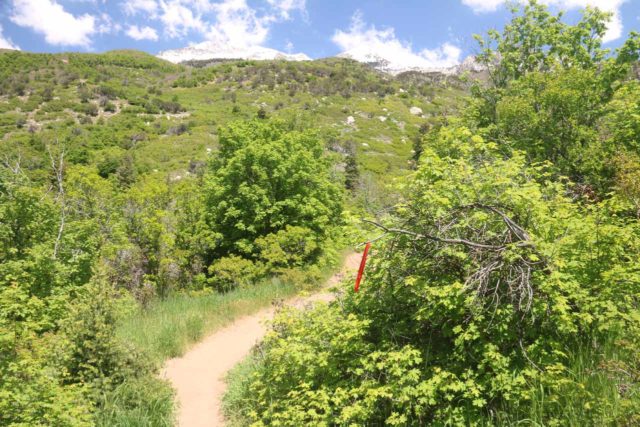 But I wasn't comfortable with the deteriorating trail conditions and so I backtracked to the main trail.
This detour wasted around 15 minutes more or less, but this is something to watch out for when doing this hike.
Horsetail Falls Trail Description – more climbing to the first view of the main waterfall
Continuing further up the main trail, it started to go from hot and totally exposed to the sun to being flanked by tall trees providing some partial shade.
This pretty much persisted for the next 1.5 miles or so.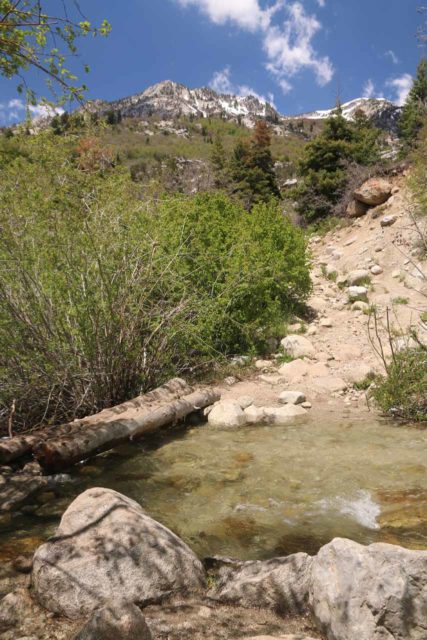 There were a few minor stream crossings as well as some log-aided ones where informal bridges were set up to make the deeper crossings possible without getting wet.
There was also a little meadow-like grassy area in one of the short stretches when the trail wasn't on its relentless climb.
Also, the tree cover was extensive enough that it was difficult to appreciate some of the towering snow-capped mountains that were peeking in and out of view.
At about 1.6 miles from the trailhead, there was an unsigned spur trail on the left that led to an exposed rock outcrop.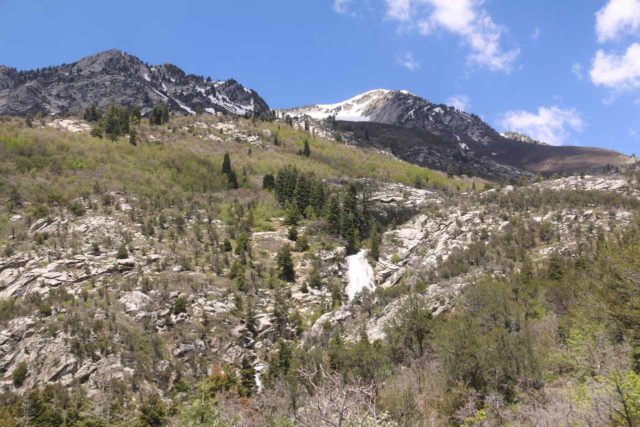 This outcrop provided my first glimpse of the Horsetail Falls in the distance, and this included a partial view of a lower tier.
There was still more hiking to do in order to get close to the falls, but as someone so eloquently stated, "At least there's the light at the end of the tunnel."
The outcrop also allowed me to look back down the canyon towards the suburb of Alpine and Utah Lake along with the V-shaped contours of the canyon that Dry Creek had carved out.
Horsetail Falls Trail Description – following the trail to the top of the falls
Continuing from the outcrop, I had a choice of continuing up a narrow informal trail or to backtrack on the main trail.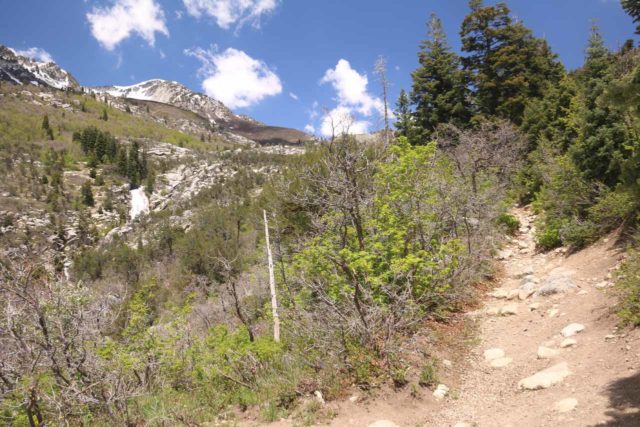 Both options would ultimately continue the uphill hike to get closer to Horsetail Falls.
The informal detour was probably on the order of 0.1 to 0.2 miles long.
Roughly 1.9-2 miles from the trailhead, the main trail eventually reached a junction with a signpost.
That sign stated that Deer Creek-Dry Creek Trail Number 043 and North Mountain Trail Number 042 junction were both on the right.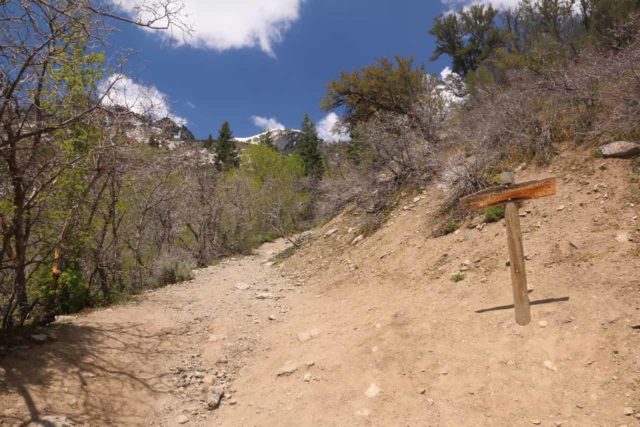 However, I kept left on the somewhat narrower trail.
After another 75ft or so, there was an easy-to-miss steep and badly eroded game trail on the left that deviated from the current trail.
It turned out that this eroded scramble eventually led to the base of Horsetail Falls in another 450ft of somewhat flat scrambling.
However, I managed to miss that spur trail and wound up continuing further uphill for another 375ft or so.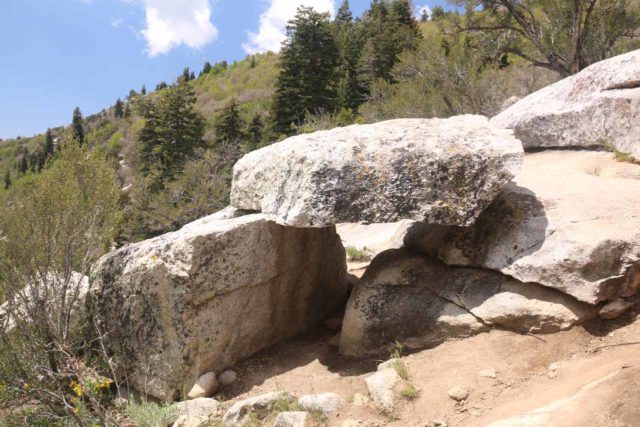 Then, I followed another easy-to-miss spur trail on the left (there was a pile of rocks that may or may not be there to act as a trail marker), which eventually led to the top of Horsetail Falls.
In following this "trail" to the top of the falls, I also noticed an interesting "arch" that was really a large slab of rock balancing on two other rocks with an opening in between.
From up here, I was able to get a pretty clean look back towards Utah Lake and Alpine as well as some mountain peaks to the left like Box Elder Peak.
Horsetail Falls Trail Description – scrambling to a frontal view of the falls
However, this was also when I saw people were further down below right in front of the Horsetail Falls.
So after searching for a sensible way to join those people below, I followed one of the steep and slippery game trails.
It ultimately got me down to where those people were at, and in the mean time, I managed to get decent profile views of the Horsetail Falls along the way.
Finally, after about two hours since I had started this hike, I finally made it to the front of Horsetail Falls.
It seemed like locals in the know knew about the easier way to reach this spot from the flatter scramble that I had missed earlier to get here.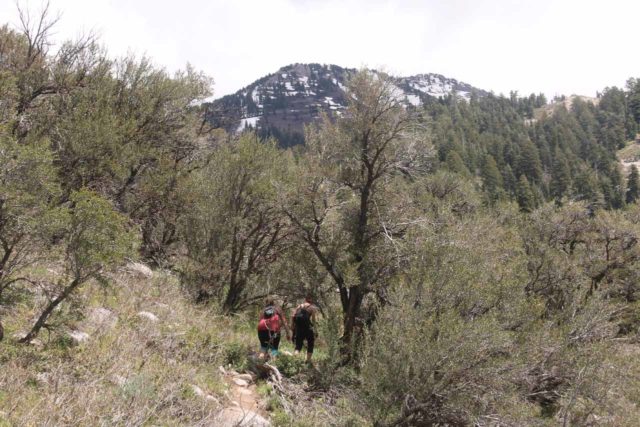 That said, I'd imagine that the way I did it was probably more common as the other trail was real easy to miss.
Nonetheless, I had to have shared this falls with at least a dozen or so people despite how difficult it was to get here.
Some of these people managed to carefully scramble close to the bottom of the main drop of Horsetail Falls, but I wasn't up for incurring more risk to an already risky hike just to even get here.
When I finally had my fill of the Horsetail Falls, I then followed the flatter trail back up to the wider trail near the sign.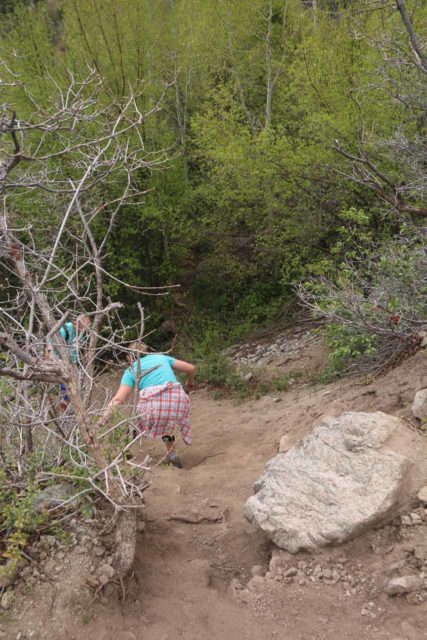 Indeed, the final climb up the eroded embankment was tricky given its steepness and presence of loose dirt.
I have to believe that over time, this embankment will continue to be eroded to the point that the ascent or descent would become quite dangerous (if it wasn't already).
Horsetail Falls Trail Description – Accidental scramble beyond the waterfall
In case you're wondering, I did scramble a little past the top of Horsetail Falls prior to figuring out a way to its bottom.
However, I only went as far as some cascades a short distance upstream from the brink of the main falls.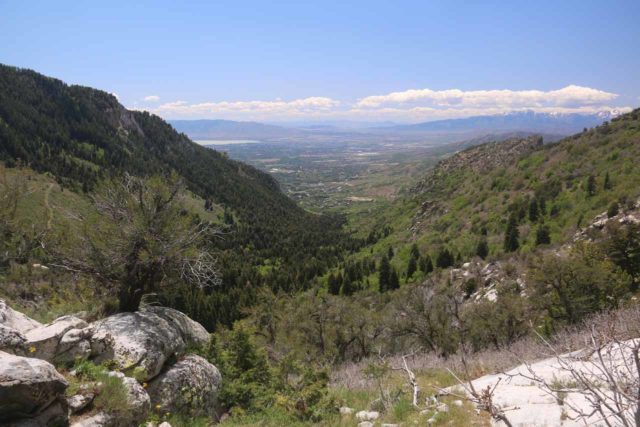 There was a trail that continued to climb very steeply, but I didn't know where it was going so I couldn't comment more on it.
Thus, for all intents and purposes, this adventure further upstream of the top of the Horsetail Falls was all extracurricular as far as the waterfall experience was concerned.
As for the return hike, it was pretty much all downhill, and it only took me an hour with some trail running sprinkled in (to make use of my downward momentum).
Authorities
Horsetail Falls resides in the Uinta-Wasatch-Cache National Forest near Alpine in Utah County, Utah. It is administered by the USDA Forest Service. For information or inquiries about the area as well as current conditions, visit their website.
To drive to Horsetail Falls from downtown Salt Lake City, I drove south on the I-15 for about 24 miles before leaving the interstate to go east onto Hwy 92 (Timpanogos Hwy).
Then, I drove about another 5.5 miles along Hwy 92 (taking advantage of the commuter lanes so I didn't have to stop for several of the traffic lights along the way).
Afterwards, I turned left onto 5300 W, which would eventually become S Main St.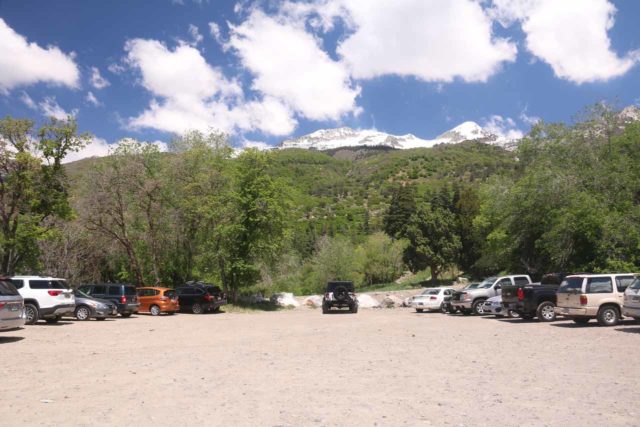 At about 1.2 miles after leaving Timpanogos Hwy, I stayed on S Main St by taking the second exit of the roundabout.
Then, after another half-mile or so, I then turned right (east) onto 200 N.
After going east for another quarter-mile, I then turned left onto Grove Dr.
I remained on Grove Dr for the remaining 2.5 miles to its dead-end, where there was a pretty spacious unpaved parking lot right at the trailhead for Horsetail Falls.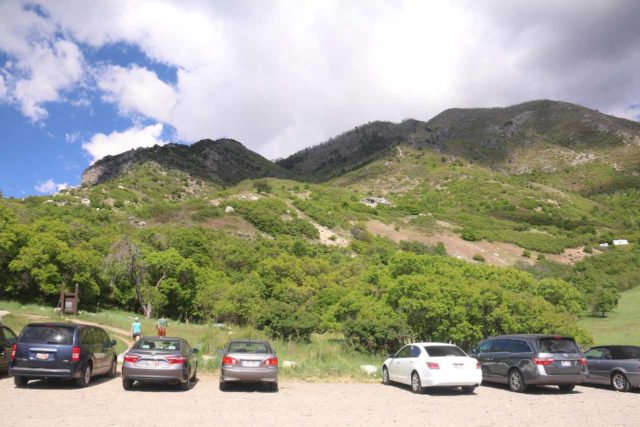 If this lot would be full, I saw many other cars parallel park along Grove Dr though the owners of the Rodeo nearby had posted signage not to park near the private property.
Overall, this drive took me around 45 minutes or so, but I did face a few minutes of delay from a traffic jam caused by a motorcycle accident.
To give you some geographical context, Salt Lake City was about 302 miles (over 4 hours drive) north of St George, 234 miles (over 3.5 hours drive) northwest of Moab, 215 miles (3 hours drive) south of Idaho Falls, Idaho, 421 miles (over 5.5 hours drive) north of Las Vegas, Nevada, and 688 miles (over 9.5 hours drive) north of Los Angeles, California.
Find A Place To Stay
Related Top 10 Lists
Trip Planning Resources
Nearby Accommodations
Featured Images and Nearby Attractions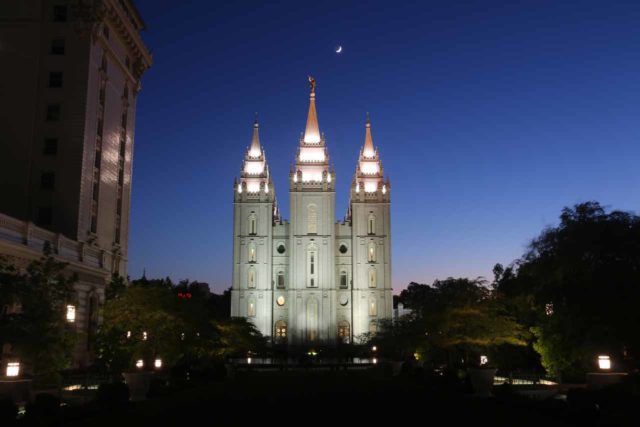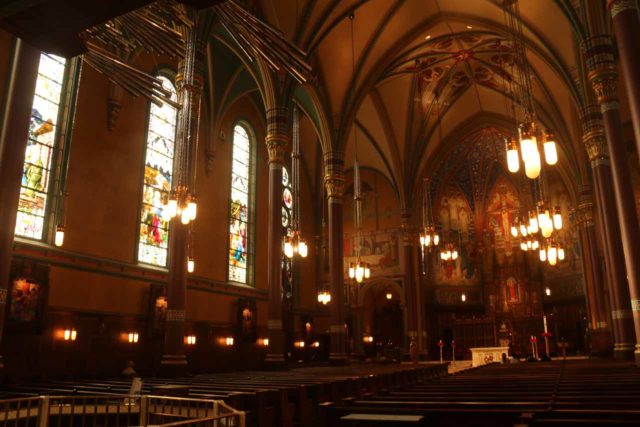 Tagged with:
alpine, dry creek canyon, dry creek, utah valley, wasatch, utah, waterfall, uphill, utah lake, timpanogos
Visitor Comments:
Got something you'd like to share or say to keep the conversation going? Feel free to leave a comment below...
No users have replied to the content on this page
Visitor Reviews of this Waterfall:
If you have a waterfall story or write-up that you'd like to share, feel free to click the button below and fill out the form...
No users have submitted a write-up/review of this waterfall