About Kegon Waterfall (Kegon-no-taki [華厳の滝])
---
Hiking Distance:
negligible (if self-driving); 1-2km round trip (with public transportation)
Suggested Time:
30-45 minutes
---
Date first visited:
2009-05-25
Date last visited:
2023-04-14
---
Waterfall Latitude:
36.73799
Waterfall Longitude:
139.50189
---
As far as Julie and I were concerned, the Kegon Waterfall (Kegon-no-taki [華厳の滝]; also Kegon Falls) was the star natural attraction of the UNESCO World Heritage-laced town and area of Nikko.
Indeed, much of the attention drawn from tourists tended to go towards the historical attractions within the Nikko town itself such as the Toshogu Shrine, Rinnoji Temple, Taiyuin Mausoleum, etc.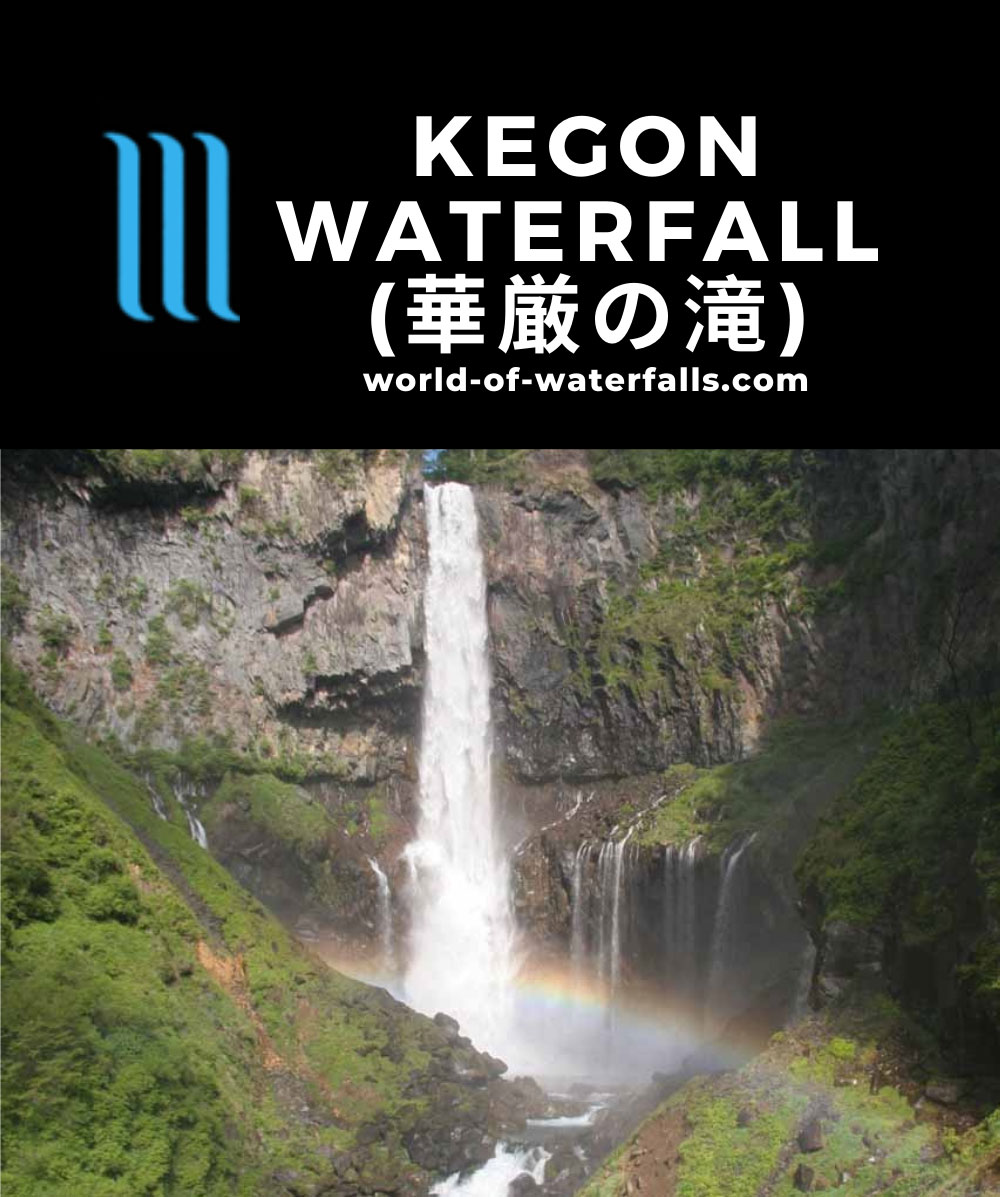 Such structures showcased some well preserved wooden temples (many blinged out with gold plating or trims) and treasures that have earned it UNESCO World Heritage status.
However, just out of town (reachable by the pretty convenient buses accepting the relatively reasonably-priced All Nikko Pass), we were able to diversify our experiences with a visit towards the Chuzenjiko (Lake Chuzenji) and beyond.
Of course, if you self-drove, then you'd have greater control of your time since you wouldn't be as dependent on bus schedules.
Anyways, this lake sourced the Daiya River (大谷川 or Daiyagawa) into the towering 97m Kegon Waterfall – easily considered one of the top three waterfalls in Japan.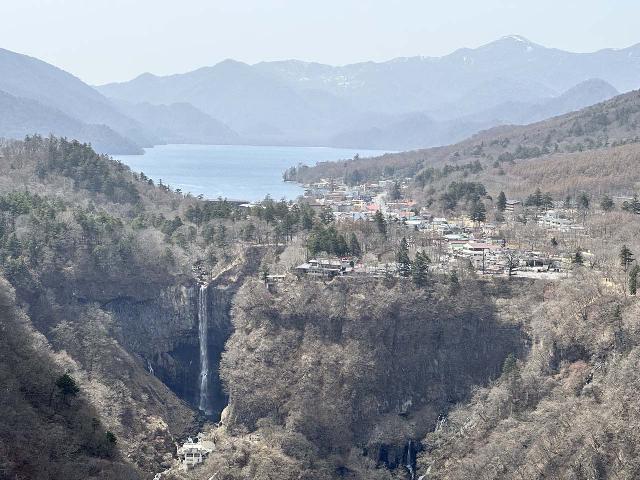 In fact, we also placed it high up on our list of the best waterfalls in Japan.
As for waterfall itself, it consisted of a 97m main plunge followed by extensive cascades and waterfalls further downstream (including the plunging Nehan Waterfall or 涅槃の滝).
So if you counted all the elevation loss that the Daiyagawa River took around the Kegon Falls, then it could very well have a cumulative height upwards of 200m or so.
No matter how you slice and dice it, the Kegon Waterfall was as world class as waterfalls get in Japan, and it certainly deserves the infrastructure letting you experience it in many different ways (which I'll get into below).
Experiencing the Bottom of Kegon Falls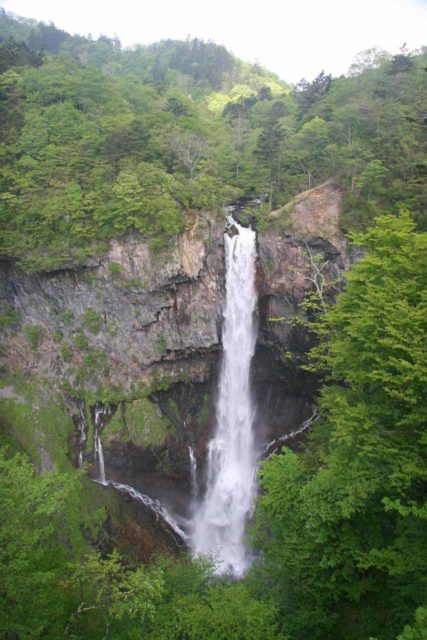 First, we were able to get nice top down views of the Kegon Waterfall from the free viewing decks, which were just a few minutes walk from the Chuzenji Onsen bus stop (which has a fairly big parking lot for buses as well as cars).
However, we thought it was well worth shelling out the extra yen for an elevator ride that took us down to the lower viewing decks.
From these lower decks, we got a more frontal view of the Kegon Falls as well as the cascades below it as well as some of the gorge geology that gave rise to these waterfalls.
On our first visit back in late May 2009, we showed up in the morning of a sunny day, which yielded nice bold rainbows arcing across the base of the falls really adding a lot of color and vibrance to the experience.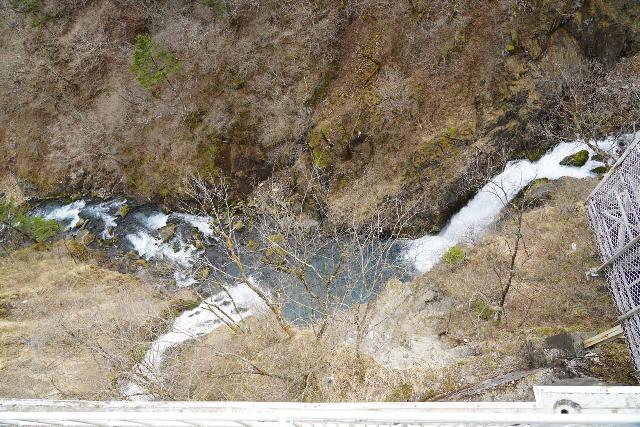 When we peered towards the downstream side of the viewing deck, we noticed that there was also another notable waterfall on the Daiyagawa River called Nehan Waterfall (it's signposted) as well as a separate cascade feeding the main river.
That other cascade doesn't have a name, and I'd imagine that there it may have some degree of engineering (i.e. water diversion) in order to reduce erosion to the viewing area we were on.
Speaking of the viewing area, I never recalled there being a shop built within this lower viewing deck in 2009, but it was definitely there as of our 2023 visit.
Moreover, I also noticed basalt columns, which is a very hard kind of lava rock (likely from neighboring Mt Nantai) that is so rigid that it breaks into hexagonal columns when the lava quickly cools by ice and eventually flakes off by erosion.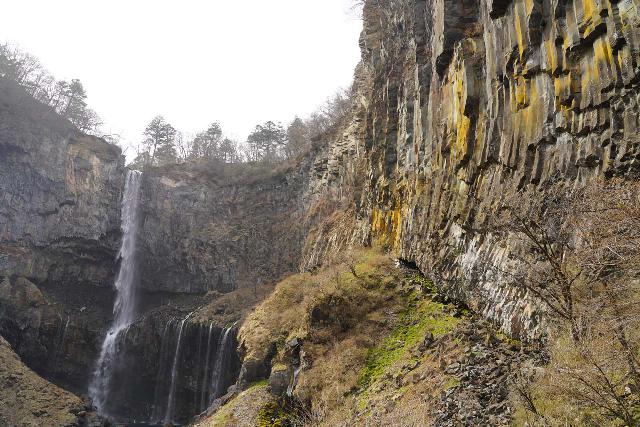 Given the proximity of the geothermally heated waters of the lakes of Chuzenjiko and Yunoko (both upstream from Kegon Falls), this could also be one of the taller thermal waterfalls in the world!
Finally, there seemed to be a locked-gate path leading over that engineered waterfall towards another waterfall called Shirakumo Waterfall, which we were only made aware of after checking out the observation deck at the Akechidaira Ropeway.
Overall, this elevator and lower deck visit could easily be done within a few minutes (not counting the queueing for the elevator ride) or it could take over an hour.
It all depends on how long you wish to linger here, which may be worth doing given how popular this place has become over the years as tour buses and crowds tend to come in waves (as well as leave in waves).
Experiencing the Panoramic Views encompassing Kegon Falls via Akechidaira Ropeway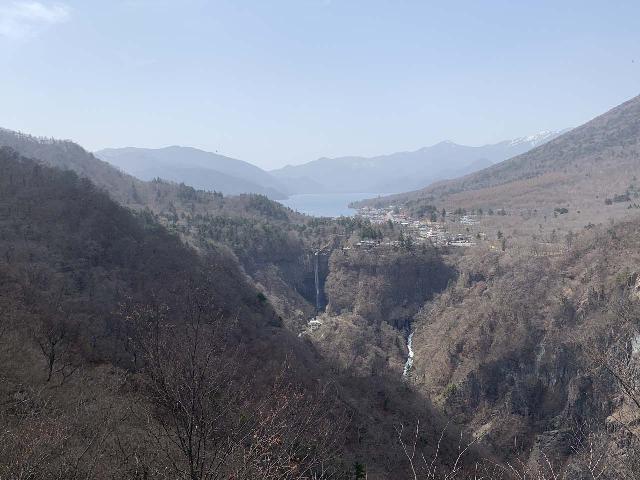 For a very different way to experience the Kegon Waterfall, the Akechidaira Ropeway offered a more panoramic perspective.
It's situated at a car park (and Akechi-daira bus stop) along the twisty switchbacking road between Nikko and Chuzenji Onsen (so you can take a bus here as well as self-drive; see directions below).
From there, you'd take the ropeway (i.e. cable car) up to a viewing deck with a commanding view of Lake Chuzenji feeding the Kegon Falls as well as the neighboring Shirakumo Falls and the commanding presence of Mt Nantai.
Looking in the opposite side of the observation deck, there's a partial view of the town of Nikko (though most of it is concealed by mountains).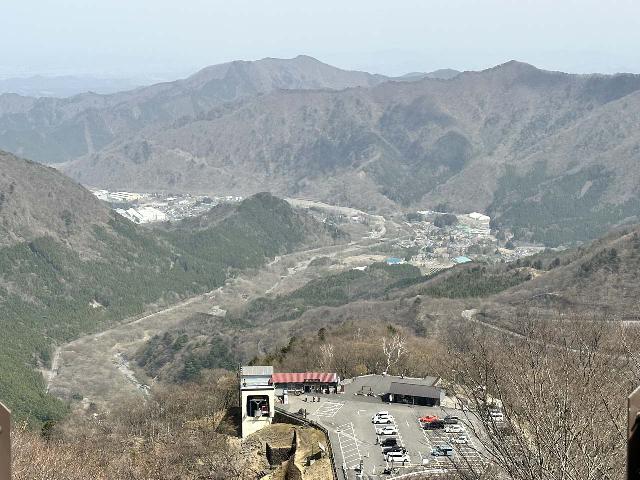 Since the cable car seems to run every 20 minutes during business hours, there's really no rush to soak in the views and feel the need to rush back to the cable car.
That said, this place can get pretty busy given how accessible and popular it is, and they're not shy about packing people into the cable car (think maybe 8-10 people per car; maybe more).
Perhaps for the most optimal experience of the Kegon Falls, you'll really want to be here for the koyo (Fall Colors) in Autumn and time a visit for a sunny morning to also get rainbows to boot!
Authorities
The Kegon Waterfall resides in the Nikko area of the Tochigi Prefecture, Japan. It is administered by the Nikko National Park. For information or inquiries about the area as well as current conditions, you can try visiting the Nikko Tourism Association website.
We managed to visit the Kegon Falls from Nikko in two different ways – one by public transporation and another by self-driving.
I'll get into how we did it via both methods below.
Kegon Falls from Nikko by Public Transportation
The Chuzenji-ko bus typically ran every half-hour from Nikko, which is covered by the very reasonable All Nikko Pass.
In fact, to save a significant amount of bus fare money (as a-la-carte fares tend to add up real fast), it's worth getting this pass.
That's because it covers the bus services for almost all routes in and around the Nikko area, including up to Chuzenji Onsen and Yumoto Onsen, and it also can result in discounts for other services (like the Akechidaira Ropeway).
Just to give you a sense of the logistics of how we did our visit, we started by catching an early 6:35am bus in Nikko.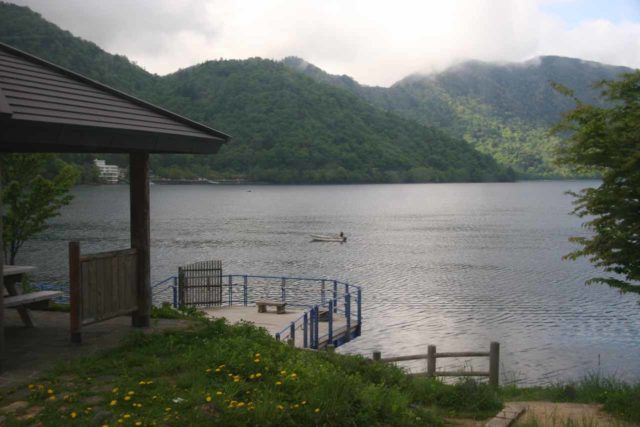 We eventually arrived at the main Chuzenji-ko bus stop at around 7:30am or so, and then we walked from the bus stop to the Kegon Falls.
Now since the elevator didn't open until 9am, we spent a bit of time checking out the free viewing spots until the elevator opened up for the day (so maybe we could have caught a later bus if we were so inclined to sleep in a bit more).
By the way, the bus did make a stop at the Akechidaira Ropeway during the switchbacking part of the road between Nikko and Chuzenjiko.
That's something to consider if you'd like to pair up these different ways of experiencing the Kegon Falls in one go.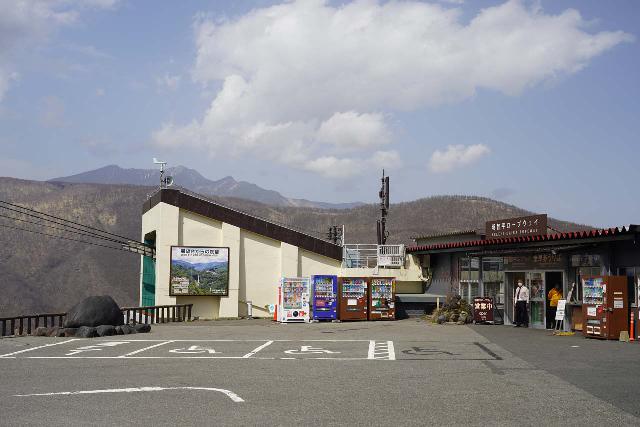 However, I believe the ropeway also doesn't open up until 9am (or 8:40am during peak season from April to November) so that's something to consider if you're timing your visit.
Kegon Falls via Self Driving
From Nikko, we'd take the Route 122 west towards the Route 120, which continues along the north of the Daiya River.
After a little over 4km west of the Kiyotaki IC exit in Nikko, the National Route 120 splits into two one-way routes.
The southern spur (left split) of the road goes up a series of switchbacks towards the Akechidaira Ropeway as well as the Chuzenji Onsen area.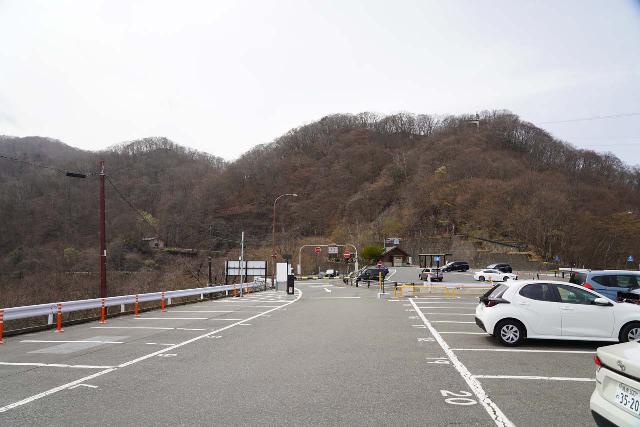 The northern spur (right split) comes back from the Chuzenji Onsen towards Nikko alongside some waterfalls you can't really see while driving the switchbacks (though they're visible from the Akechidaira Ropeway) – Hototaki and Hannyataki.
Each spur is generally a two-lane road, but there are still limited opportunities (if any) to pass because city buses as well as tour buses (which make wide turns) share this road.
At about 7km from the split along the southern spur is the car park (and bus stop) for the Akechidaira Ropeway.
At about 9km from the split, the Road 120 becomes two-way traffic again near the Chuzenji Onsen town.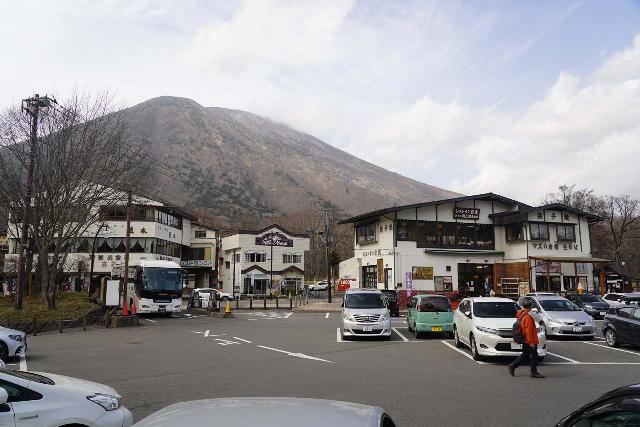 By the way, in order to get to the car parks for the elevator for the Kegon Falls' bottom, there are a few car parks to the right of this intersection.
We happened to park in one of the closer lots (P2) about 500m east of the where the southern spur rejoins the Route 120 as a two-way highway (I think it cost us about 550 yen as of mid-April 2023).
This drive took us around 20-30 minutes (it really depends on the traffic due to larger vehicles sharing this road).
Logistics of Arriving in Nikko via Public Transportation
To get to the Nikko area by mass transit, we did this in a couple of different ways.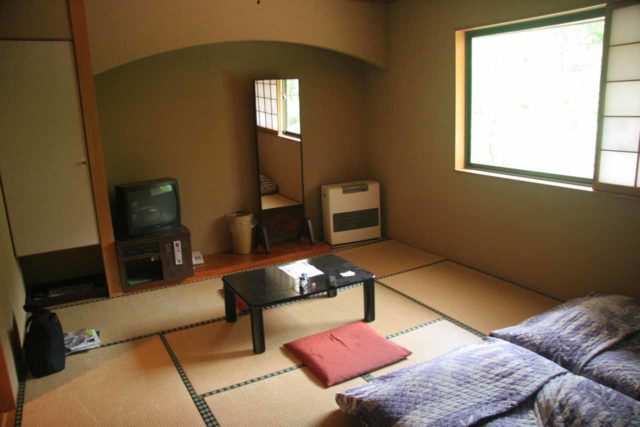 First, we came here from Sendai (仙台) on a 9:26am train bound for Utsunomiya (宇都宮).
Then, we barely caught a 10:40am train right to Nikko (日光) getting there around 11:30am.
We had to walk from the JR station to the Tobu-Nikko Station where we got the local timetables and bought that important All Nikko Bus Pass.
On the way out, we caught a 6:46am train bound for Utsunomiya then connected from there at 8:10am and caught a shinkansen back to Tokyo (Shinjuku Station, I believe) getting there at around 9:45am.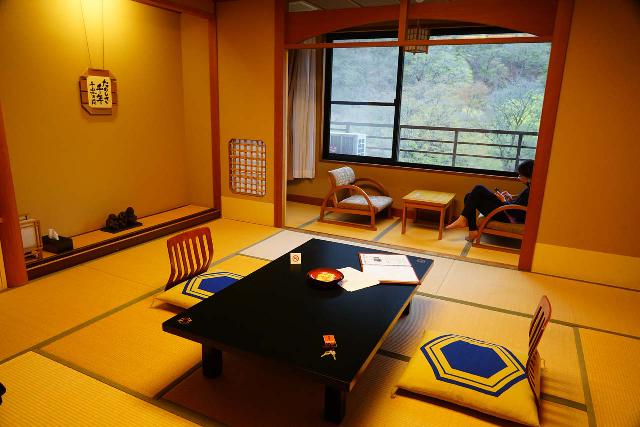 You'll have to consult the JR Train schedules to go from Tokyo to Nikko, but the 3-hour transit time (with stops and all) seems to be on par with how long it would take to try to drive this stretch.
By the way, we stayed at the Annex Turtle Hotori-An on our late May 2009 visit to Nikko, and we stayed at the Koduchi no Yado Tsurukamedaikichi on our mid-April 2023 visit.
For some geographical context, Nikko was 39km (under an hour drive) northwest of Utsunomiya, 152km (about 2 hours drive) north of Tokyo, 159km (2 hours drive) east of Numata (or 95km over 2 hours drive via Route 120 over the Konsei Toge Pass, which is subject to snow closure), 256km (3 hours drive) southwest of Sendai, 256km (over 3 hours drive) east of Nagano, and 284km (3.5 hours drive) southeast of Niigata.
Find A Place To Stay
Trip Planning Resources
Nearby Accommodations
Featured Images and Nearby Attractions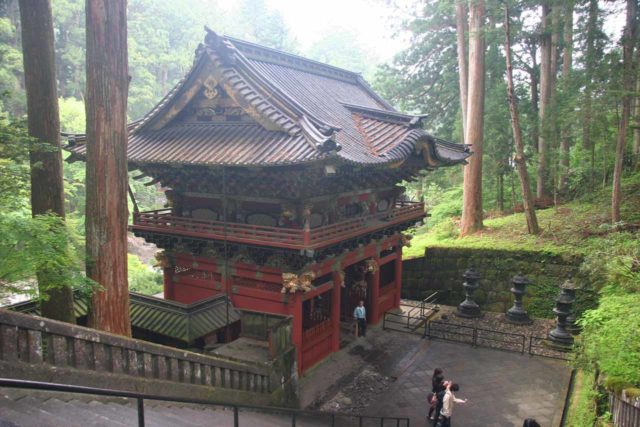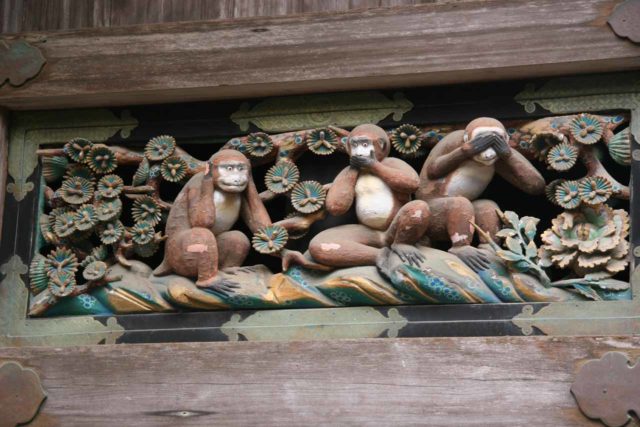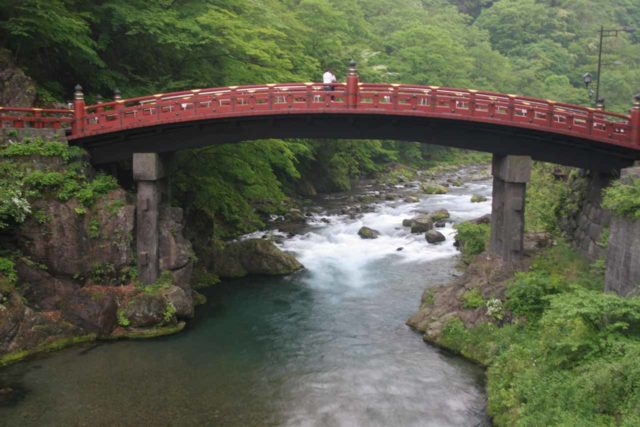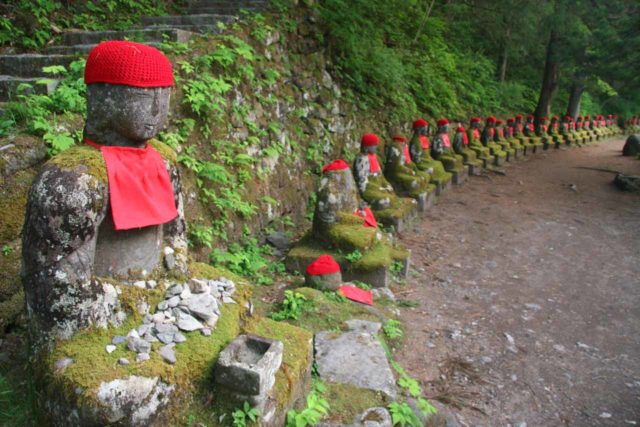 Tagged with:
nikko, tochigi, japan, waterfall, unesco, chuzenjiko, chuzenji, lake, all nikko pass, akechidaira, ropeway, nantai, nehan, shirakumo, elevator
Visitor Comments:
Got something you'd like to share or say to keep the conversation going? Feel free to leave a comment below...
No users have replied to the content on this page
Visitor Reviews of this Waterfall:
If you have a waterfall story or write-up that you'd like to share, feel free to click the button below and fill out the form...
No users have submitted a write-up/review of this waterfall