About Nachi Waterfall (Nachi-no-taki [那智の滝])
---
Hiking Distance:
at least 1.3km shuttle or 2.6km round trip (top and bottom)
Suggested Time:
60-90 minutes
---
Date first visited:
2009-06-02
Date last visited:
2023-04-10
---
Waterfall Latitude:
33.67531
Waterfall Longitude:
135.88762
---
The Nachi Waterfall (Nachi-no-taki [那智の滝]; also Nachi Falls) was said to be the highest vertical waterfall in Japan at 133m.
Personally, I think the "vertical" adjective was necessary because we had seen other waterfalls with taller drops like the Shomyo Falls in the Japan Alps.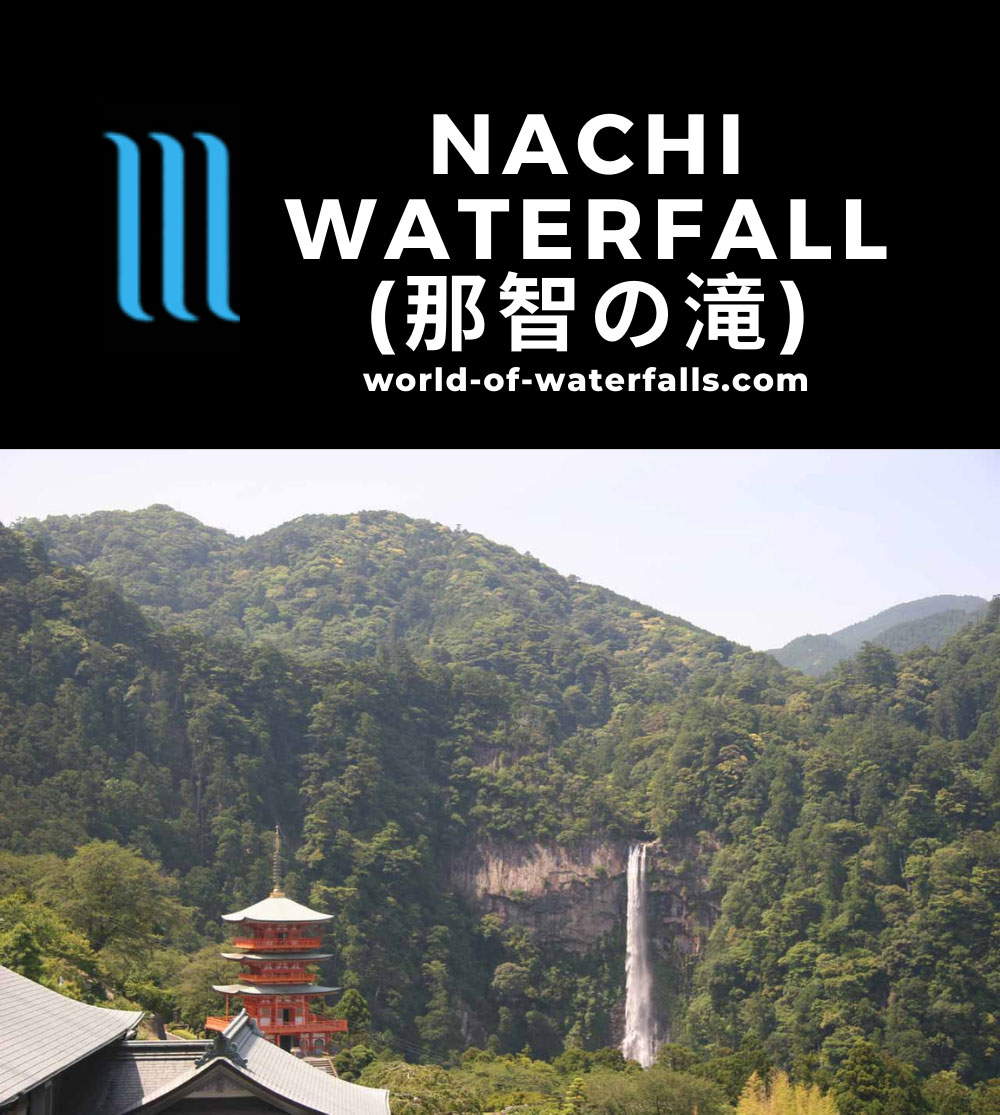 In any case, the presence of shrines, pagodas, and temples in the vicinity of the Nachi Waterfall (as you can see in the photo above) really made this waterfall stand out.
It seemed to give Julie and I the sense that Nachi-no-taki was some kind of holy or sacred waterfall in a part of the country that seemed quite different from the rest of Honshu (the main island in Japan).
We thought so highly of the Nachi Waterfall that we considered it to be our favorite waterfall in the country, and thus we included it on our Top 10 Best Japan Waterfalls List as well as our Top 10 Best Asia Waterfalls List.
There were a few different spots to experience the Nachi Falls (one of the reasons why it's worth taking your time to really take in all that this place has to offer), and we'll go through them below.
The Lower Viewing Area of the Nachi Waterfall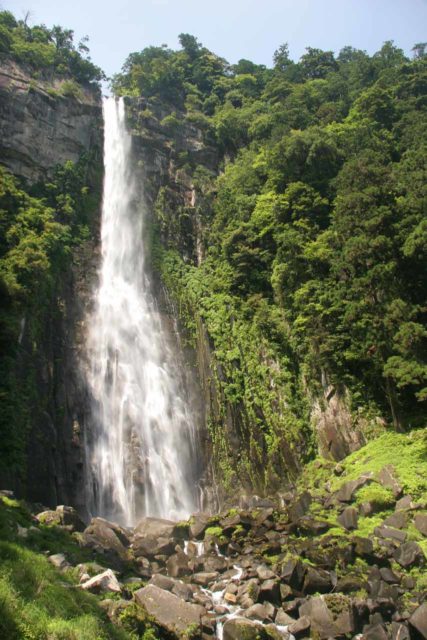 Perhaps the most straightforward and direct way to experience the Nachi Waterfall would be to go right to its base and stare right up at the impressive waterfall.
The excursion starts from a car park and bus stop (see directions below).
For public transportation, I recalled on our 2009 visit that we paid about 300 円/person to get from Nachikatsuura Station to the "falls front" stop (at least that's how I translated the kanji for 前滝).
Anyways, from there, we went through a torii (we definitely saw lots of these archways in Japan), then down several steps towards a tree-shaded area with praying infrastructure as well as a bottoms-up view of the falls.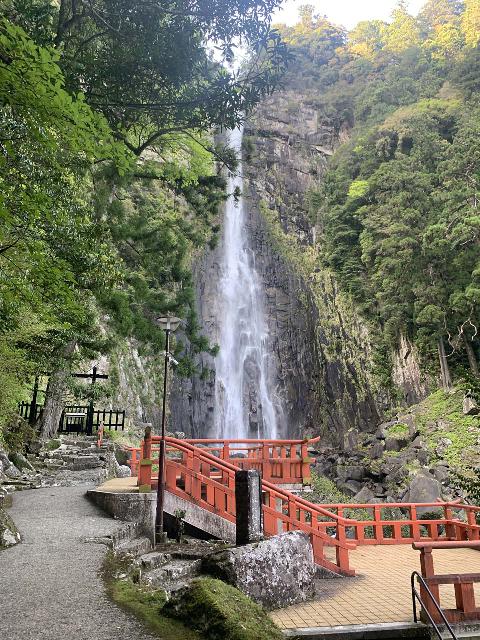 The praying infrastructure had like an incense-burning cauldron as well as a shop with some neighboring shrines.
For a modest fee, I was able to get into the "praying" area, where there were steps leading up to a pair of viewing decks for an even closer look at the Nachi Waterfall as well as the rocky cascades at its base.
Depending on the waterfall's flow, it can get a bit misty at these viewing areas (which was the case on our June 2009 visit though it had considerably less flow on our April 2023 visit).
This praying area also had a small shrine closer to the shop, where the loop walk deposits you back into the shop again.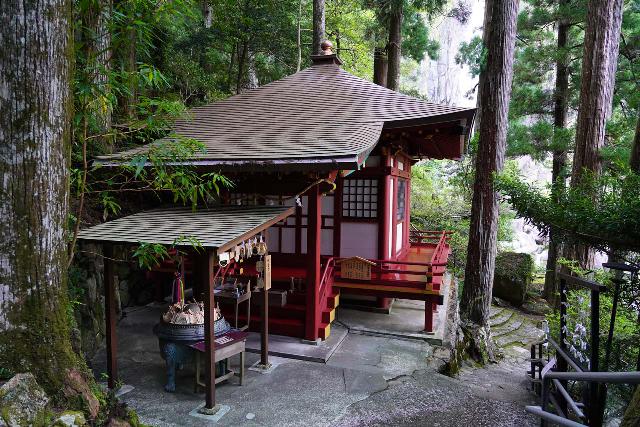 Overall, this part of the visit can be quite brief, and I'd imagine you can wrap things up in 15-30 minutes depending on how long you choose to linger.
The Temples and the upper views of the Nachi Waterfall
After visiting the lower viewing deck, you have options on accessing the remaining ways to experience the Nachi Waterfall.
One option is to go up several flights of steps, which would ultimately lead up to another torii gate fronting the main area for the Seiganto-ji Grand Temple and its neighboring shrines.
Another option is to use the bus (or self-drive) to get right up to the upper car parks fronting the temple area (the kanji for that last stop literally means "temple front").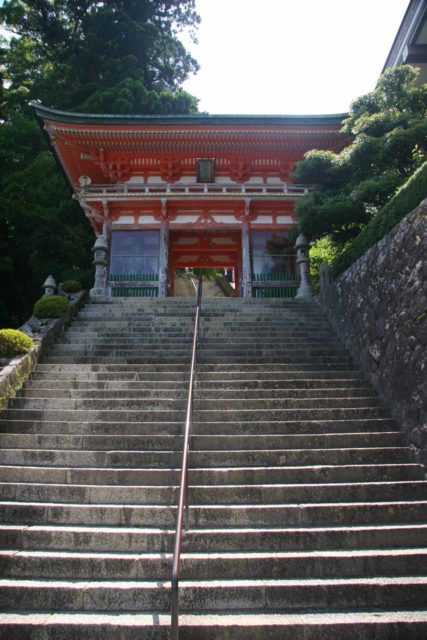 In fact, you could start a visit to the upper viewing areas and the temples, and then go down to the lower viewing area so you don't have to walk back up to where you started (supposing you took a bus to get here).
Anyways, the temple grounds consisted of a handful of praying areas, rest benches, and a few shops (I didn't recall seeing those shops on our first visit back in June 2009).
At the main viewing area from the temple grounds, you get perhaps the most satisfying view of the Nachi Falls juxtaposed with an attractive red pagoda.
Taking the walkways down the steps or the switchbacking road, we were also able to pay to enter the pagoda itself (the same pagoda pictured at the top of this page).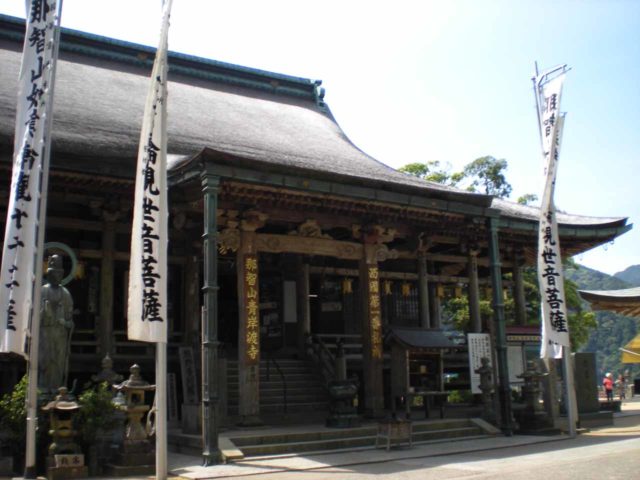 Once we got to the pagoda, we paid 200 円/person (as of June 2009) to enter it, where we could go up the multi-storied building and even get views of the Nachi Waterfall above the trees in the immediate area.
At the very top floor, the openings of the pagoda was surrounded by netting with a hole cut into one part of it to allow for photos without the netting getting in the way.
After having our fill of the pagoda as well as the temple views, we could then walk back down the steps to get back to the lower viewing area and "falls front" bus stop, or we could wait for the bus to pick us up at the "temple front" bus stop.
Of course, if you're self-driving, you aren't slaved to transportation schedules so you could easily take your time (though both the pagoda, the temple, and the praying area at the bottom all have opening/closing hours).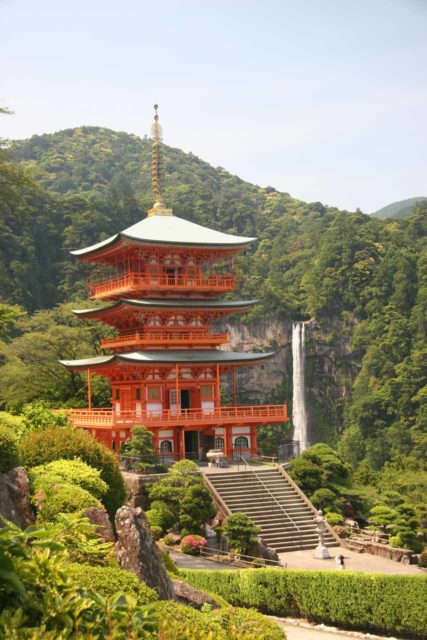 Overall, you could easily spend at least an hour to take it all in, and I definitely wouldn't rush a visit like we did the first time around…
Experiencing the Nachi Waterfall for the First Time (Public Transportation)
Just to give you an idea of what our experience was like using public transportation to visit the Nachi Waterfall, here's a brief breakdown of how it went.
Our first visit to Nachi Falls happened in June 2009, and on that trip, we primarily used public transportation to get around most of the country (including this waterfall as well as many others).
The one thing about that visit that was kind of a shame was that Julie and I were quite rushed thanks to an utterly inconvenient boat shuttle schedule that linked the Hotel Urashima (where we stayed) to the rest of Nachikatsuura.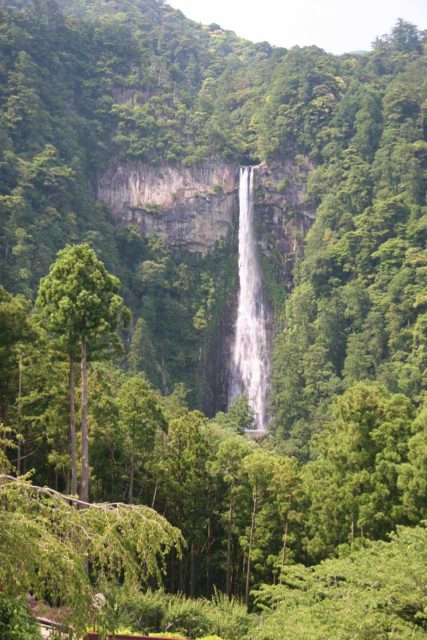 Apparently, the shuttle wouldn't run between 14:50 and 19:00 as well as between 7:35 and 10:00, and we weren't aware of alternatives to get in and out of the hotel (due to a combination of our ignorance and the language barrier).
So that forced our hand into trying to squeeze in a visit in barely an hour so as to not be stranded away from our hotel in the four hours between 3pm and 7pm.
I thought to myself, "What an utterly useless schedule!", but as you'll see later in this write-up, there were indeed alternatives to the boat shuttle, but we needed a way to communicate with the hotel for that to happen.
In any case, we started with the Lower Viewing Area before going (more like running) up to the upper viewing areas by the Seiganto-ji Temple.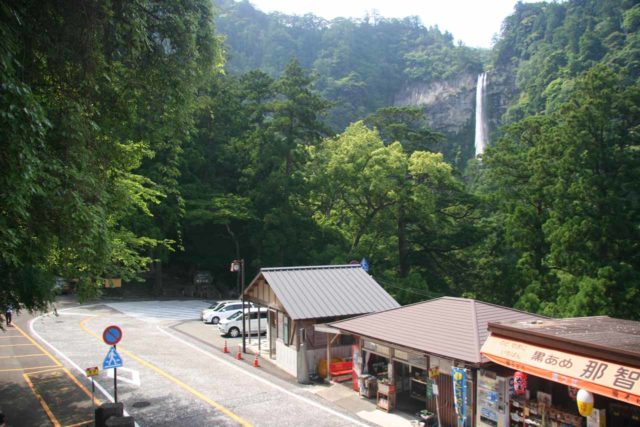 Another thing worth noting on that initial trip was that we seemed to be the only gaijin (foreigner) during the visit, and there were hardly any signs in English let alone people speaking it.
Experiencing the Nachi Waterfall for the Second Time (Self-Driving)
Having learned how inconvenient forcing public transportation in more remote and rural areas of Japan can be, we came back nearly 14 years later (April 2023) on a self-driving tour.
On that visit, we were able to park right up near the Seiganto-ji Temple (there was also a hotel or building around there with its own car park) and tour the top before going to the bottom.
The road is narrow (single-lane) and steep beyond the shops and small village around the "falls front" bus stop so we also noticed there were other car parks available before the road continues to climb and narrow out.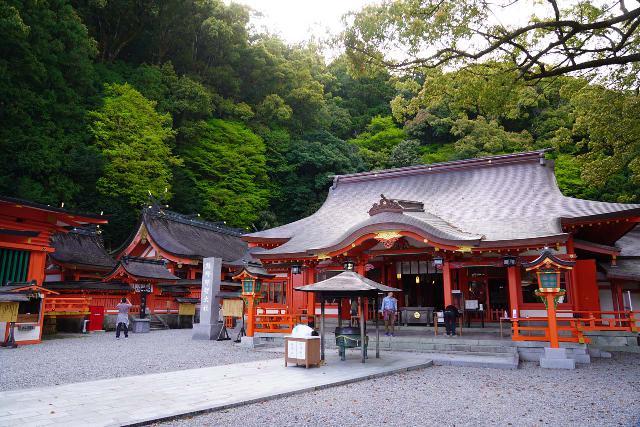 Unfortunately, we showed up just before 4pm, but by the time we made it to the pagoda, the lady had just stopped accepting visitors as it closed at 4pm.
Anyways, I did notice on this visit that there were more people (including more gaijin) visiting both the Seiganto-ji and the Nachi Waterfall compared to our first visit.
There were also more tourist-friendly amenities like the shops as well as a few signs in English though I was still amused to see quizzical looks from foreigners trying to make sense of the signs and maps that were all in Japanese.
That was us on our first visit in June 2009, so I could definitely empathize with what these intrepid visitors were going through.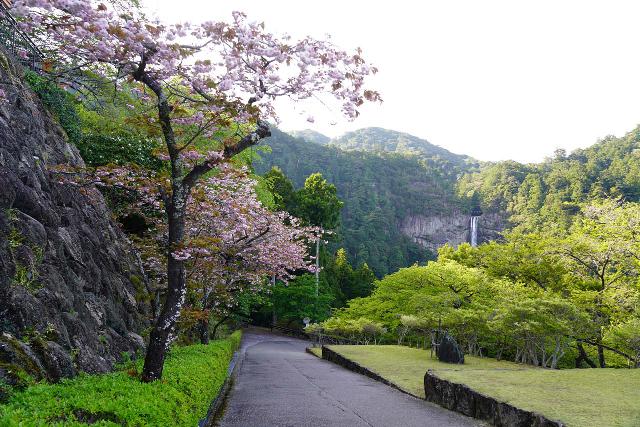 Nevertheless, we were way more efficient self-driving this area as opposed to struggling with the public transportation (and its scheduling).
Moreover, regarding the Hotel Urashima (where we were staying), they had a separate car park area.
That allowed us to take their complementary shuttle to the back entrance of the hotel (though there was also the option of being dropped off at the boat dock), but that meant we wouldn't be tied to a particular inconvenient schedule.
Funny how as we get older and wiser, we slow things down and become more aware of these options as well as the sights and sounds that we would have otherwise missed in our younger days.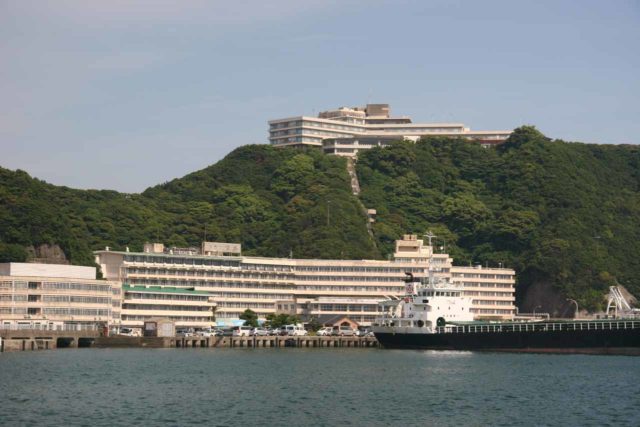 Indeed, the Nachi Falls (and the neighboring Kumano Mountains for that matter) reward those who don't rush, and our second visit kind of proved that point.
Authorities
The Nachi Waterfall resides in the Katsuura Peninsula near Nachikatsuura of the Wakayama Prefecture, Japan. It is administered by the Wakayama Prefectural Government. For information or inquiries about the area as well as current conditions, you can try visiting the Japan National Tourism Organization (JNTO) website.
Since we managed to visit the Nachi Waterfall both by public transportation as well as by self-driving, I'll delve into both methods in this section.
Using Public Transportation To Visit Nachi Waterfall
A major logistical issue regarding the Nachi Waterfall involved getting all the way to the Kii-Katsuura town (紀伊勝浦) or to Shingu (新宮).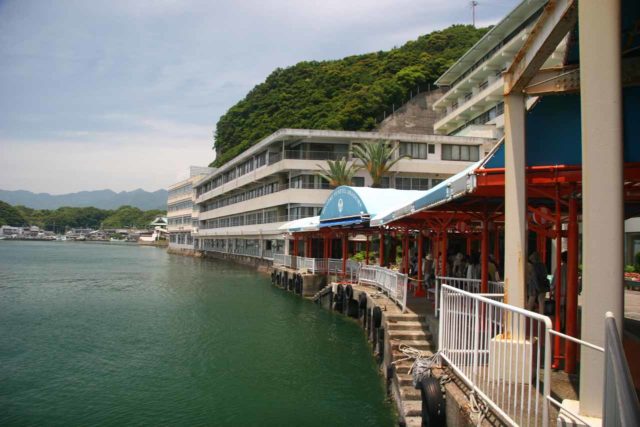 They're all the way on the southeastern side of Kii-hanto (Kii Peninsula) which was directly opposite the peninsula from the major cities in Kansai like Osaka (大阪), Kyoto (京都), and Nara (奈良).
Julie and I did a 4-hour train ride from Shin Osaka Station (新大阪駅) on an express JR shinkansen line that stopped at a station by Kii-Katsuura (we really had to pay attention to the train schedule to know what we could and couldn't do without a car).
Just to give you an idea of our adventurous day to get to this waterfall, our logistics broke down as follows:
Catch long ride from Shin Osaka to Kii-Katsuura (紀伊勝浦駅) at 7:35
Arrive at Kii-Katsuura (11:35) and catch boat with luggage and all to Hotel Urashima (11:55)
After leaving luggage at reception, caught next boat back to town at 12:45
Catch 13:00 bus from Kii-Katsuura Station (紀伊勝浦駅) to the falls (Taki-mae or 滝前)
Catch 14:16 bus from the falls front back to Kii-Katsuura Station
Catch the critical 14:50 boat from Kii-Katsuura dock to Hotel Urashima; if we missed that one, we would be stranded in town until 19:00!
PS: Had we waited until the next day to do this excursion, the boat shuttle didn't run between 7:35 and 10:00, which meant that we would've had to get a real early start or else we would've had to wait until almost midday to visit the Nachi Waterfall.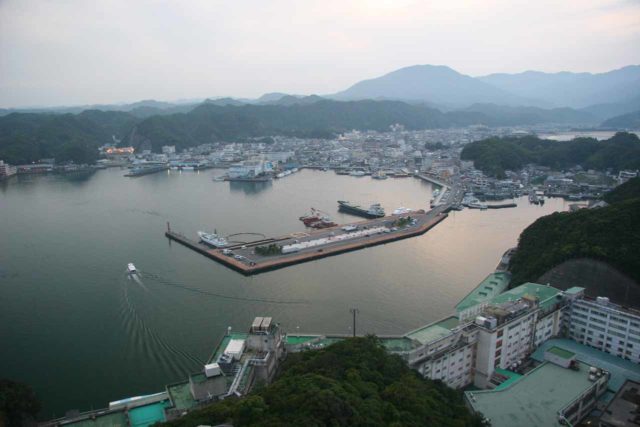 This boat schedule caused us quite a bit of bother as we were trying to return to Osaka that day anyways so we quickly had to rush to eat breakfast, get our stuff together, check out, and then leave for the boat to return to the Kii-Katsuura mainland.
We needed to not miss the train bound for Osaka so we couldn't afford to miss the boat and have to wait several more hours to catch the next one!
Maybe in hindsight, we would've been better off driving this section as the boat schedule just seemed utterly inconvenient (almost useless) to us!?!
Self-Driving to Nachi Waterfall
Well, we proved out our suspicions about how much more efficient self-driving the Wakayama Prefecture was on our second visit to the Nachi Waterfall.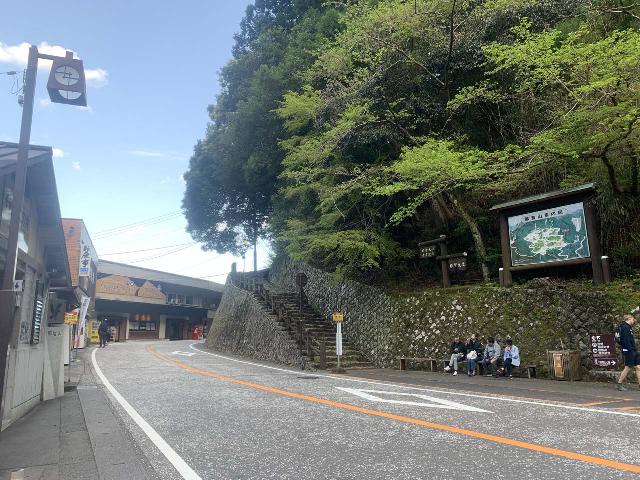 The nearest city is Shingu, which is one of the larger cities of the Wakayama Prefecture.
So whether you take the coastal route or the mountain route, all routes seem to lead to Shingu.
Regarding the mountain paths, you could take the Route 168 from Gojo to Shingu via Totsukawa, or you could take the Route 169 from Yoshino (of sakura or cherry blossom fame) to Shingu (this was the route we took on our April 2023 visit).
Once in Shingu, it's a 15-minute drive on the E42 expressway to get to the Nachikatsuura IC exit, where we'd then keep left at the off-ramp light to take the road up the Nachi Valley to the Nachi Falls and Seiganto-ji in another 15-20 minutes.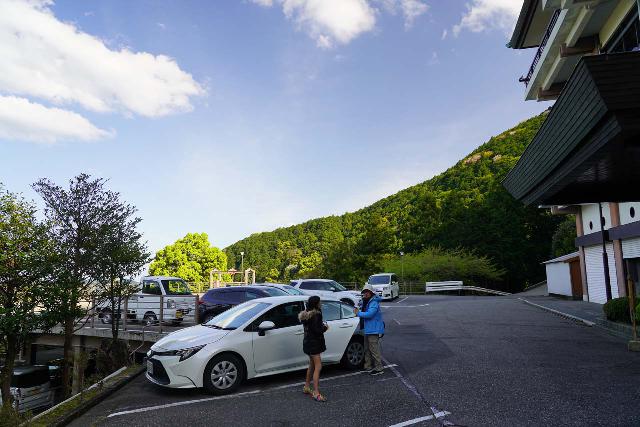 To give you some further geographical context, Kii-Katsuura (sometimes also called Nachi-Katsuura) was 16km (under 30 minutes drive) south of Shingu, 133km (about 3 hours drive) south of Yoshino, 241km (about 3.5 hours drive or 4.5 hours by train) south of Osaka, and 228km (under 3.5 hours drive or under 4 hours by train on the Nanki line) south of Nagoya.
Find A Place To Stay
Trip Planning Resources
Nearby Accommodations
Featured Images and Nearby Attractions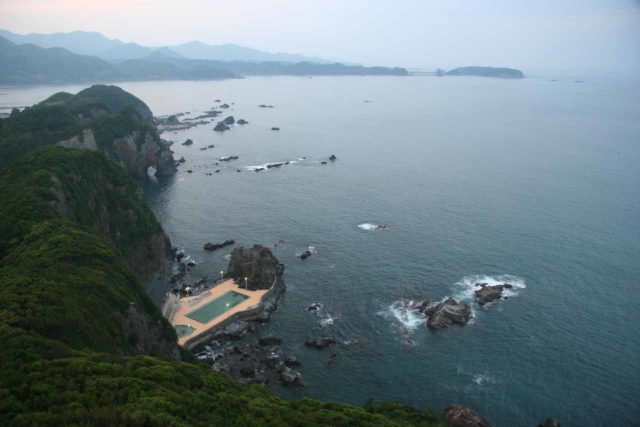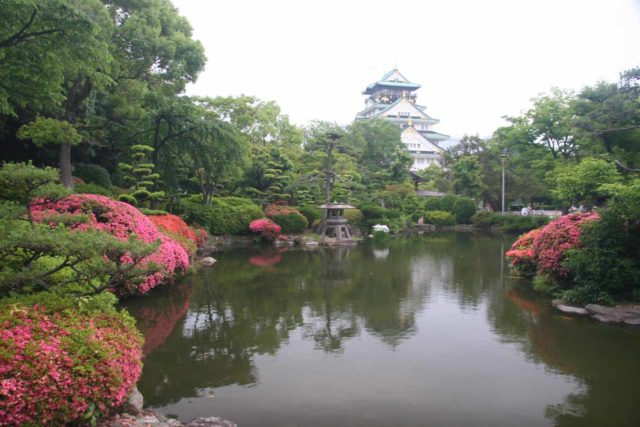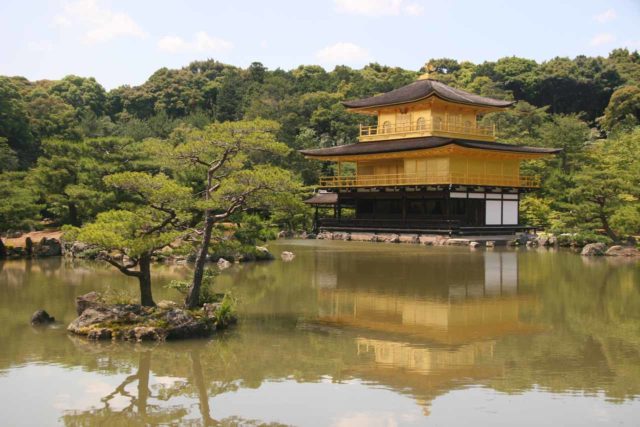 Tagged with:
nachi, katsuura, nachikatsuura, seiganto, seigantoji, wakayama, osaka, japan, waterfall, peninsula, temple, urashima, honshu, kansai, world heritage
Visitor Comments:
Got something you'd like to share or say to keep the conversation going? Feel free to leave a comment below...
No users have replied to the content on this page
Visitor Reviews of this Waterfall:
If you have a waterfall story or write-up that you'd like to share, feel free to click the button below and fill out the form...
No users have submitted a write-up/review of this waterfall