About Namekawa Waterfall (namegawa-otaki [滑川大滝])
---
Hiking Distance:
4.2km round-trip (to bottom of falls)
Suggested Time:
about 2.5 hours
---
Date first visited:
2023-07-22
Date last visited:
2023-07-23
---
Waterfall Latitude:
37.77934
Waterfall Longitude:
140.22108
---
The Namekawa Waterfall (namekawa-otaki [滑川大滝]; "Slippery River Falls?") was perhaps one of the most interesting waterfalls in Japan thanks to its size and unique shape.
The waterfall is said to be where the Otakizawa Stream dropped 80m tall over a width of about 40m (though I've seen other sources say it's as short as 60m and as tall as 105m).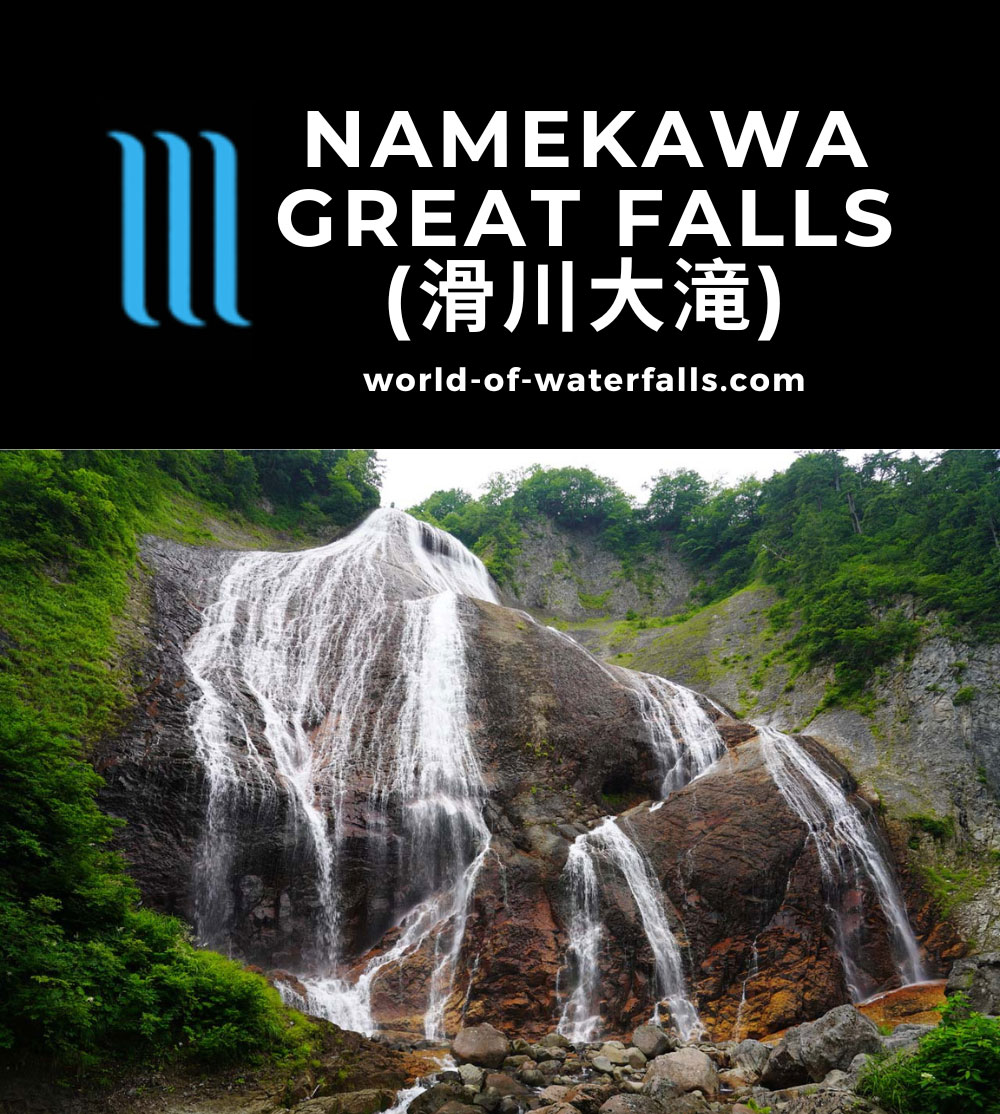 Such dimensions made it perhaps the largest waterfall in the Tohoku Region (i.e. Northern Japan) let alone the Yamagata Prefecture, which is arguably Japan's "waterfall kingdom".
In addition to its size, as you can see in the photo above, the waterfall split into multiple strands collectively making it appear like a giant fan.
That characteristic was most apparent when seen from its base, which required quite the adventure to get to.
However, when the Namekawa Great Falls is seen from a distance, it almost looks as if a robe had been draped down a steep mountainside.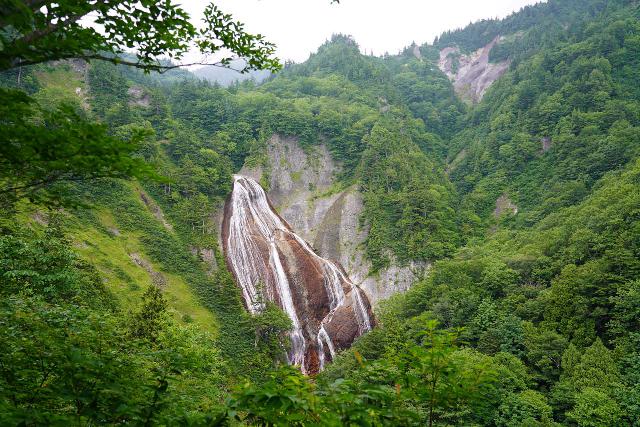 Indeed, all of these characteristics made it a pretty obvious choice for it to be among Japan's Top 100 Waterfalls as gazetted by the Ministry of the Environment in 1990.
And as if that alone wasn't enough, its trail began from the remote Namekawa Onsen, which was a hot springs resort facility dating back over 200 years.
While making the Namekawa Great Falls easier to access with its suspension bridge, it also offered the public the ability to bathe in its therapeutic hot waters both before as well as after the hike.
By the way, I've also seen this waterfall referred to as the Namegawa Waterfall or Namegawa Great Falls as opposed to Namekawa Great Falls.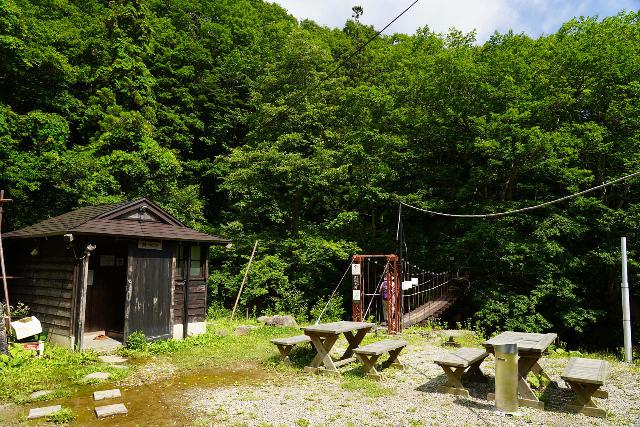 I suspect this is often the case when trying to spell out Japanese place names with Romaji tends to be an inexact science.
Accessing Namekawa Great Falls
As interesting as the Namekawa Waterfall is, we definitely had to earn our visit because getting there wasn't easy.
In a way, this waterfall was a test of how much adventure you're willing to endure in Japan to experience a waterfall like this.
First, we had to drive on a cliff-hugging single-lane road for quite a ways, and things can get pretty interesting when there's oncoming traffic (see directions below).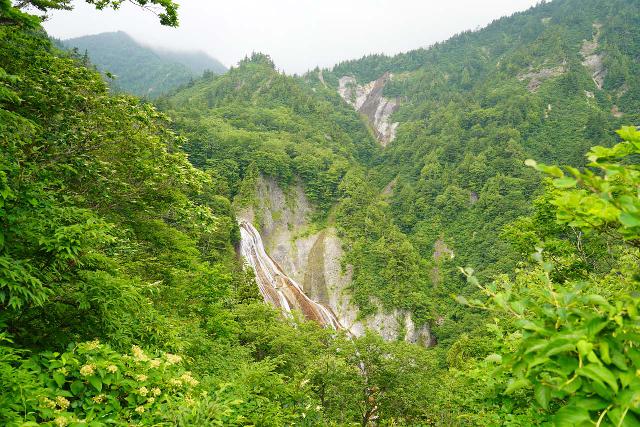 Judging from how decisive a lot of the drivers I had encountered on this road were, I knew they were either very skilled drivers or they're quite familiar with these mountain roads.
Then, we had to hike up to the overlook with a view of the Namekawa Great Falls from a distance.
However, doing this hike came with strings attached, so to speak.
The normal option would be to wait for the onsen to be open to the public at 9am and pay about 200 yen per person to use their bridge.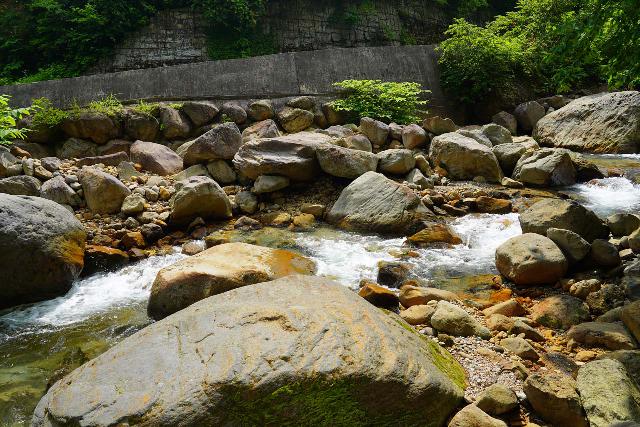 But if we wanted to have an earlier start, then we'd have to figure out how to cross the Maekawa River before going on a trail that rejoins the main path further uphill.
Finally, from the overlook, we'd then have to make a steep and overgrown scramble down the steep mountainside to access the Otakizawa Stream.
From there, we'd have to stream scramble up the river in order to access the bottom of the Namekawa Great Falls.
As far as the hiking is concerned, my GPS logs suggested that it was about 1.2km (2.4km round-trip) to hike up to the overlook and 2.2km (4.4km round-trip) to get to the base of Namekawa Great Falls.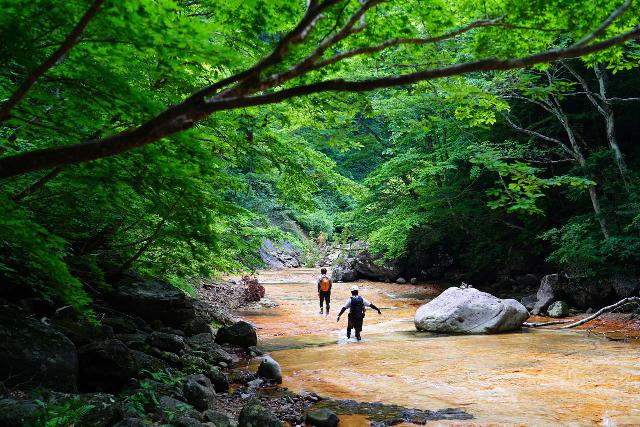 It took me around 2.5 hours total to do the full hike and scramble, which also included the time that I took to change shoes given the river scramble.
I'd say a good pair of hiking boots was necessary because there were some eroded parts of the hike both on the main trail and especially some sketchy steep parts at the bottom of the scramble down to the river.
Namekawa Waterfall and the Weather
By the way, I do want to say that as with all adventures, the outcome is not guaranteed (that's what makes adventures adventures, right?).
In our particular instance, when we first showed up to the falls, our efforts were hampered by persistent low clouds and misting rain that prevented us from witnessing the Namekawa Waterfall.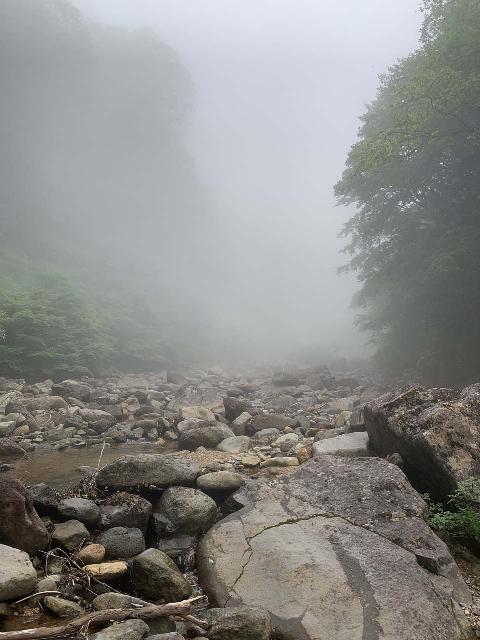 This was despite the weather being mostly sunny closer by the E4 Expressway in both Sendai and Fukushima.
It was quite a disappointing result, especially given how much effort it took to get all the way here.
However, when I came back a day later under much better weather (though clouds were still present; just not as low), that was when I finally got to witness the falls and complete this write-up!
Given that this waterfall was at an elevation of about 860m, the weather definitely plays a big part in whether Mother Nature lets you experience it or not.
Namekawa Waterfall Trail Description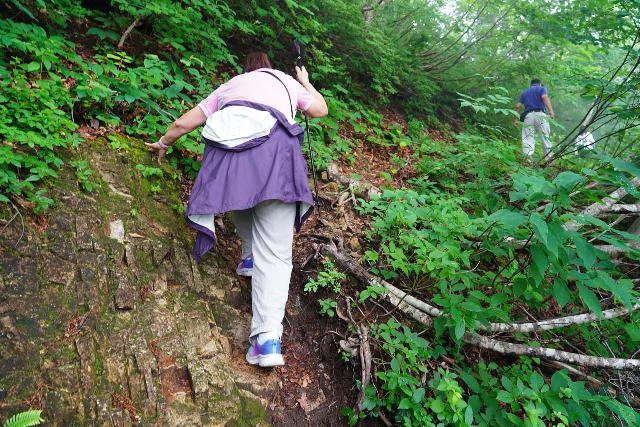 From the Namekawa Onsen, we took off and carried our shoes while paying the 200 yen per person to go through their property and use the suspension bridge out back.
After putting back on our shoes and embarking on the hike, we then pretty much went uphill for the next 1.2km or so leading up to a lookout of the Namekawa Great Falls from a distance.
There was one trail fork at about 50m from the suspension bridge, and the path that came up from the right was actually the alternate path leading up from a limited parking area.
In order to access this trail from there, you'd have to know how to get down the retaining wall to the Maekawa River before crossing it either by skillful rock hopping or by straight fording it.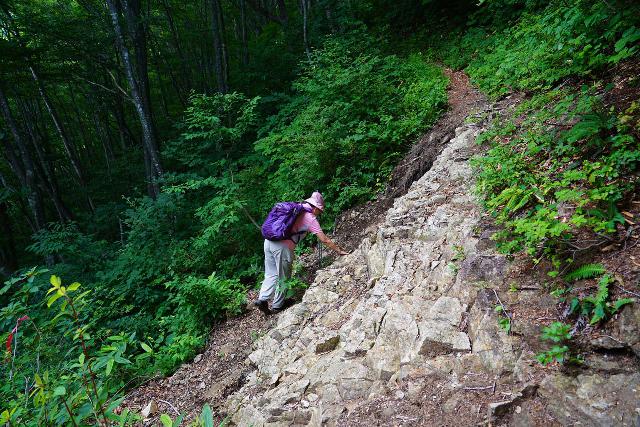 Anyways, it's said that this walk (gaining around 130m in elevation) should take around 20 minutes in each direction, but there were a couple of eroded spots that slowed us down.
Dad even took a spill on one of the eroded parts by taking a wrong approach and not really paying attention to the pink tape suggesting to go down then up the eroded part instead of clinging to narrow "footholds".
Once at the lookout for the Namekawa Great Falls, there were a few choices on where to go next.
There was a path that continued further uphill to the left that seemed to go to other waterfalls as well as deep into the backcountry.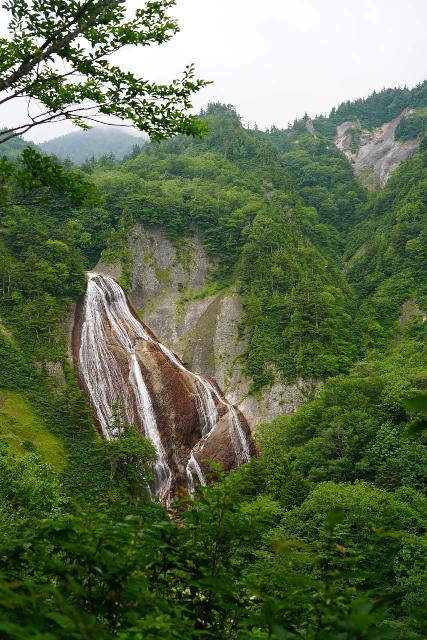 However, there was an overgrown path that went beneath a power pylon and ultimately down a handful of switchbacks before the final steep scramble to reach the Otakizawa Stream.
After the first main switchback, there was a nice view of the Namekawa Great Falls that I'd argue was even better than the one at the lookout.
Anyways, once I made it down to the Otakizawa Stream, I then changed shoes (and left my pack behind) while using trekking poles for balance.
From there, I went upstream for the final 500m or so to access the base of the Namegawa Waterfall.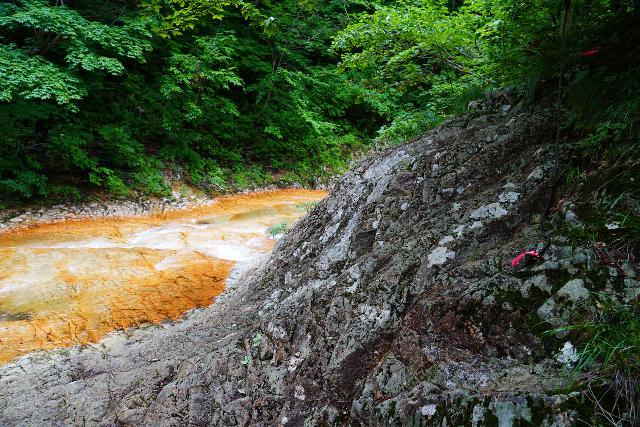 After having my fill of the falls, I then went back the way I came, but for the initial steep climb, there was a different trail that was easier to ascend (but not easy to descend).
That's something to keep in mind as it seemed to cause some confusion among other hikers that I encountered here.
The rest of the return hike was pretty straightforward and mostly downhill after the initial climb back up to the lookout.
Finally, I did notice a handful of people that managed to stream scramble the Otakizawa without even doing the trail that I had described here.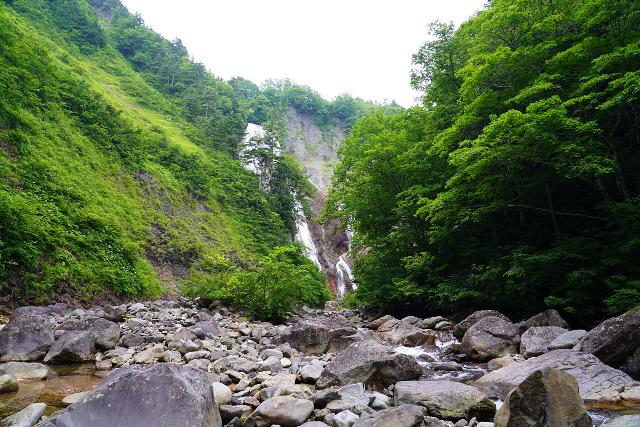 I think in order to pull that off, you'd have to walk down the access road from the lower public parking spaces to a bridge over the Maekawa near its confluence with the Otakizawa.
From looking at the map, it looks to be a longer and more time consuming river scramble, but since I didn't do that, I really can't say more about it.
Authorities
The Namegawa Waterfall resides near Yonezawa in the Yamagata Prefecture (very close to its border with the Fukushima Prefecture), Japan. It may be administered by the local authorities of Yonezawa. For information or inquiries about the area as well as current conditions, you can try visiting the Yonezawa Tourism website as well as the Namegawa Fukushimaya website.
The Namegawa Waterfall is located near the city of Yonezawa near the prefectural borders shared by Yamagata and Fukushima.
I'll describe the way we drove here from Fukushima (even though we had been staying in Koriyama) since that seems to be the most common way to get here from the low-lying cities to the east.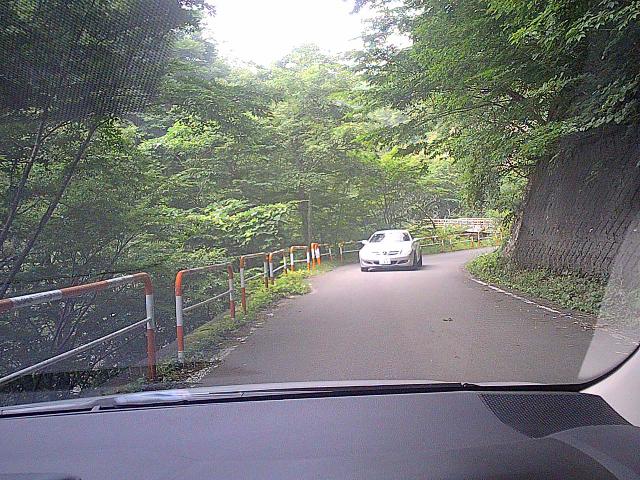 The most straightforward route would be to take the E4 Expressway to the Fukushima-Izaka IC exit, and then follow the National Route 13 west for about 16km before turning left onto the Route 154 (not long after leaving a long tunnel).
The Route 154 then connected with the Route 232 after about 900m, where we turned right and followed this narrow road through a small town and then along some mountain roads (most of which were single-lane).
We pretty much stuck to the Route 232 for about 3km before we turned left near some power station (there should be a sign for the Namegawa Onsen at this point).
From there, we followed the single-lane mountain road for another 2.1km towards another signed junction (near a JR train station) before turning left and taking the rest of the road to the Namegawa Onsen after another 3.7km.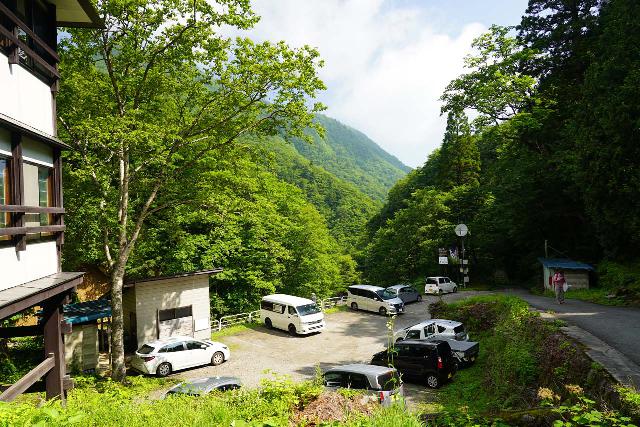 Overall, the drive from Koriyama to the Namegawa Onsen took us about 90 minutes (so it's probably closer to an hour drive from Fukushima).
For some geographical context, Yonezawa was about 45km (about an hour drive) northwest of Fukushima City, 54km (about an hour drive) south of Yamagata City, 84km (about 90 minutes drive) northwest of Koriyama, 111km (over 90 minutes drive) southwest of Sendai, 123km (over 90 minutes drive) south of Koriyama, and 325km (about 4 hours drive) north of Tokyo.
Find A Place To Stay
Related Top 10 Lists
Trip Planning Resources
Nearby Accommodations
Featured Images and Nearby Attractions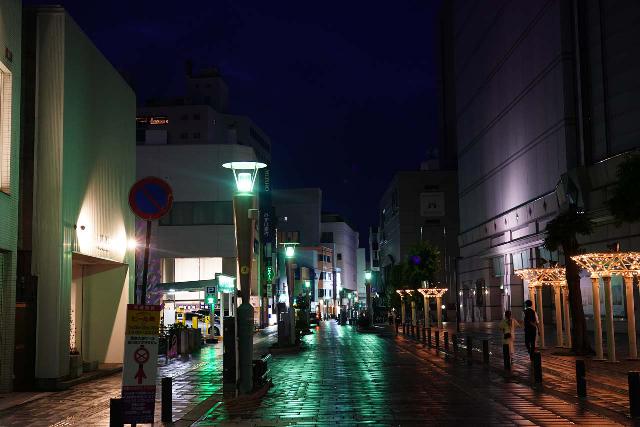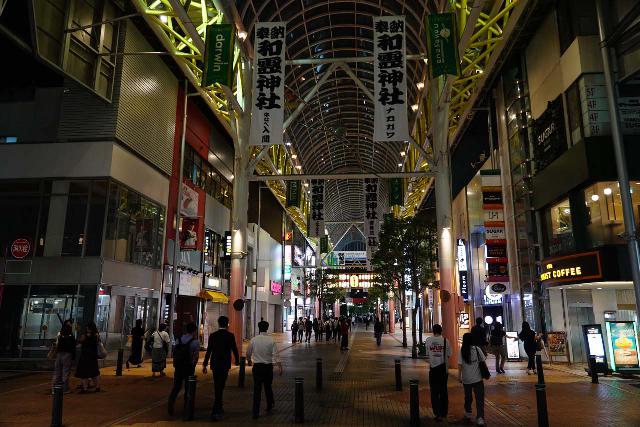 Tagged with:
namekawa great falls, namegawa great falls, namekawa great waterfall, namegawa great waterfall, namekawaotaki, namegawaotaki, namegawa waterfall, yamagata, yonezawa, fukushima, fukushimaya, namekawa onsen, namegawa onsen, namekawaonsen, namegawaonsen, tohoku, itaya pass
Visitor Comments:
Got something you'd like to share or say to keep the conversation going? Feel free to leave a comment below...
No users have replied to the content on this page
Visitor Reviews of this Waterfall:
If you have a waterfall story or write-up that you'd like to share, feel free to click the button below and fill out the form...
No users have submitted a write-up/review of this waterfall