About Nohkalikai Falls
---
Hiking Distance:
roadside
Suggested Time:
---
Date first visited:
2009-11-10
Date last visited:
2009-11-10
---
Waterfall Latitude:
25.2755
Waterfall Longitude:
91.68631
---
Nohkalikai Falls was one of the taller and most dramatic waterfalls that we've encountered in India.
It made a dramatic free leap from a fairly well-forested drainage into a rocky base accompanied by a pretty blue pool.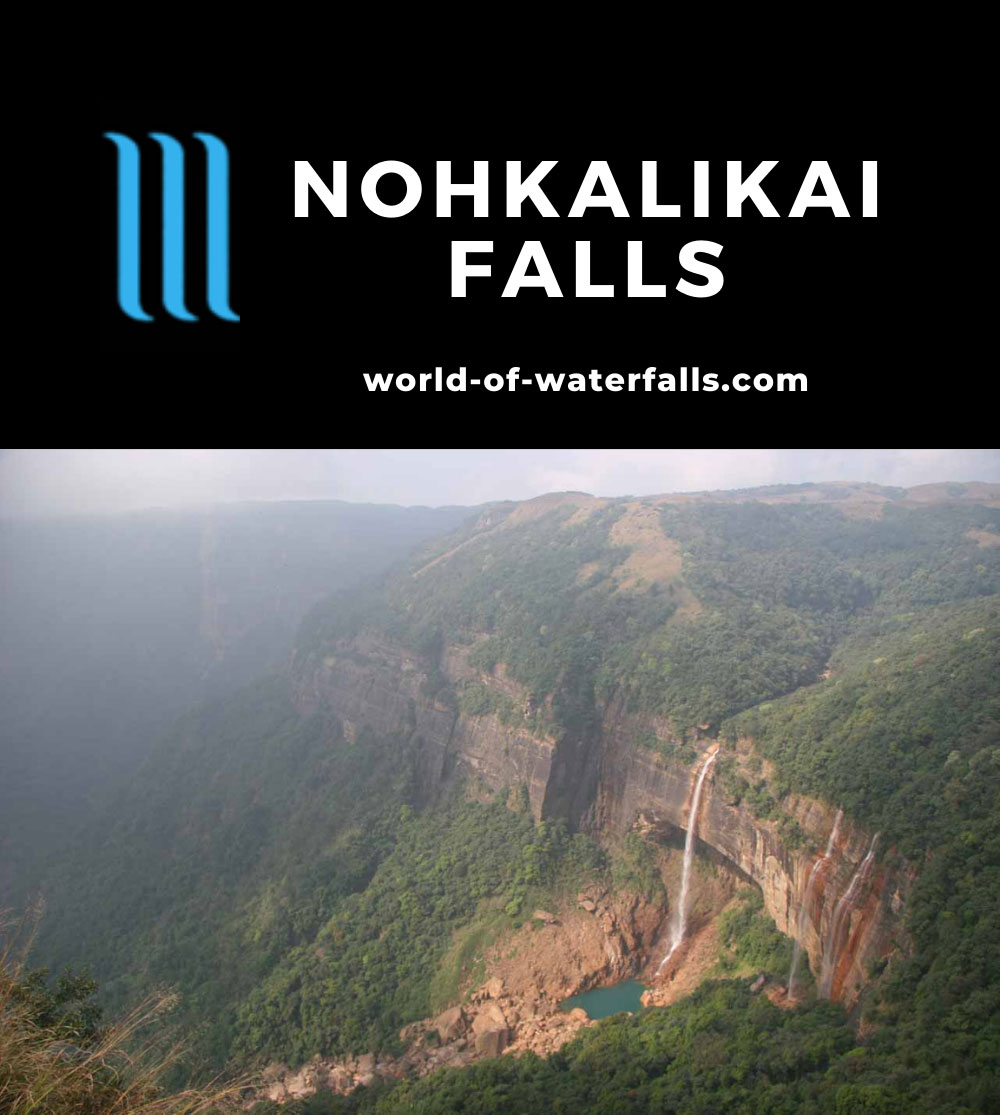 I've seen somewhat exaggerated claims that this waterfall was said to be the fourth highest in the world (as proclaims by a Bank of India-sponsored sign), but so far the only number that I had seen regarding its height was 335m.
Perhaps that figure might put the Nohkalikai Falls as one of the highest free leaping waterfalls in the world.
We had also seen claims about this falls being the second highest in the country according to our 2007 version of LP
.
Moreover, while Julie and I noticed that most of the waterfalls in the Cherrapunjee area had really lost their luster outside of the monsoon season, this waterfall seemed to have maintained its performance during that time.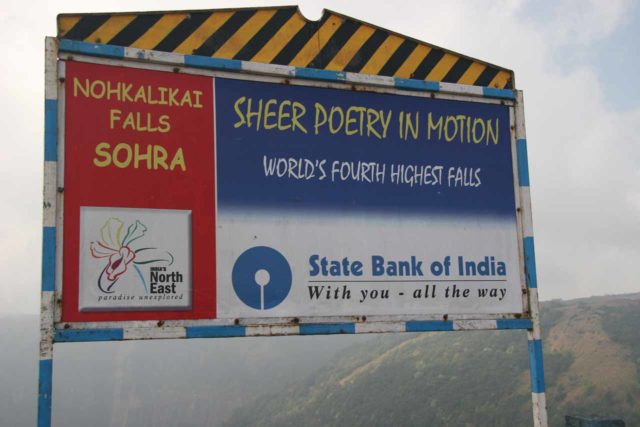 In fact, when I compared our experience with other photos in the internet taken even later in the season than during our visit (for example, in January and later), we saw that they had better or comparable flow to what we saw.
Thus, it further reinforced the notion that this waterfall had staying power even outside the monsoon.
So given all of the above factors, it seemed pretty clear to us that Nohkalikai Falls was the pride of Meghalaya tourism, and it appeared to get a fair bit of infrastructure to make it a nicer place to visit, especially for a place this remote.
Experiencing Nohkalikai Falls
Our experience began from a fairly busy car park with some basic infrastructure to experience the Nohkalikai Falls itself as well as some various fruit and food stands run by local villagers.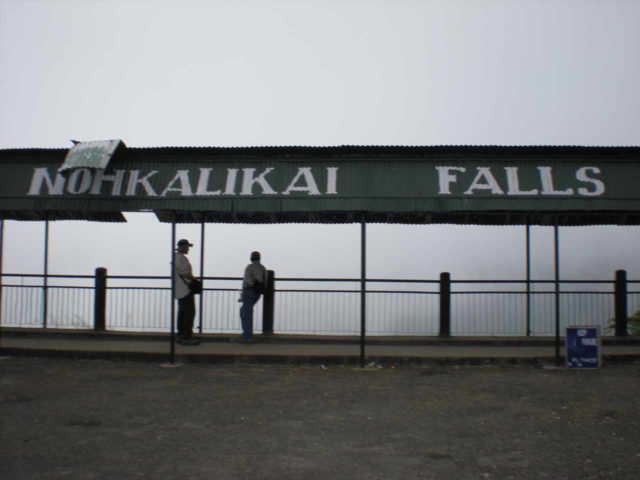 The overlooks hugged the cliff edges and peered right down at the waterfall.
As Julie and I were exploring different ways to experience Nohkalikai Falls besides the overlook, we also noticed a series of stairs (apparently opened back in 2005) that took us to lower viewpoints of the falls.
The path had some distressingly high amounts of litter alongside it, and the concrete stair-stepped path ended well before it got to the bottom.
Even though the path looked like it did continue rather steeply with a fair bit of hazards towards its bottom, we were hesitant to continue once we saw the end of the concrete.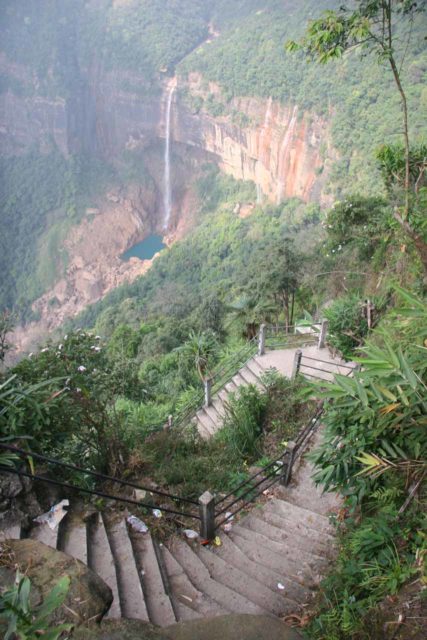 At least we did notice a little bit of graffiti on one of the big rocks way down near the plunge pool for the falls so I'm sure it must have been somewhat possible to get down there if you were willing to assume the risk.
In total, we probably spent around a half-hour total on this side excursion to get closer and lower towards the falls.
I'm guessing it would've taken at least an hour or more round-trip to get right down to its base.
Reasons for the healthy flow of Nohkalikai Falls
I suspect that the relatively healthy drainage upstream of the Nohkalikai Falls was largely due to the moisture-retaining foliage that remained forested and untouched.
In fact, we even saw a pair of light flowing companion waterfalls making similar dramatic leaps off the escarpment.
I'd imagine in wetter times, there could have been many more companion waterfalls flanking the main one.
However, this situation might be threatened based on what we saw, which we'll get into later in this write-up.
The Fickle Weather of Cherrapunji
Anyways, Julie and I learned that viewing Nohkalikai Falls might be a bit of a roll of the dice given the fickle nature of the weather here.
That was because the area was frequently shrouded in clouds given its reputation for being one of the wettest places on earth.
On our visit, we just so happened to enjoy an hour or so of fairly clear (albeit hazy) skies before the fog really rolled in with a vengeance.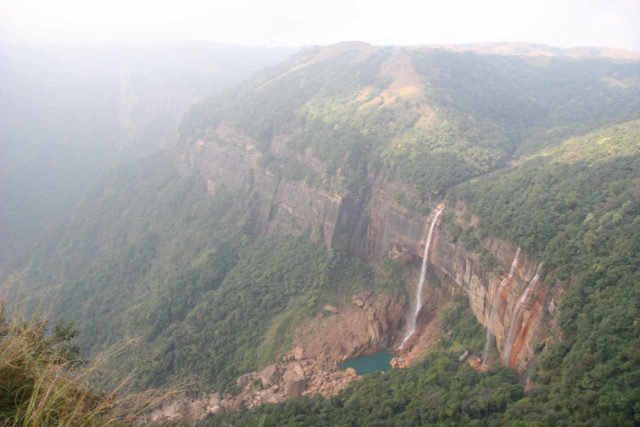 Our guide mentioned that late morning to midday provided the highest likelihood of satisfactory viewing while the lighting (if sunny) was good at this time as well.
The Cherrapunjee town and vicinity (also spelled Cherrapunji and locally known as Sohra) may have had a reputation for being the wettest place on earth, but this may be an outdated reputation based on what we saw during our visit.
It turned out that our visit happened to have occurred just outside the monsoon months, and we noticed a lot of brown foliage and lack of vigor in its watercourses.
Whether the conditions that we saw was more of a one-off anomaly or whether it was part of a longer trend of Climate Change drying out the area over the long term remains to be seen.
Coal Mining, Diversion, and Deforestation
I mentioned earlier that the nearly pristine drainage providing the healthy flow of Nohkalikai Falls may be threatened based on some worrying developments that we saw during our visit.
Indeed, we had observed that there was plenty of coal mining, diversion, and deforestation along the road leading to the falls.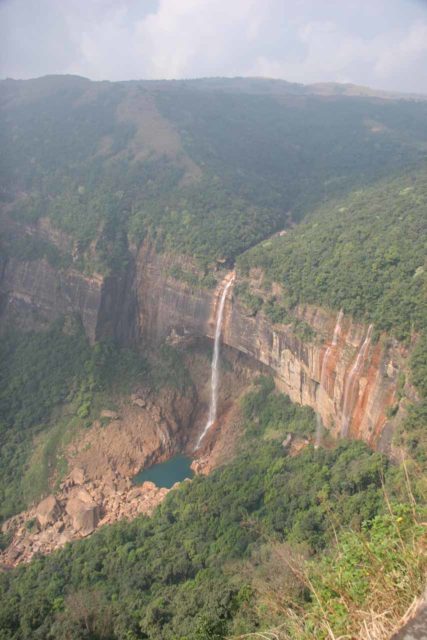 Our Assamese guide pointed out the large coal mounds and mine shafts as well as moorish grasslands, which appeared to have replaced an area that once fully covered in trees.
We weren't sure if this had anything to do with the apparent lack of lush vegetation for a place that was supposedly the wettest place on earth, but I'm sure it couldn't have helped.
In fact, this activity may have conspired to alter the region's ability to retain the moisture or produce the quantity of precipitation worthy of the title of wettest place on earth.
So it might have been true that the Cherrapunji area might have had the statistical edge that beat out places like Mt Wai'ale'ale in the Hawaiian Island of Kaua'i.
But who knows going forward whether it can retain this edge or succumb to the stresses that the pursuit of wealth in energy and resources have brought on.
Origin of the Name
I had read that the origin of the name Nohkalikai Falls was said to come from a tragic story about a widowed woman named Ka Likai.
To make a long story short, it basically involved Ka Likai's second husband who didn't like the attention she gave to her child.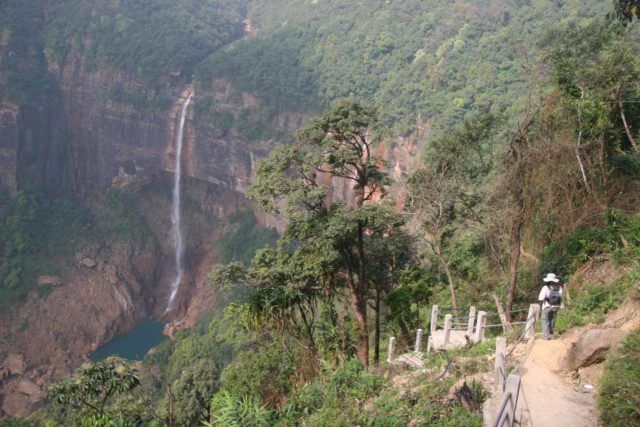 So the man killed and dismembered the child then made the child into food.
Upon learning that Ka Likai had unknowingly eaten her child in a meal cooked by the envious husband, she eventually jumped off the cliff above the waterfall (it turned out that "Noh" was Khasi for "jump").
Reasons for doubt about claims of Nohkalikai Falls' stature
As mentioned earlier, the only number I had seen regarding its height was that it was 335m tall.
If that was true, then Nohkalikai Falls would be taller than both Jog Falls and Dudhsagar Falls (assuming you believe the height numbers claimed for those waterfalls as well).
However, Julie and I had hard time corroborating that 335m number since we were looking down at the falls from a distance.
This would be one instance where I certainly wished that I had employed the best-in-the-field-method-period for measuring the height of the falls.
Authorities
Nohkalikai Falls resides near Cherrapunji in East Khasi Hills District of Meghalaya State, India. It is administered by the Sohra Civil Sub-Division. For information or inquiries about the area as well as current conditions, you can visit their website.
It's about 53km from Shillong (where we were staying) to the town of Cherrapunjee.
We were escorted here taking about 1.5 to 2 hours of driving in each direction as we were undoubtedly slowed down by plenty of lorrie (i.e. truck) traffic as well as some local buses; all of which belched out some pretty lethal and visible doses of diesel exhaust.
This followed about a roughly 4-hour drive from Guwahati to Shillong. Guwahati was about a 2.5 hour flight from Delhi.
Find A Place To Stay
Trip Planning Resources
Nearby Accommodations
Tagged with:
cherrapunjee, cherrapunji, sohra, east khasi hills, khasi, meghalaya, india, northeast, waterfall, ka likai, shillong
Visitor Comments:
Got something you'd like to share or say to keep the conversation going? Feel free to leave a comment below...
No users have replied to the content on this page
Visitor Reviews of this Waterfall:
If you have a waterfall story or write-up that you'd like to share, feel free to click the button below and fill out the form...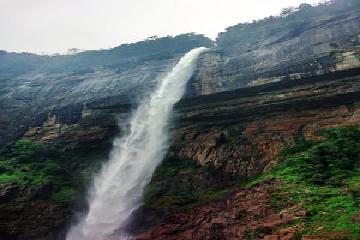 Stunning Treks at Noh Kalikai
October 26, 2018 11:15 am
-
Remaining at the viewpoint doesn't do any justice to Noh Kalikai ... There are two treks (albeit fairly short) that according to me are absolutely stunning. One takes you to the edge of the falls, while the other to its bottom. The trek to the edge of the falls takes about 2 hrs. The scenery… ...Read More